A More Efficient and Collaborative Approach for Project Planning and Management
27 May 2019 - In the past, project managers and contractors would occasionally have to spend precious time doubling up as detectives to gather clues and identify root causes of project bottlenecks.
This changes with Lean PlanDo, a project planning application designed to improve project planning, management and execution of works in the construction industry. Lean PlanDo encourages greater information sharing by aggregating data on a single platform, overcoming challenges faced in conventional multilayered reporting. By creating one common picture, all relevant stakeholders are now able to make more well-informed decisions to improve productivity and minimise resource wastage.
In 2016, JTC funded and enhanced the value proposition of the Lean PlanDo through a research collaboration with Lean Station, a local R&D and technology-driven consulting start-up. The application was then piloted at three JTC developments, namely LaunchPad @ Jurong Innovation District, Fusionopolis One @ one-north and trendspace. This has since resulted in more systematic forward planning and better control of project timelines.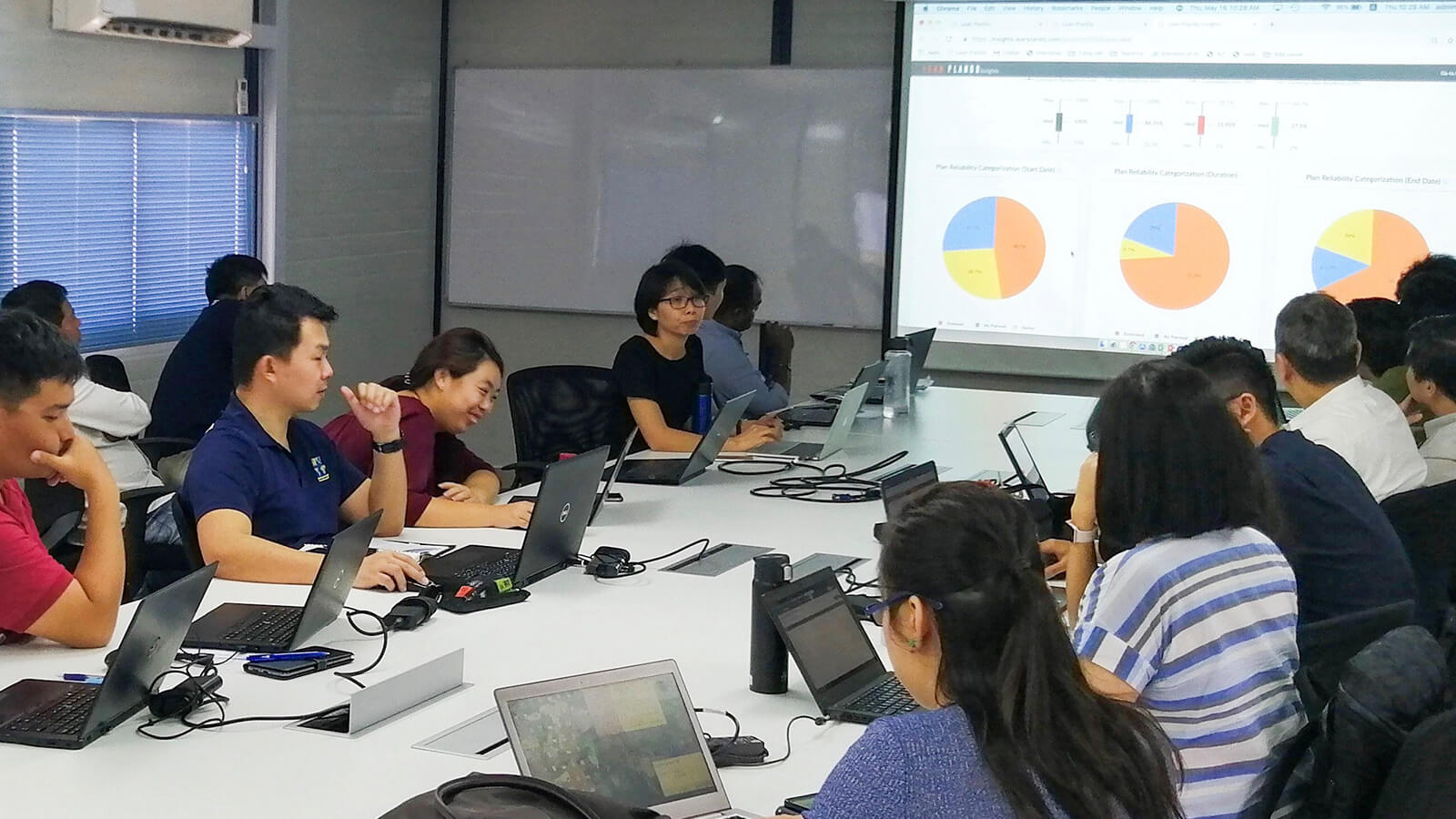 Project team, comprising of project managers, engineers, consultants and subcontractors, using Lean PlanDo during weekly on-site planning meetings to coordinate activities and schedules.
Within the application, project progress status and information are shown in real time, and each task is tagged to a specific owner. Task owners will be alerted to problems immediately, prompting swift action. This promotes greater accountability and transparency, as the application makes it easy to identify who is responsible for any task.
Based on the tasks entered into the system, Lean PlanDo can also predict the expected timeline of the project and highlight potential delays, so that those involved can prepare measures beforehand to speed up the process. Such preventive management eases the troubleshooting process and helps stakeholders overcome practical site challenges more efficiently. In addition, data collected by the application can be studied to streamline processes and achieve greater efficiency in future projects.
"You would not expect the construction industry to adopt new technologies, and many still have the impression that the methods and processes used are very traditional," says Mr Alan Ong, Principal Project Manager at JTC's Public Projects Division.
He shared that the initial implementation of Lean PlanDo met with some resistance from project managers, as they usually already have their hands full dealing with issues on the ground. Adopting the new technology only meant setting aside more time to learn how to use the application and regularly input data. However, their perceptions changed once they went through the user training programmes, and experienced Lean PlanDo's benefits first-hand.
Stakeholders at all levels – including contractors on the ground – need to be involved in planning and implementation, and Lean PlanDo promotes this through an open and decentralised approach. "This gives every individual greater ownership over tasks and in turn higher motivation to carry them out", says Mr Ong.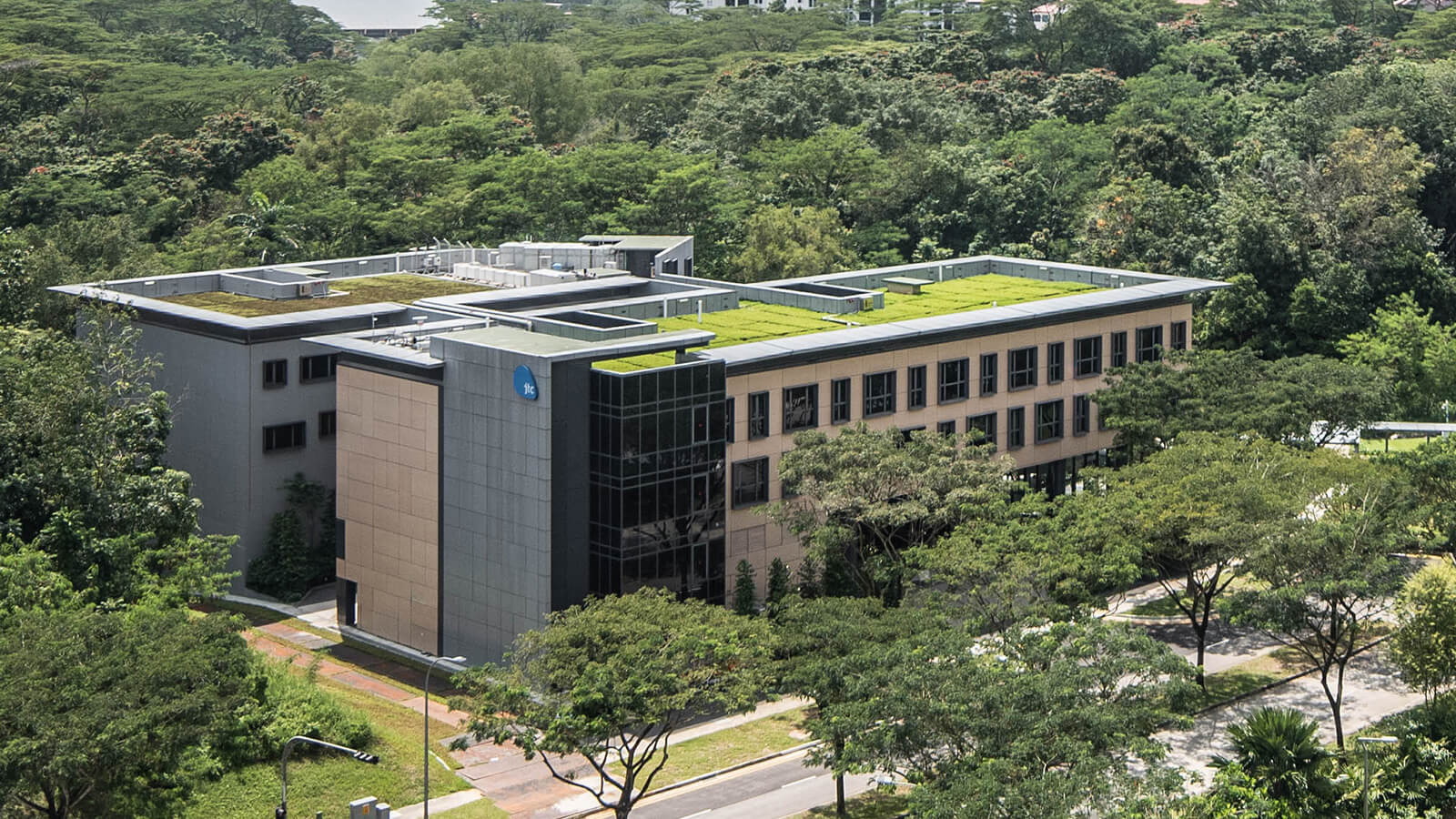 LaunchPad @ Jurong Innovation District
By improving collaboration among all parties involved, Lean PlanDo has benefited a total of 11 JTC developments so far. The LaunchPad @ Jurong Innovation District saw a cut in project delays from six months to four months, while the Addition & Alteration (A&A) works at Fusionopolis One @ one-north benefitted from an increase in planning reliability from 80% to 96% by improving coordination among stakeholders.
Lean Station's Co-founder and CEO Sharath S Waikar says his company has gained a better understanding of the construction industry by working with JTC. "In these years of collaboration with JTC around Lean PlanDo, we have benefited immensely, from validating product ideas to funding, accessing test-bedding sites, getting qualitative feedbacks and stepping up our game to deploy the application."
Looking ahead, JTC aims to use Lean PlanDo for its future building projects and has already confirmed its usage in 14 upcoming ones. These efforts will be complemented by training programmes to familiarise the project team with the application. There are also plans to integrate Lean PlanDo with other data sharing platforms and digital tools.
As Mr Ong puts it, "The aim is to ease construction work and take productivity to the next level."