Aerospace Day – Strengthening the talent pipeline for our industry
17 April 2019 – Building on the success of its inaugural launch last year, the second edition of Aerospace Day was held at Seletar Aerospace Park (SAP) on 17 April 2019, drawing some 1,000 final year students from aerospace-related courses and 200 mid-career job seekers. Jointly organised by JTC, the Association of Aerospace Industries (Singapore) AAIS, 6 Institutes of Higher Learning (all 5 polytechnics and ITE), as well as with the strong support of over 30 participating companies including new additions such as Avimac, Meggitt Aerospace and GE Aviation, this outreach event aims to strengthen the pipeline of talent for the fast-growing aerospace sector.
At the event, the students had the exclusive opportunity to tour the production floors of aerospace companies, visit the new Seletar Passenger Terminal Building, and seek career advice from industry professionals at the central career exhibition fair. The students' aeronautical skills were also put to the test through a range of workshops and challenges held within The Oval @ SAP. These activities included glider making, 3D printing, drone flying and virtual reality workshops conducted by polytechnic and ITE lecturers within JTC's conserved black and white bungalows. The hot sun did little to dampen spirits, and students were excited to learn more about SAP through fun facts placed around The Oval.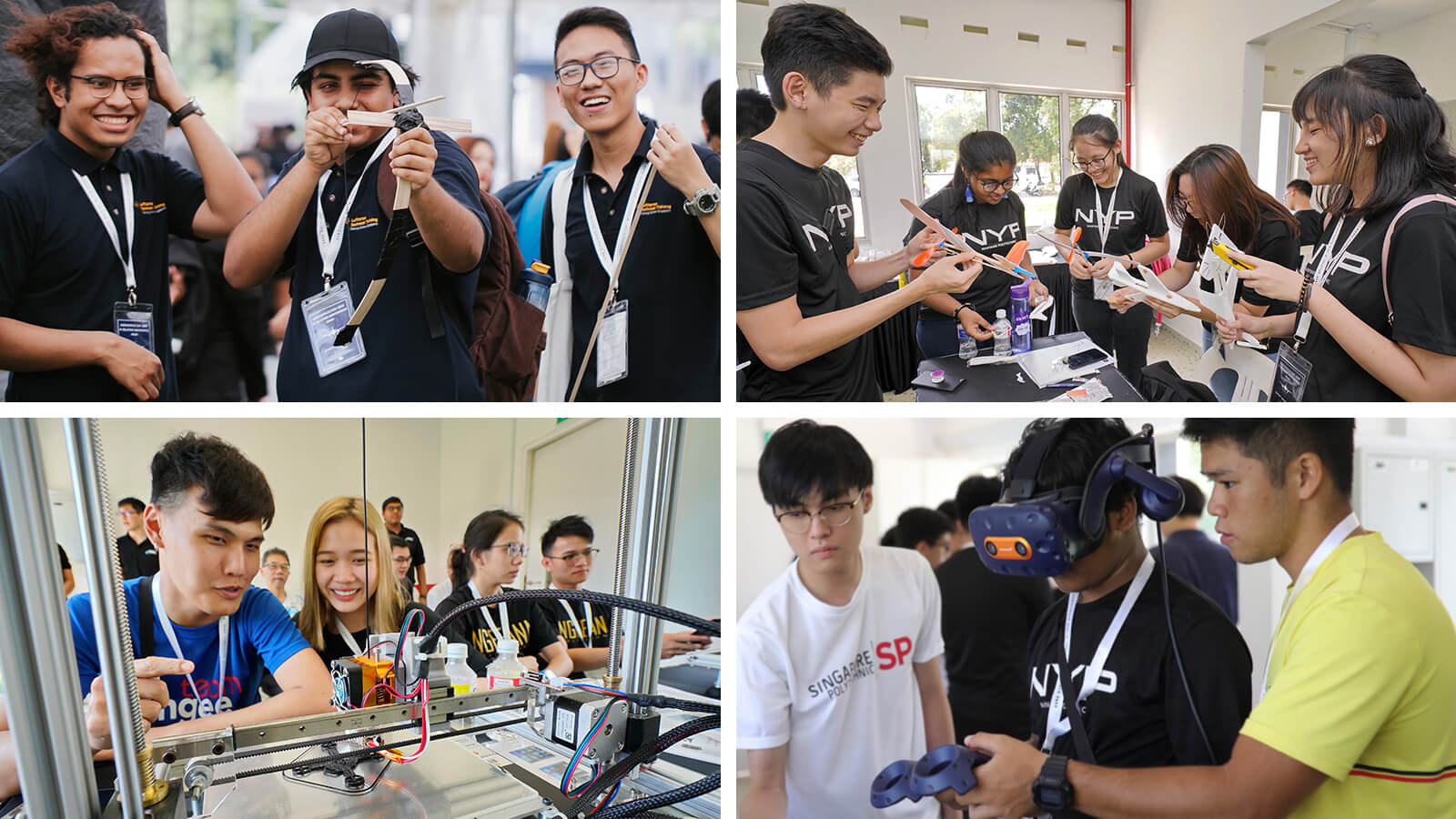 Students taking part in challenges such as archery, glider making; and trying their hands at 3D-printing and virtual reality.
This year also saw the participation of NTUC's Employment and Employability Institute (e2i), which supports the local workforce by providing assistance through career coaching and workplace advisory. Serving as the capstone event of its inaugural Aerospace Engineering Week, Aerospace Day 2019 drew 200 mid-career professionals seeking job opportunities related to the aerospace industry.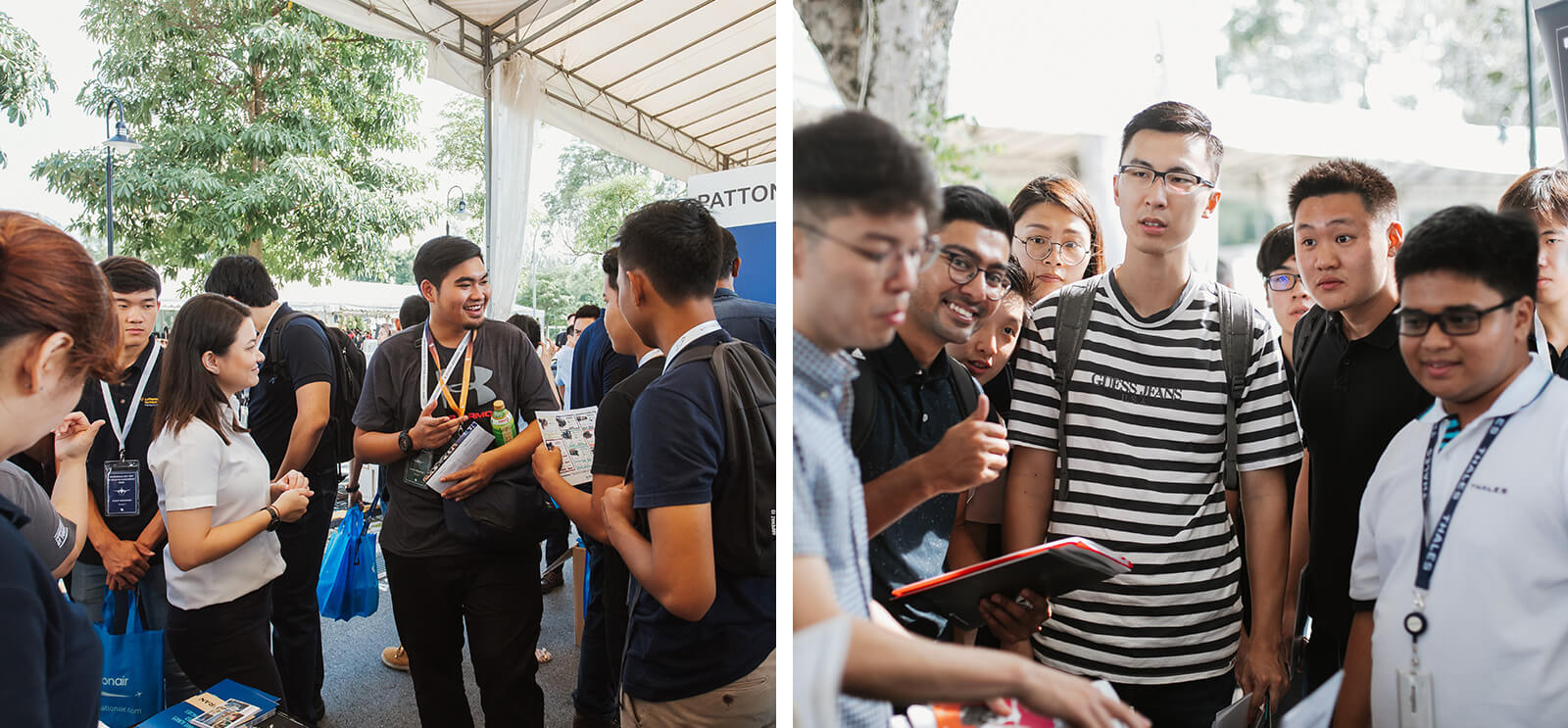 Students speaking with company representatives at the central career exhibition
This year, the IHLs further contributed to Aerospace Day by providing three charming student emcees to co-host the event with JTC. Ngee Ann Polytechnic also brought in its samba percussion band, Baracuda Batucada; and Temasek Polytechnic brought in Salvo Drums to add to the day's entertainment. Aerospace companies and food and beverage operators at the Oval sponsored eye-catching lucky draw prizes, such as A380 and A320neo plane models, flight simulator experiences, dining vouchers, and other attractive corporate gifts. All students also had the chance to collect the limited edition "Altitude Series" Aerospace Day 2019 enamel pins and stickers, that were designed entirely in-house by JTC's Aerospace, Marine and Urban Solutions Cluster. This series is a continuation of the "Heritage Series" enamel pins and stickers that were introduced at the inaugural Aerospace Day last year.
Collaborative communities creating value for the industry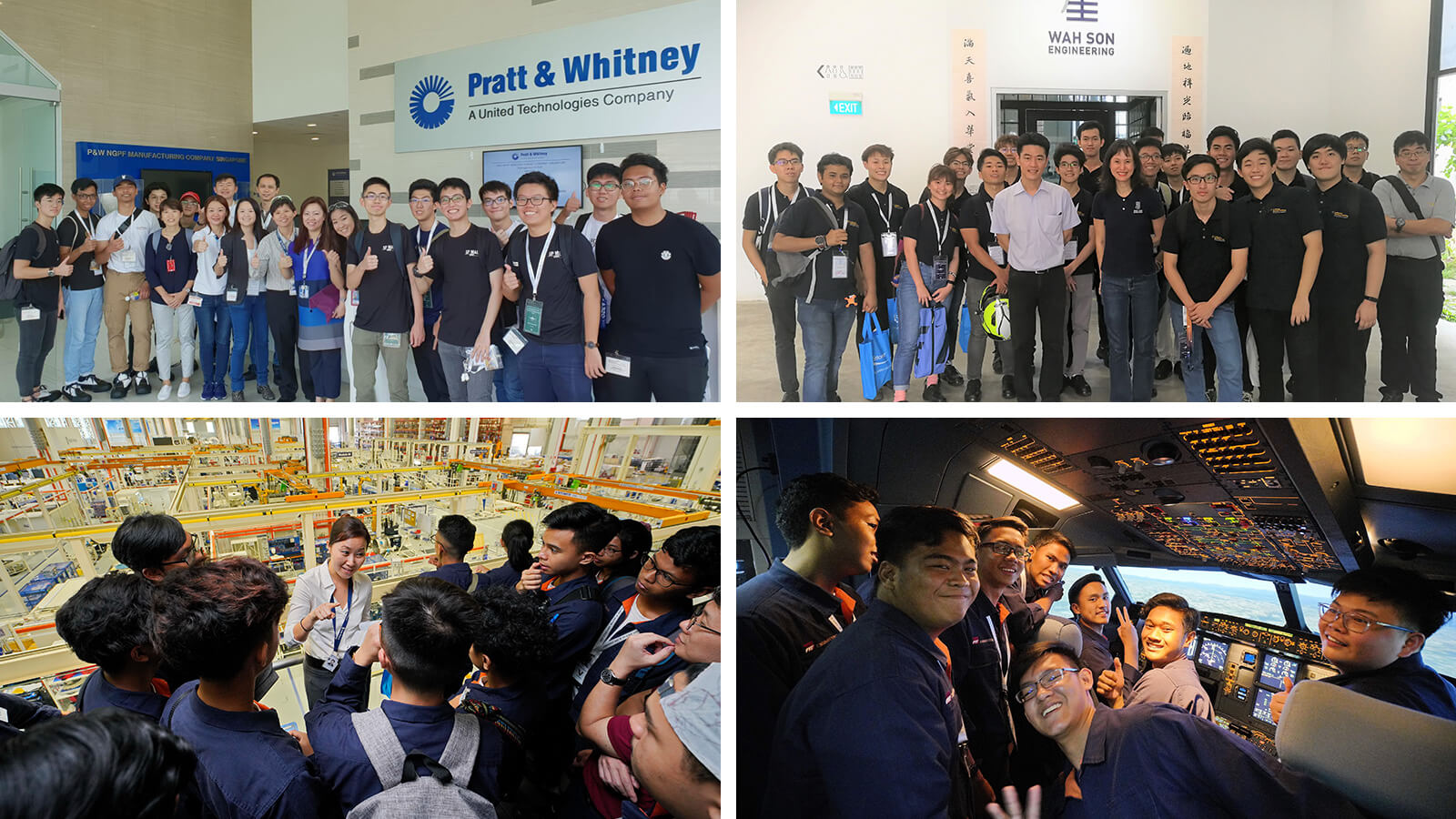 Aerospace companies opening their doors to students
Aerospace Day brings the aerospace community together to create value for the industry. Ms Glory Wee, Director, Aerospace, Marine & Urban Solutions Cluster, JTC said, "Aerospace Day is an estate-wide initiative that draws our community together. It offers our companies an additional channel for talent engagement, and provides our students the opportunity to gain early exposure to the industry. This is a prime example of how we are building collaborative communities in our estates."
The feedback received from companies and students on the Aerospace Day was highly positive. The companies highlighted that the event has enhanced their company branding and boosted their recruitment efforts. All companies expressed keen interest to take part in the next edition of Aerospace Day, and many shared that estate-level talent attraction initiatives such as Aerospace Day enabled them to extend outreach beyond individual company efforts.
Students also expressed strong appreciation for the rare opportunity to visit aerospace facilities and for the exposure to SAP. Andi Putra Bin Norman, a final year Aerospace Engineering student from Republic Polytechnic said "After attending Aerospace Day, I realised that it was a good knowledge platform for me as my internship is starting soon. It has given me a boost of motivation and I am also aware of what steps I need to take to pursue a career in the aviation industry."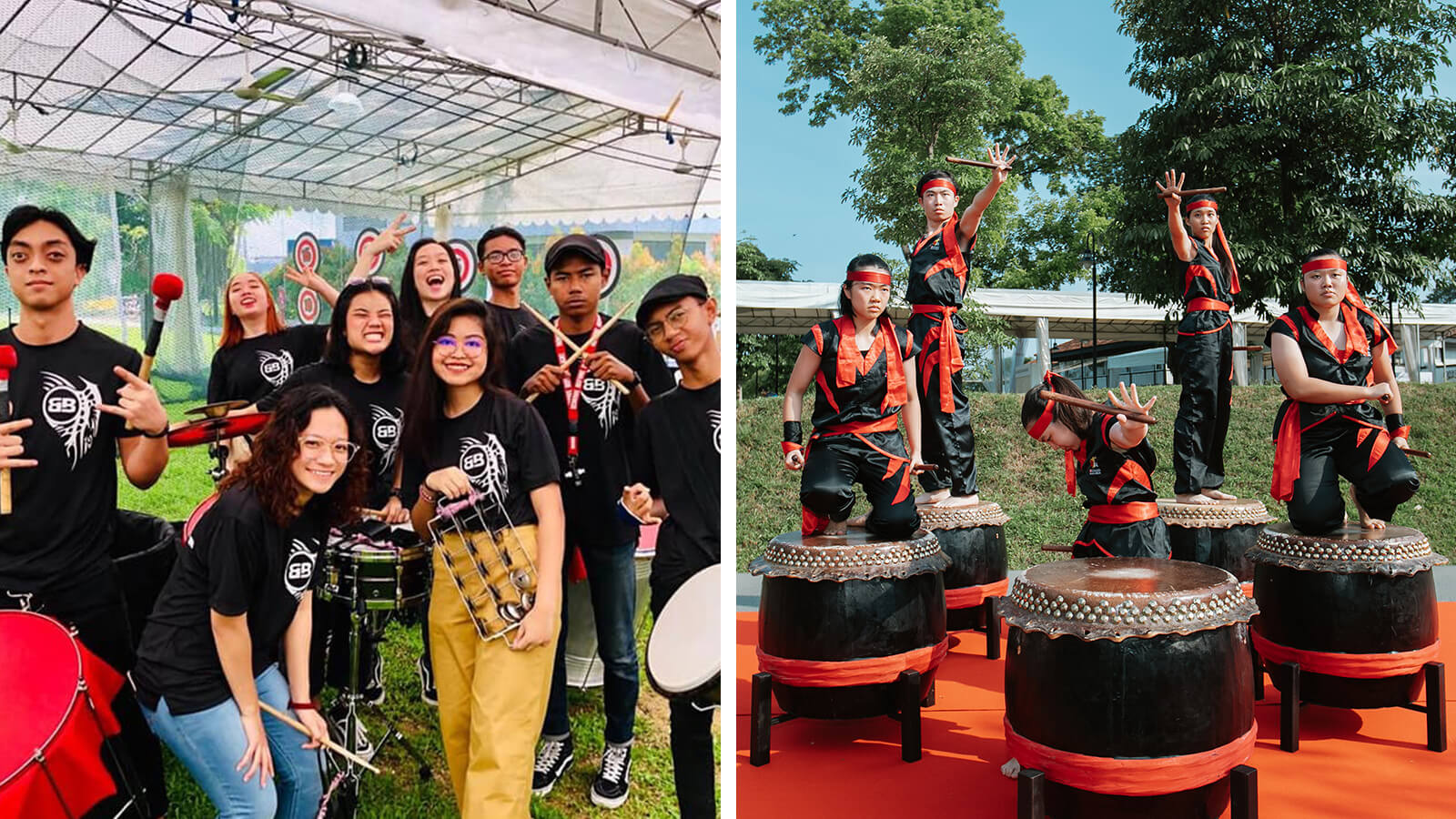 Left: Ngee Ann Polytechnic's samba percussion band, Baracuda Batucada; Right: Temasek Polytechnic's Salvo Drums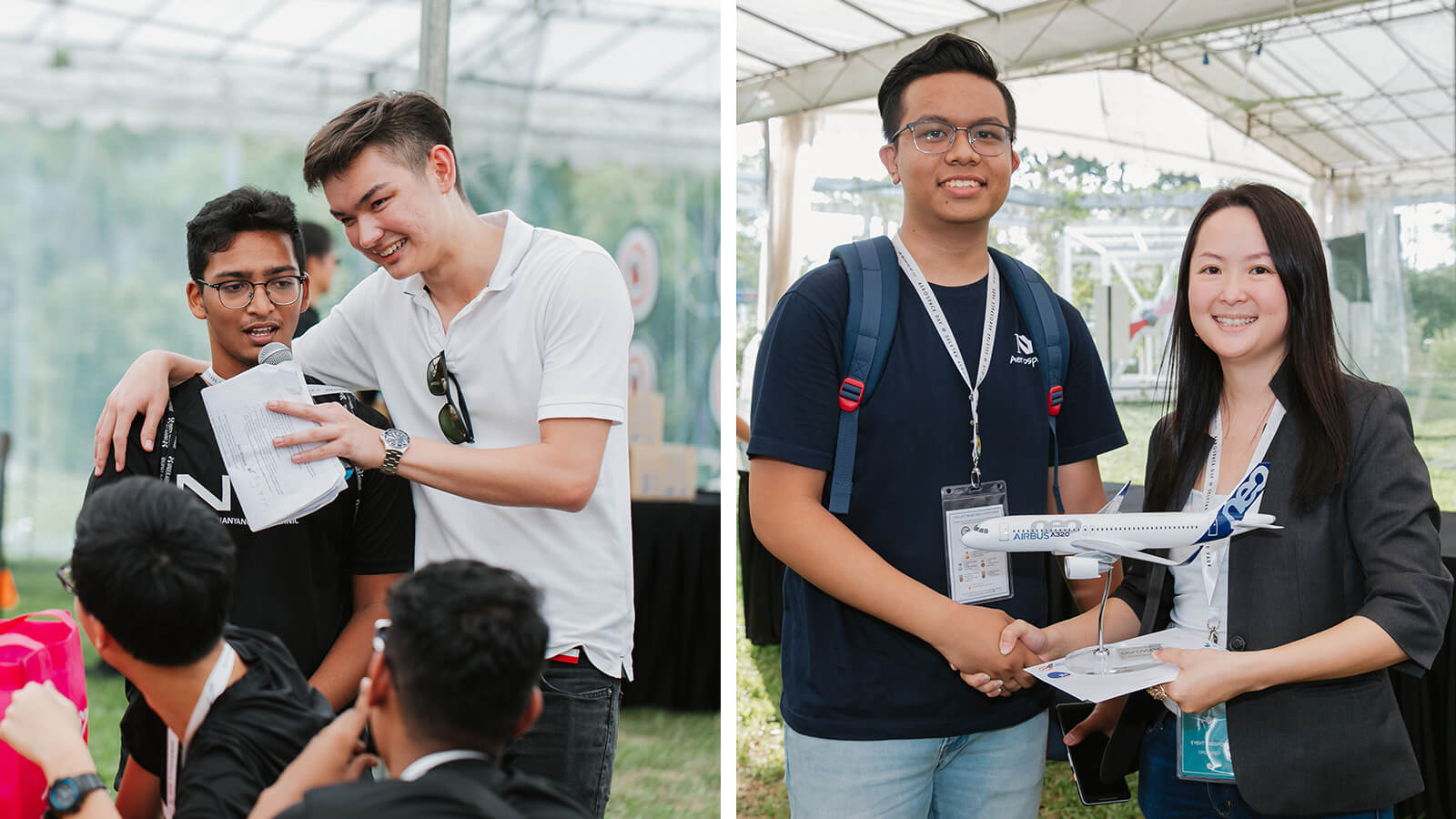 Left: Student emcees Eraj Naurain and Chris McKaige (left and right respectively, in white) from Temasek Polytechnic interacting with the crowd; Right: Ms Glory Wee, Director, Aerospace, Marine & Urban Solutions Cluster, JTC presenting the A320neo model plane to the first place winner of the Lucky Draw, Muhammad Zhafir Bin Riduan from Nanyang Polytechnic