Building the Future of Smart Construction: Boustead Projects' Collaborative Approach
For the construction sector, meetings are traditionally conducted in a siloed manner between different trade disciplines, with the technical team discussing with the engineers, the engineers separately meeting with the architects and so on. At such meetings, each team would usually use 2D drawings or presentation slides to share their ideas and concerns. "It was very low tech… The 3D visualisation is all in their heads [and subject to interpretation]," shares Mr Thomas Chu, Managing Director of integrated industrial real estate solutions provider Boustead Projects Limited.
But technology and collaboration are key at Boustead Projects' construction project for JTC's Kranji Green development, a multi-storey recycling facility. Consultants and contractors alike come together to brainstorm, innovate and improve processes for the facility in Kranji, which will house various recycling activities under one roof.
Now at Boustead Projects, meetings are streamlined to include different teams, who now use a centralised, cloud-based digital 3D building information model (BIM) to visualise both architectural and engineering aspects of the building. This keeps everyone on the same page and helps the engineers, architects and contractors to come together to solve problems with greater coordination.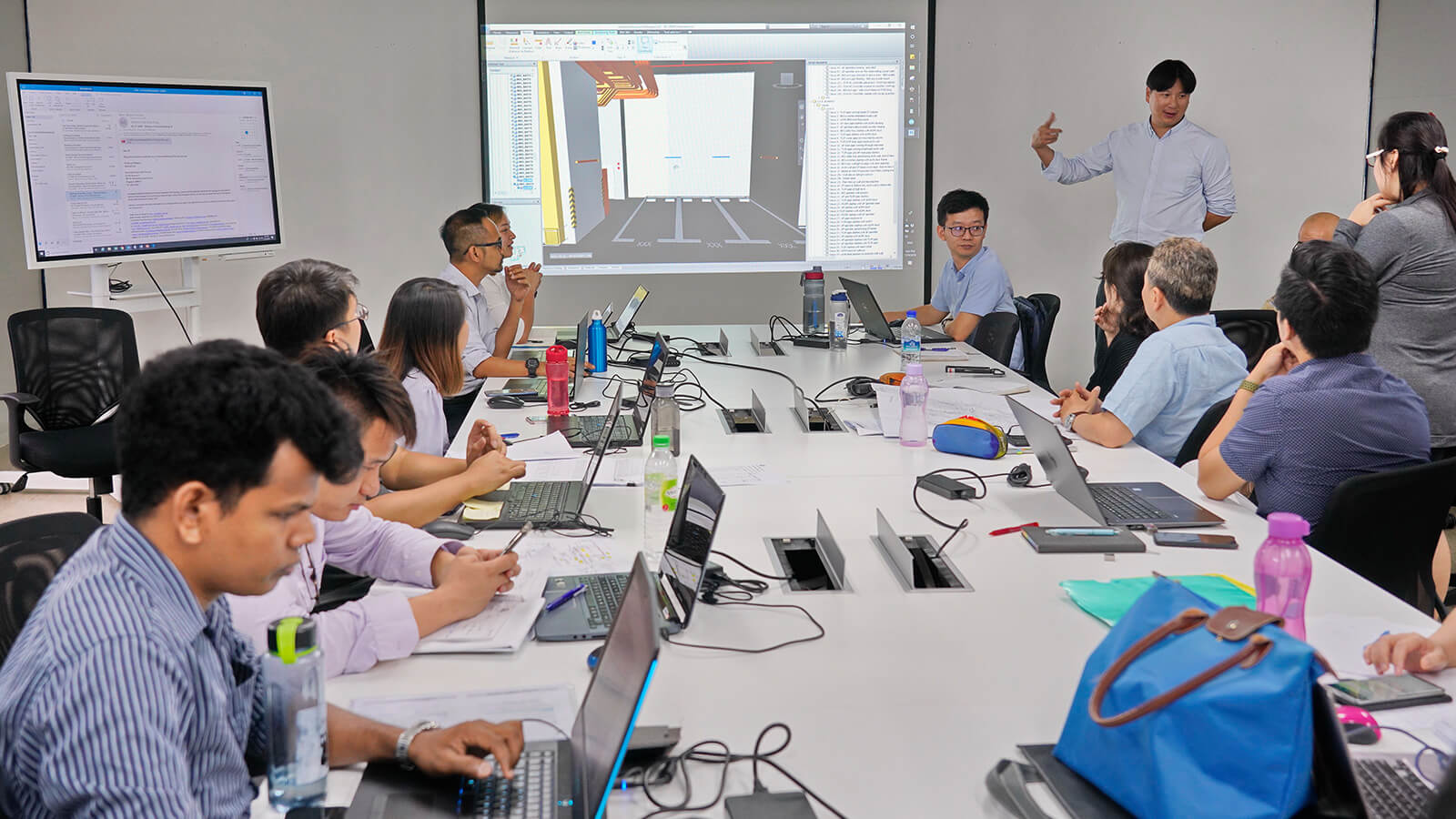 Meetings at Boustead are streamlined to include the different teams involved, compared to traditional siloed meetings in the construction sector
The emphasis on improving collaborations with technology is in line with the vision for the Kranji Green team to push boundaries. Sharing on how JTC also encouraged this collaborative spirit, Mr Chu shared, "We knew that we had room to run this project differently, to be extra collaborative and [embrace] new innovations." He believes this set the tone for a culture of innovation, empowering the team to work together for better solutions.

Collaboration is not new to Boustead Projects. For its digital transformation journey, which started in 2015, it has worked with many partners to integrate technology across the entire construction process – from planning and design to construction, project and quality management – to enhance productivity and make better decisions based on more timely, accurate and reliable data.

"We need to demonstrate that we are progressive and moving with the times," says Mr Chu, highlighting that their journey has not been about adopting technology for digitalisation's sake, but a targeted approach focused on overcoming industry challenges. As such, the company focuses on working closely with technology startups to customise and integrate solutions to fit their needs, rather than simply buying off-the-shelf products.

For example, the company has collaborated with VRcollab for a virtual reality (VR) tool that simulates 3D BIM models in life-sized proportions. Off-site and on-site stakeholders simply put on a VR headset to visualise and experience the space in an immersive environment based off the real-time BIM model, even before construction begins.

Boustead Projects has also worked with Lean Station to adapt and implement Lean PlanDo on their projects, an app that improves project planning and tracking by aggregating all the construction data and timelines onto a single platform.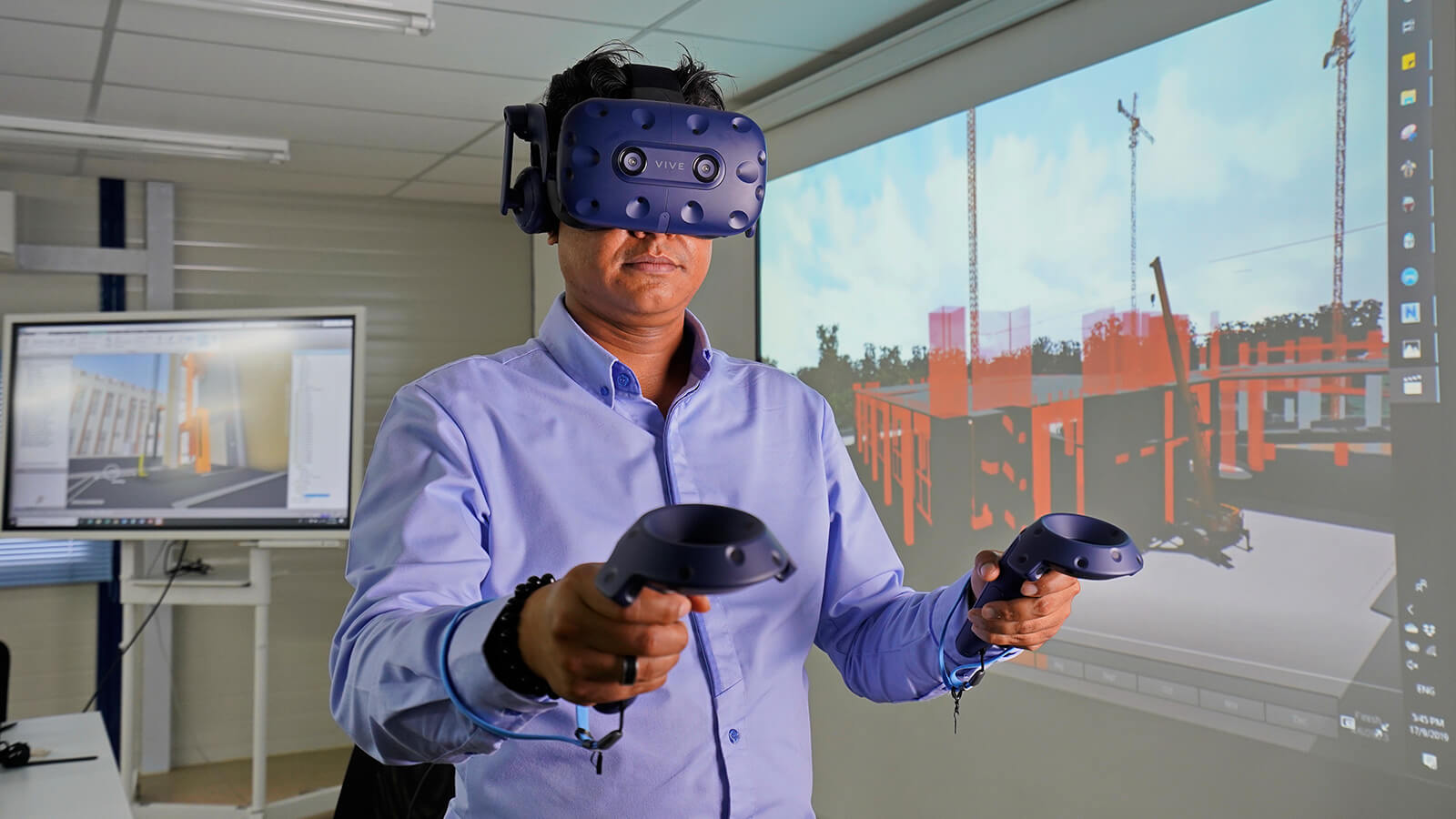 Boustead uses VRcollab to visualise real-time data from the BIM systel in an immersive environment
Both these technologies play a key role in improving productivity for the development of Kranji Green. "Lean PlanDo gives us a clearer idea of the sources of delay, while VRcollab allows for faster and more informed decision-making," says Mr Chu.
It is a "win-win situation" for Boustead Projects to team up with startups, says Digital Delivery Manager Muhd Khalil Shaiful. "Startups have new technology but they do not have domain knowledge of the building industry – that's where we come in. They are able to gain insights from us about how a construction firm works."
Boustead Projects intends to continue working with more tech startups to create new solutions for the built environment industry, which may also include investing in promising startups.
Another benefit of adopting digital technology is in talent retention, to boost the company's image as an employer, says Director (Projects) Nicholas Heng. "Construction is not a sexy industry… If we keep on doing things the same old way, people get sian [Singlish for 'bored']. They will want try something new."
The company has managed to retain and attract new staff in recent years, in part thanks to their innovative use of technology. "We want to show that we are a game changer, to create a better working environment for our staff," says Mr Heng.
Mr Thomas Chu, Managing Director of Boustead Projects Limited
Mr Chu adds, "[Technology] is an additional flavour to attract the young ones to work here and stay longer."
He believes that digitalisation involves a mindset shift within the organisation. "With technology, self-management needs to be instilled within each individual. You are given a task and you find your own solutions.
"People talk about IQ or EQ, but I think successful professionals should also have an adaptability quotient. As change is the [only] constant, we need to adapt to what's changing around us."