Getting to the root cause of diseases: AbbVie's game-changing drugs
The future of medicine calls for drugs that can target the root cause of disease, shares Dr Marc O'Donoghue, Site Director for AbbVie Singapore.
The global biopharmaceutical company's Singapore facility brings us one step closer to this goal. It is one of three sites in AbbVie's network that produces game-changing biologic drugs for immune system diseases. These medicines have benefited over a million patients worldwide, says Dr O'Donoghue.
Large molecule biologics differ from conventional small molecule drugs as they are derived from living cells or tissues. This allows them to be more targeted than small molecule drugs, which form the bulk of medication we use. Common medicines like those for fever or pain relief, such as paracetemol, fall under this category.
"In general conventional small molecule treatments look at controlling symptoms such as the degree of pain or inflammation, while biologics interact with the immunologic mechanism behind the disease to help shut it off or control it."
AbbVie is an early adopter in the biologics sphere, having set up its first biologics facility two decades ago. Today, 4 out of 14 of its manufacturing facilities deal with biologics. These plants form the foundation of AbbVie's immunology therapeutic area, which currently accounts for about half of the company's global revenue.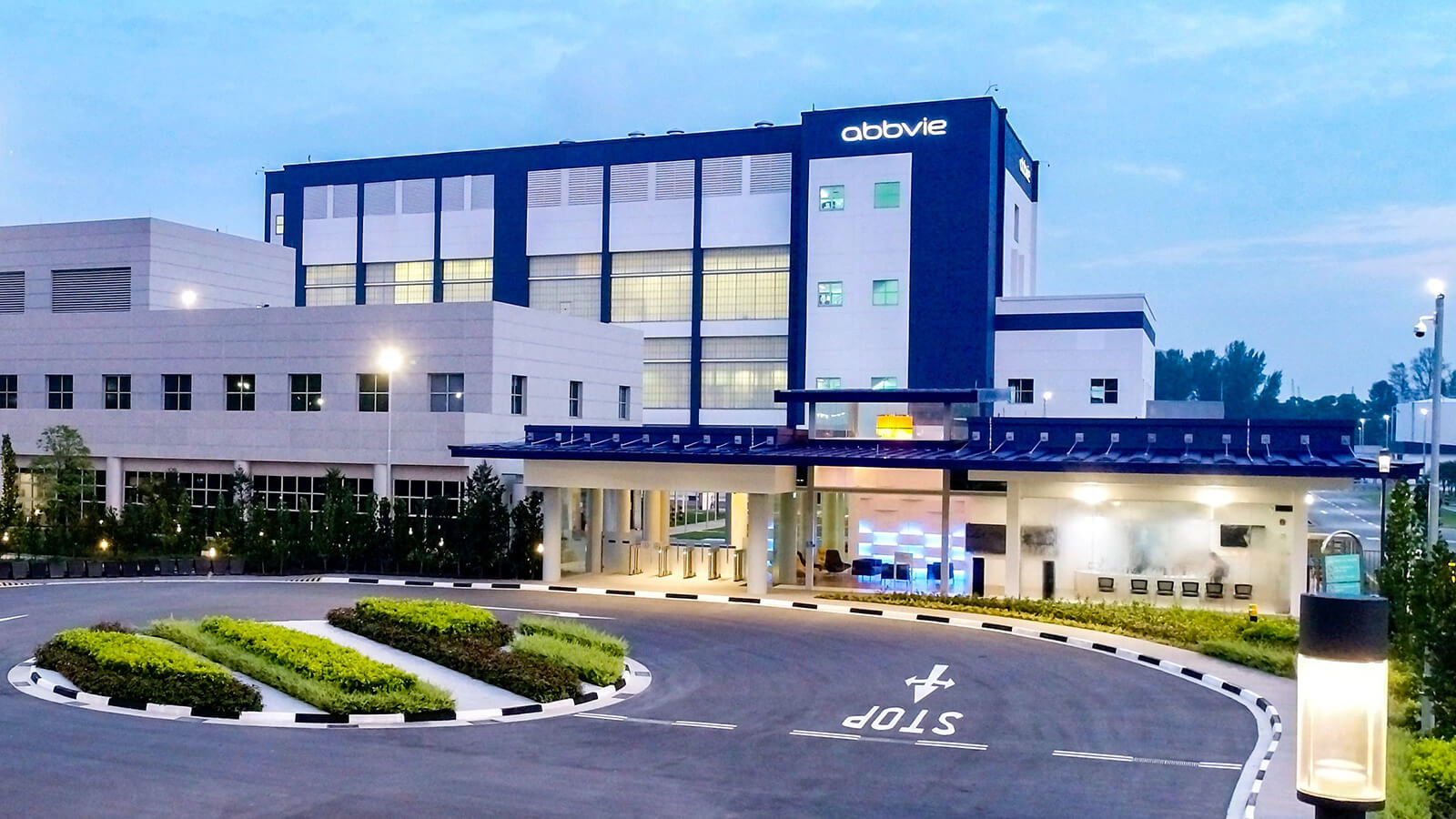 AbbVie's manufacturing facility in Singapore – the first in Asia
The Singapore facility, set up in 2017, is AbbVie's first foray into manufacturing in Asia. This gives AbbVie a footprint in Asia from a single location, shares Dr O'Donoghue. Singapore was chosen for its solid infrastructure, strong governmental support and educated workforce, he adds.
It also marks the first time the company combined small molecule and biologics manufacturing capabilities within the same compound.
The co-location of the two facilities also facilitates employee development. Each plant has a different focus – the small molecule facility cultivates knowledge on safety and potential hazards, while the biologics space exposes staff to a variety of machines and technology. Gaining experience in both areas will broaden staff's knowledge and "give them huge opportunities for their career paths," he says.
Employee development is one area that AbbVie is increasingly emphasising. With both plants fully automated and at the first stage of the Industry 4.0 journey, the company's focus has shifted from operational concerns to ensuring manufacturing excellence, shares Dr O'Donoghue. Central to this is talent attraction and retention, to ensure a continuous pipeline of talent.
AbbVie offers perks such as company transport to make commuting easier. To make Tuas Biomedical Park a more attractive workplace, it participates in inter-company community activities such as sports competitions, as part of the Biopharmaceutical Manufacturers' Advisory Council (BMAC). The Council, which comprises pharmaceutical companies and government agencies, come together to organise community and social initiatives on a regular basis to further strengthen the community network. Previous events such as the Intercompany Bowling Tournament and Futsal League brought together over a hundred participants from various companies.
To attract new staff, AbbVie works closely with universities and polytechnics, targeting those with skillsets in chemistry, chemical engineering and biotech. Initiatives to reach out to the youths include internships and the Biologics Overseas Skills Training (BOOST) programme, which offers on-the-job training in AbbVie facilities here and abroad. Dr O'Donoghue hopes that efforts to generate interest in science could start as early as during primary school and extend to professionals considering mid-career changes.
Moving forward, AbbVie aims to "position ourselves as a manufacturing site ready to introduce the next generation of drugs", says Dr O'Donoghue. Innovation and embracing new technologies are just a part of the puzzle, but ultimately, "the sustainability of all this is about the people".