Cable manufacturer tai sin electric takes a leap forward by embracing smart manufacturing
From electricity to telecommunication, manufacturing to construction, the uses for cables and wires in these sectors are wide and varied. As industries evolve, what are the prospects for the cable industry?
In this behind-the-scenes video, let's take a look at how one established cable manufacturer is adopting smart manufacturing techniques.
You may not be familiar with the name Tai Sin Electric Limited, but it is the homegrown cable manufacturer that produces the cables that power Singapore's iconic landmarks such as Gardens by the Bay and Jewel Changi Airport. Incorporated in 1980, the company is celebrating its 40th anniversary this year as Singapore's largest cable manufacturer. It specialises in designing and producing wires and cables for infrastructure, industrial, commercial and residential projects.
Ditching tedious paper trails in favour of digitalisation
"We first had the notion to digitalise our operations in 2016," says Mr Lin Chen Mou, 68, Executive Vice President and General Manager of Tai Sin Electric Limited. He recalls that in the past, employees in the factory had to write up the daily reports by hand, which resulted in frequent mistakes due to human error. These manually-written reports had to be consolidated and analysed before a final report was ready. This was not only tedious and time-consuming, but also extremely inconvenient when it came to searching for older data.
"To solve this issue, we thought of digitalising by keying production details directly into a system. This would allow management to see the results of processes and production as they are taking place," says Mr Lin.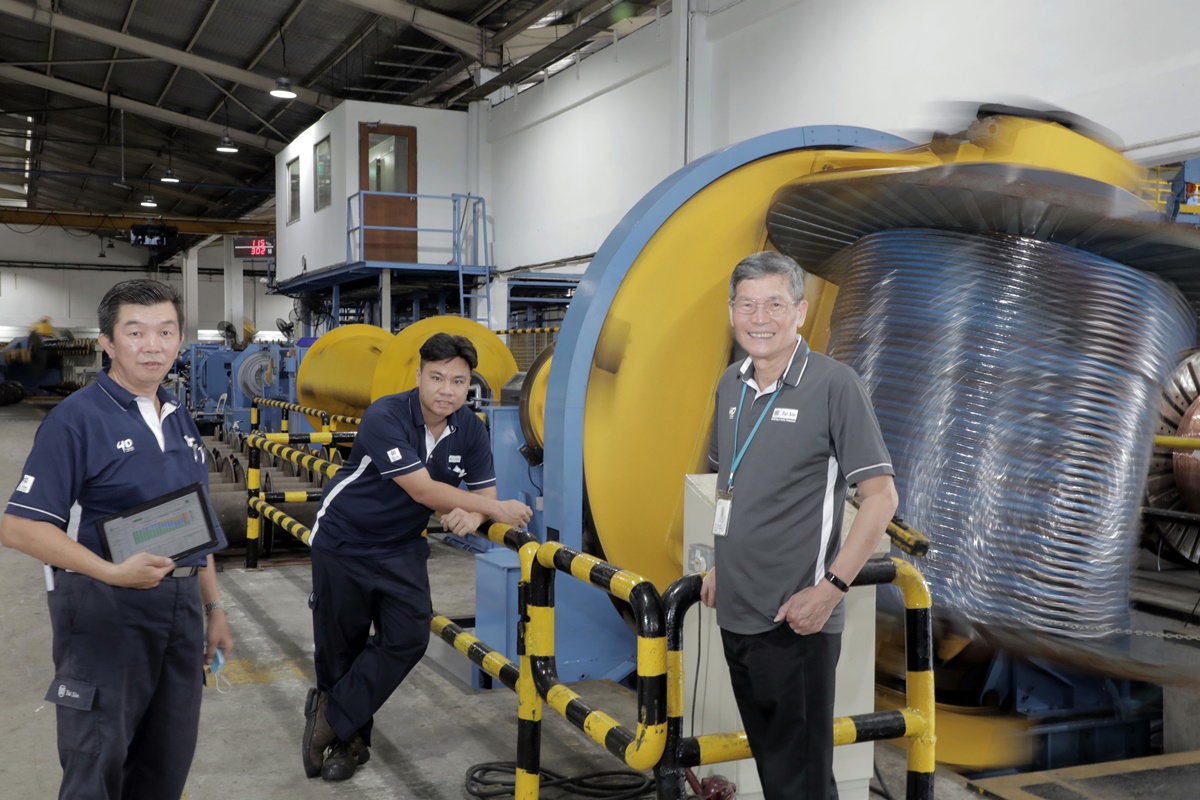 Tai Sin Electric was awarded the SkillsFuture Employer Awards for Non-SME this year, affirming its proactive dedication and outstanding performance in the pursuit of staff training and upskilling. From left: Production Controller Mr Quek Chee Ring, Machine Operator Mr Goh Boon Chien, Executive Vice President and General Manager of Tai Sin Electric Mr Lin Chen Mou. (Photo: zaobao.sg)  
In 2018, at the recommendation of JTC, Tai Sin went through the Smart Industry Readiness Index (SIRI) assessment and took its first step towards Industry 4.0. SIRI is the world's first self-diagnostic Industry 4.0 tool created by the Economic Development Board (EDB), and it aims to catalyse the transformation of manufacturing. JTC hopes that the introduction of SIRI will help more enterprises understand and move into Industry 4.0, thereby creating a more high-tech, automated, and sustainable manufacturing industry by increasing productivity and improving employee skills.
In the same year, Tai Sin participated in the Workforce Singapore-McKinsey Industry 4.0 Transformation & Job Redesign Programme and developed the Digital Performance Engine (DPE). The DPE analyses real-time workshop performance based on assets, production, and sales data, providing information at a glance. Any anomalies or errors in the production process can be spotted and rectified promptly to prevent more severe losses.
Today, Tai Sin's senior management team holds daily morning meetings with its production, quality and maintenance departments, and together with counterparts from Malaysia and Vietnam subsidiaries via video conference. By tapping on the DPE to analyse and report on day-to-day operations, the meetings can conclude efficiently within half an hour, saving precious time for all parties involved.
Production Automation: Accelerating the company's smart upgrades
When it comes to digitalisation, having technical support for the software is not enough. The automation of production processes and upgrades to hardware are also crucial to the digitalisation process.
In 2019, Tai Sin acquired an automated cable-winding machine and expanded their factory to accommodate this large machine, which is equipped with a camera so that operators can monitor and control the machine from the control panel.
To improve the efficiency of conducting quality inspections, Tai Sin also imported a device to measure cable geometrics automatically. This device tests the cable sample placed on it and records the data automatically without the need for manual measurement or record-taking, thereby improving the data accuracy by leaps and bounds.
Our greatest challenge lies in increasing productivity and efficiency to enhance the company's competitive edge. Upon digitalisation, we saw efficiency improvements and results very swiftly. -Mr Lin Chen Mou, Executive Vice President and General Manager, Tai Sin Electric Limited
With digitalisation, Tai Sin's sales saw an estimated 20% growth while productivity improved by nearly 30%. As the production capacity grew, Tai Sin made further upgrades to its warehouse operations by investing on a high end multidirectional forklift that moves products swiftly and precisely, at the same time saving space.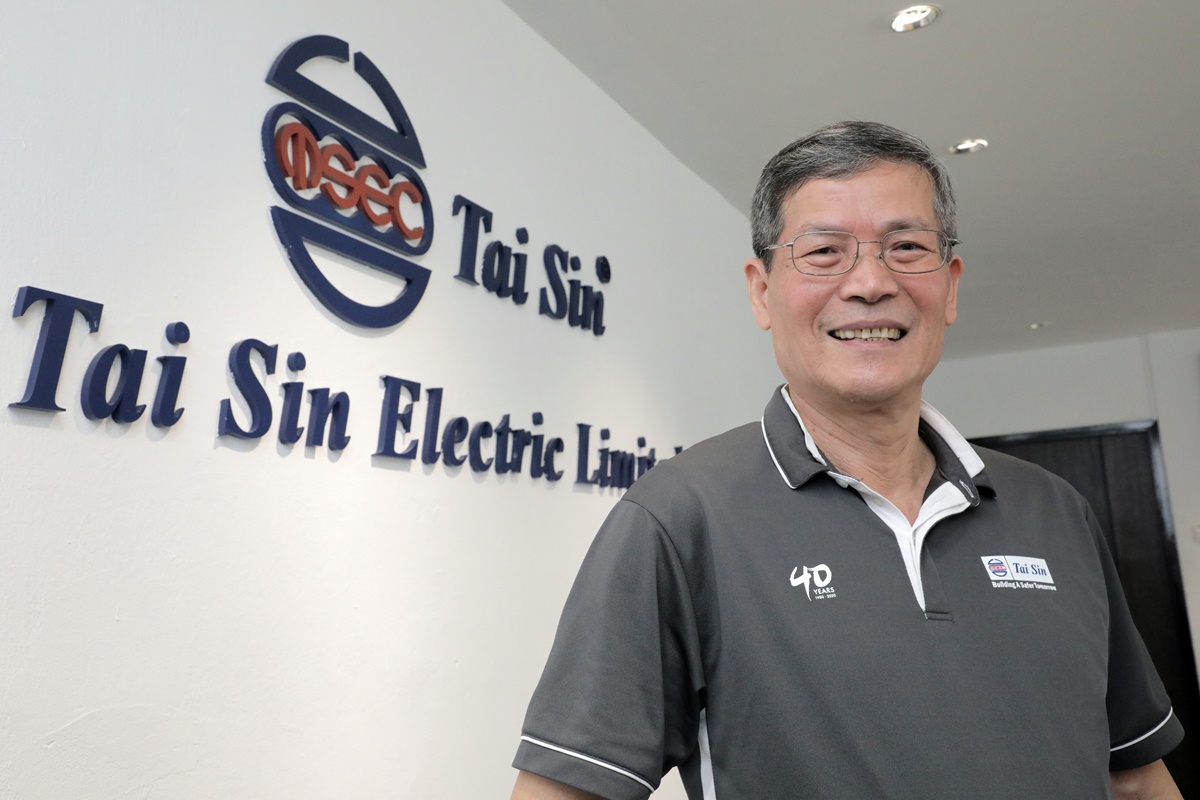 Mr Lin Chen Mou, 68, joined Tai Sin Electric Limited in 1983 and is currently the Executive Vice President and General Manager of the company. He has been with Tai Sin for nearly 38 years and has witnessed its growth over the years. (Photo: zaobao.sg)
The road to upskilling never ends
As the company embarks on its smart manufacturing journey, talent development is also a pivotal aspect to focus on. "We wish to retain our employees and ensure that they would not jump ship or quit because of digitalisation. We hope that they can continue to serve the company. As such, we are providing education and training programmes for our staff," says Mr Lin.
Tai Sin enrols its staff in Singapore Polytechnic's Micro-Learning Courses as part of the company's on-the-job training programme.
Mr Lin explains: "Micro-Learning Courses lets us better understand the basic theories and content of Industry 4.0. Operators get to understand not only the 'how' but also the 'why' of Industry 4.0."
Mr Quek Chee Ring, 45, is a Production Controller who has been with Tai Sin since 1995.
The company has been providing us with training even before it embarked on digitalisation. Because of this, I am more receptive to industrial digitalisation and am also able to pick things up more quickly. -Mr Quek Chee Ring, Production Controller, Tai Sin Electric Limited
He also notes that when Tai Sin first started going digital, some older employees misunderstood that the company was trying to monitor them. It took Mr Quek a fair bit of time and patience to convince his co-workers that the automation and digitalisation of machines will relieve their workload, and they eventually understood the company's intentions and accepted the training.
"I have been with Tai Sin for 25 years, and the bosses have always taken care of us. Everyone gets along harmoniously, and we're like a big family," he says.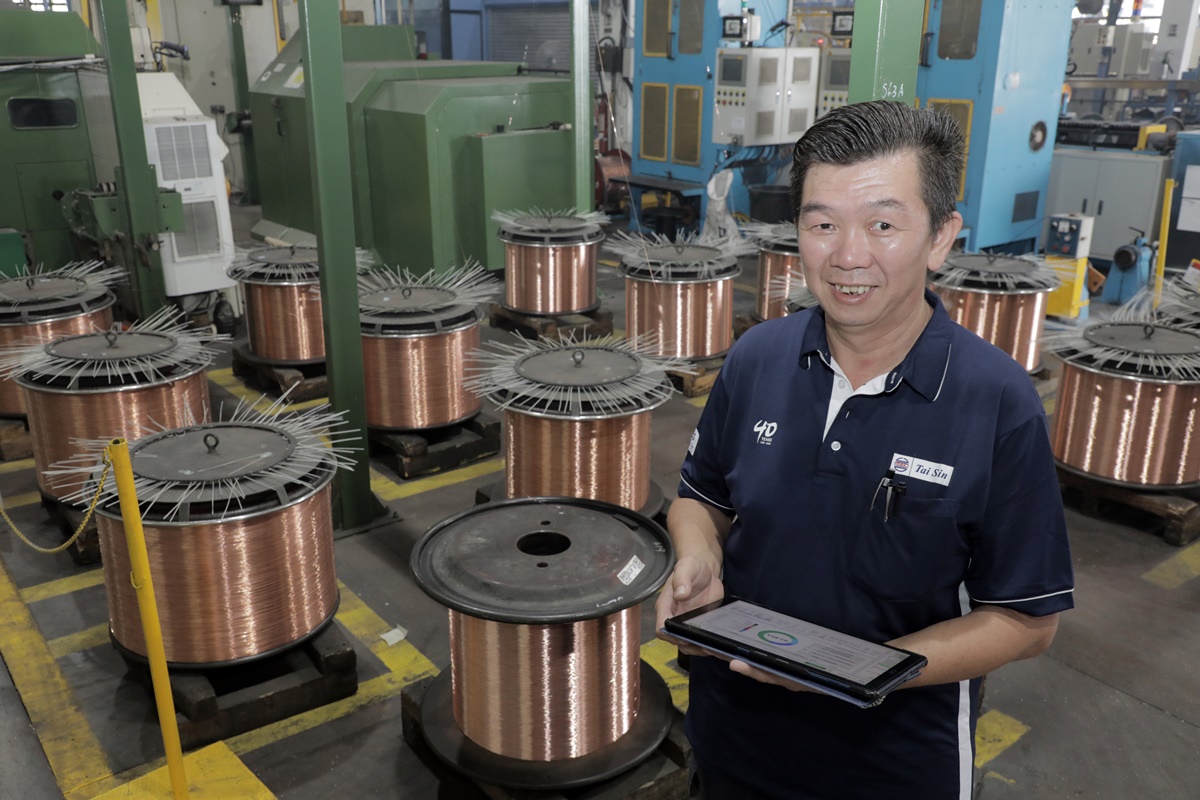 Production Controller Mr Quek Chee Ring says that digitalisation allows him to access the operational data of all machines from his office and make informed decisions swiftly. (Photo: zaobao.sg)
Machine Operator Mr Goh Boon Chien, 26, has been with Tai Sin for four years. "I was in the construction industry previously, and this job was rather unfamiliar to me, so my supervisor had to show me the ropes progressively."
Every three months, Mr Goh would learn how to operate a different machine, and he can now operate most machines in the factory with finesse. He is also involved in Industry 4.0 training. "I hope the company brings in more partially-automated machines to reduce our burden," Mr Goh says.
Mr Lin reveals that at the moment, Tai Sin has an internal training programme in place. "Based on the employee's technical standards when they join the company, we will send them for relevant training to upskill. After the training, we will conduct assessments to evaluate their skills and offer progression opportunities. The company will also adjust the staff's benefits, salary, or technical allowance accordingly. This is to encourage skill expertise to take root and grow within the company, allowing employees to improve and develop with Tai Sin," he says.
Tai Sin is one of the proud recipients of this year's SkillsFuture Employer Awards for Non-SME. The accolade serves as an affirmation of Tai Sin's proactive dedication and outstanding performance in the pursuit of staff training and upskilling.
"Our plan for the future is to further digitalise our operations beyond production", says Mr Lin.
From top level operations including management, purchasing, and human resources, extending down to logistics, warehouse, transportation, and customer service level, it seems that Tai Sin's plans to adopt total digitalisation is set in motion.
[The Smart Manufacturers series is presented by JTC]
This article first appeared in zaobao.sg 【智造新商机系列】传统电缆制造商 积极迈向智能制造 on 14 October 2020. Translated from the original article, 【智造新商机系列】传统电缆制造商 积极迈向智能制造, Zaobao.sg, 14 October 2020 by JTC, any errors please check back with JTC.