Seletar Aerospace Park takes flight: Enjoy nature at Hampstead Wetlands Park, dining at The Oval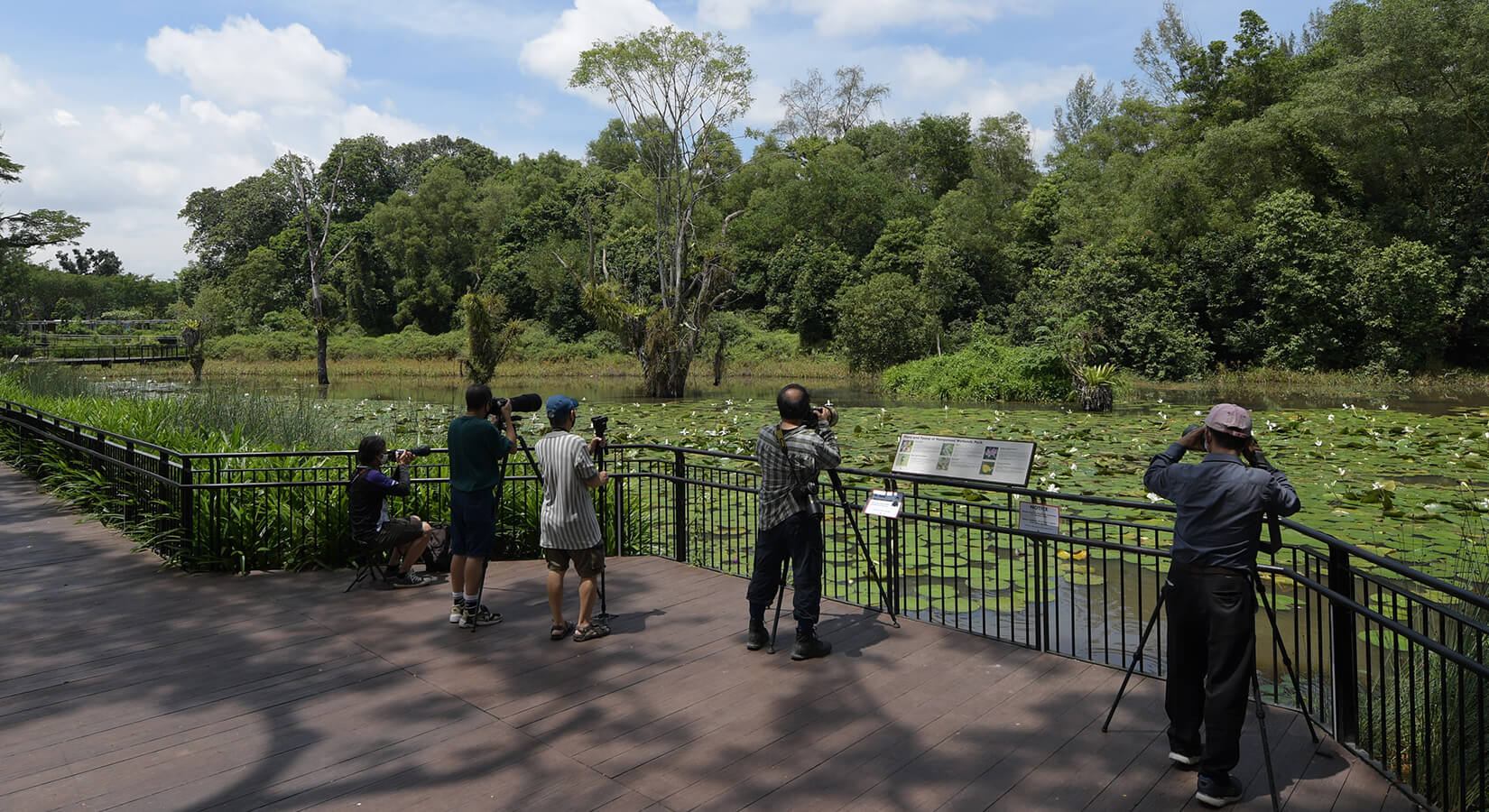 The Hampstead Wetlands Park in Seletar Aerospace Park is the first wetlands in an industrial park. ST PHOTO: ALPHONSUS CHERN
Aerospace cluster Seletar Aerospace Park (SAP) has, in recent years, been known as a hidden foodie haven.

Now, it is also home to a buzz of biodiversity with fauna such as dragonflies, butterflies and birds.
The 3.23ha Hampstead Wetlands Park is a rustic sanctuary that aims to provide rest and recreation for visitors and workers of the aerospace park, and is part of efforts to green Singapore's industrial estates.
"Seletar Aerospace Park stands out among our industrial parks for its lush greenery and rich history," says Ms Tang Hsiao Ling, director of JTC's division of urban design and architecture, noting that Seletar's original landscape comprised raw wetlands and the area was a pre-World War II military base for the British Royal Air Force in the 1920s.
"In recent years, we have been working more closely with NParks to green our estates. The wetlands area was earlier designated as a park space as part of the SAP masterplan, and designed in detail together with NParks more recently in early 2019," she adds.
Greening industrial estates, says Ms Kartini Omar, NParks' group director of parks development, is aligned with the agency's vision of making Singapore a City in Nature, to ensure the country remains a highly liveable city as it continues to urbanise.
"At Hampstead Wetlands Park, we enhanced the habitat and naturalised the waterlogged area that was formerly part of Seletar Base Golf Course," she adds.
Indeed, the grey and dusty image of industrial estates may soon be a thing of the past.
Ms Kartini says NParks, with help from the community, intends to plant more than 100,000 trees in industrial estates - currently among the hottest areas on the island - over the next 10 years.
This is to mitigate the urban heat island effect - when an urban area becomes much warmer than the rural areas surrounding it - and help improve air quality and beautify the surroundings.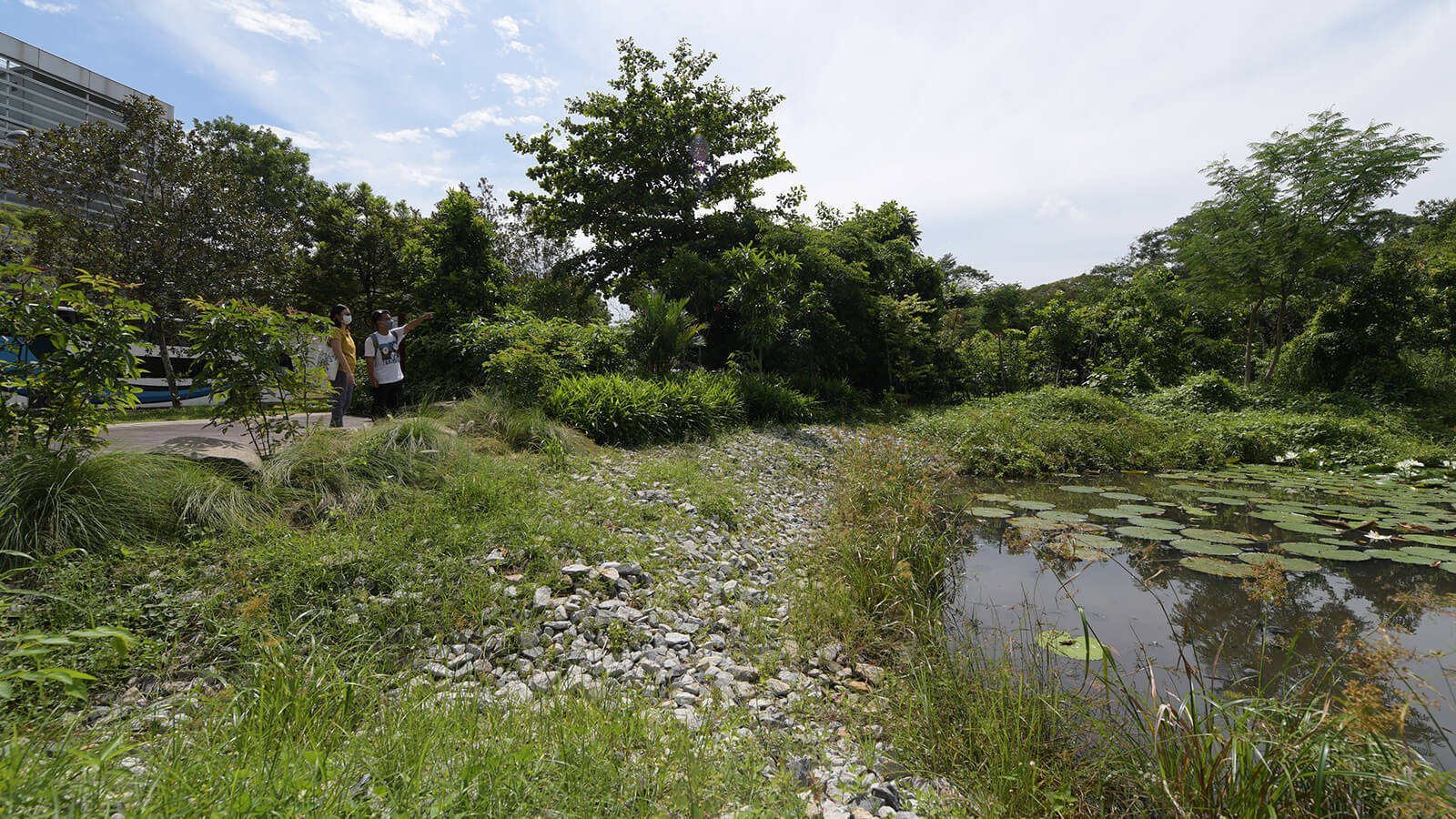 NParks enhanced the habitat and naturalised the waterlogged area that was formerly part of Seletar Base Golf Course at Hampstead Wetlands Park. ST PHOTO: ALPHONSUS CHERN
Hampstead Wetlands Park is "an example of our efforts to restore nature into the urban landscape and further naturalise the landscapes in gardens and parks", Ms Kartini says.
The Seletar Airbase was handed over by the British Royal Air Force to the Singapore Government in the 1970s. The Seletar Base Golf Course remained open to the public until 2007, when it was closed for the development of the aerospace park.
Over time, the area became waterlogged because it sat at the lowest part of the golf course, and a small secondary forest grew.
"We conserved the forest core within the park and enhanced the woodland and wetland habitats from the existing freshwater pond," Ms Kartini says.
"Native trees and shrubs were planted to complement existing vegetation and provide food and shelter for biodiversity, including water-tolerant and aquatic plants such as malang-malang that grow along the edges of rivers."
Native species, which are well-suited to local conditions, require less maintenance as well, she adds.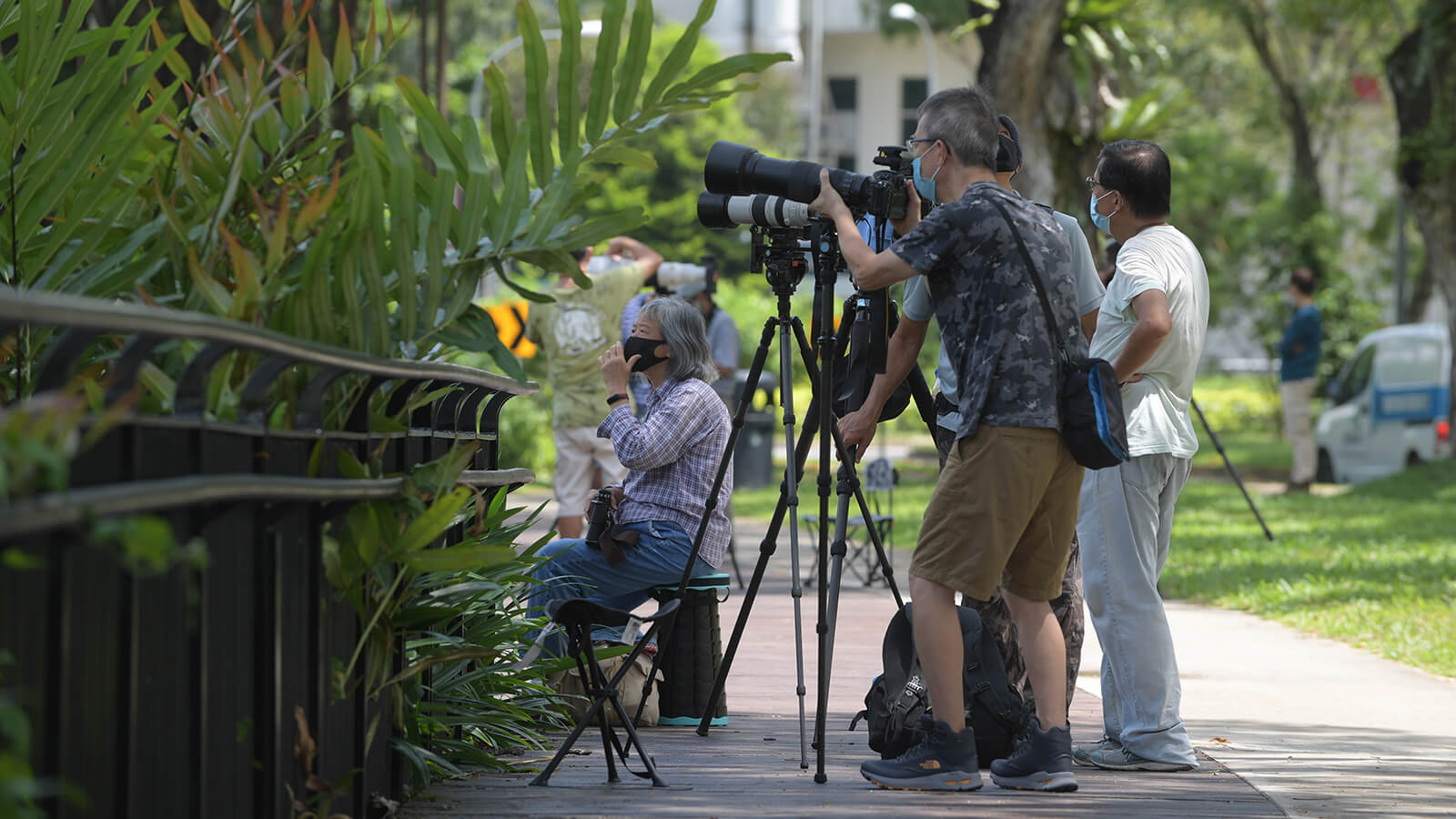 Key features of the Hampstead Wetlands Park include nature trails, boardwalks, and view decks for park visitors to enjoy the treasure trove of biodiversity. ST PHOTO: ALPHONSUS CHERN
The landscape in the Hampstead park takes on the tiered structure of a forest - from turf with sparse clusters of trees to medium-height shrubs to the tall, dense forest core. Boardwalks and nature trails are also strategically placed to minimise human impact on the delicate habitats.
Visitors can enjoy a variety of flora and fauna such as the Blue Percher dragonfly, White-throated Kingfisher and Blue-tailed Bee-eater bird that inhabit freshwater ecosystems.
The park, which is connected to other green spaces via the Seletar West Park Connector, is part of Singapore's first community greening programme for an industrial estate.
This initiative by JTC, NParks and the Garden City Fund has raised more than $125,000 from various organisations, institutions and individuals who have a passion for Seletar and the aerospace industry.
It covers greening efforts in SAP and the maintenance of the Hampstead park. By planting more trees and intensifying greenery, there will be more shade to cool the estate, creating a more pleasant environment.
Within strolling distance from the Hampstead park is The Oval, a lifestyle destination housed in 32 colonial black-and-white bungalows that were former residences of British officers and their families.
This mix of parklands and lifestyle cluster is part of JTC's efforts to create a vibrant live-work-play environment in an industrial estate.
Ms Tang says: "We recognised the potential to transform the bungalows into a unique lifestyle destination."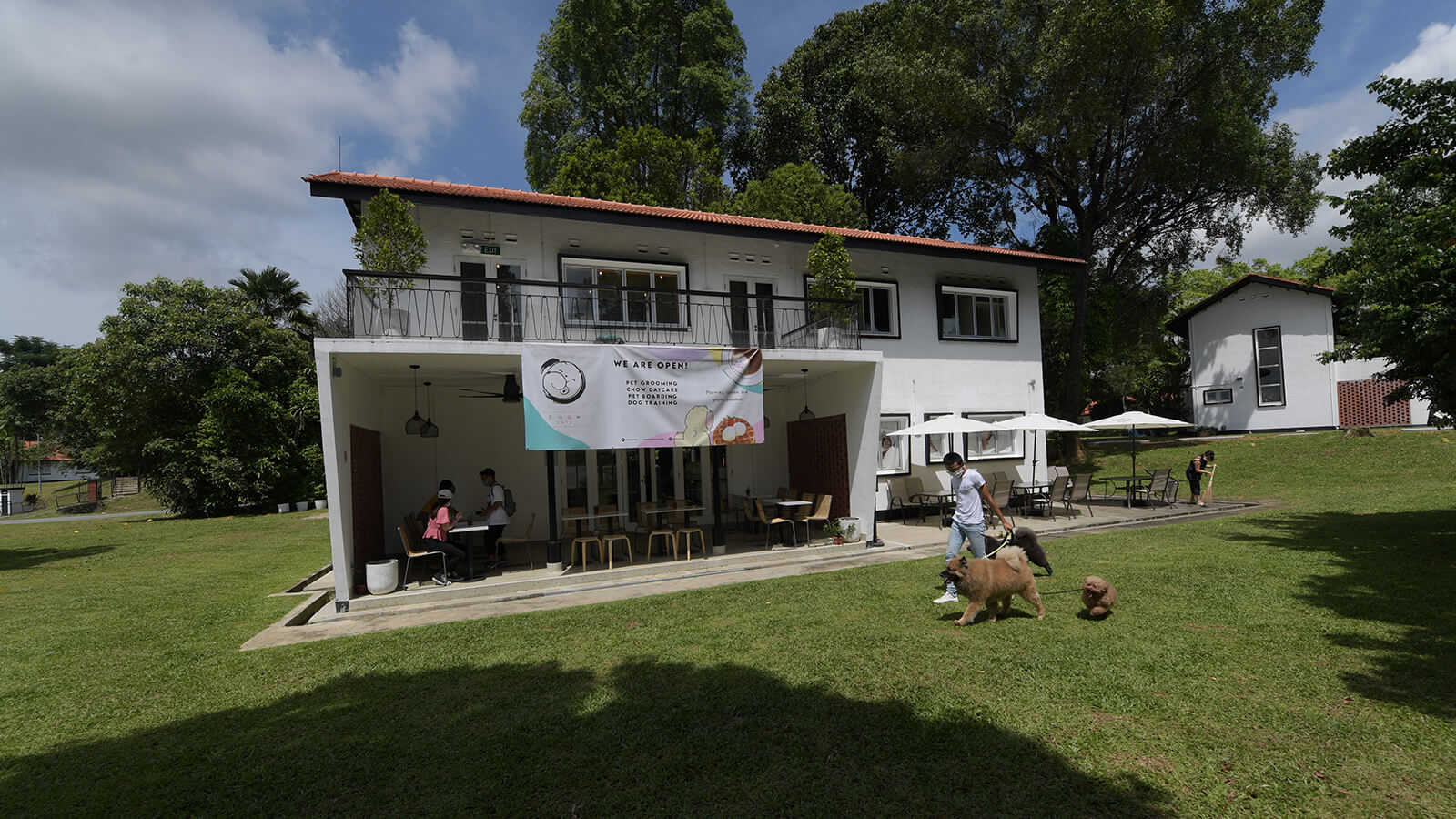 A total of 19 colonial bungalows have been restored by JTC. ST PHOTO: ALPHONSUS CHERN
JTC has restored the original look and feel of the bungalows.
Under phase one, conservation works, completed in 2016, were carried out on six bungalows so they could be fitted out as retail and dining establishments. The next phase, completed late last year, saw 13 other bungalows restored.
The detailed works included testing for material strength, cleaning and retaining of the original pitch roof tiles, and sourcing for green-tinted embossed door glazing from overseas suppliers.
Large outdoor swathes were retained to provide recreational spaces for the aerospace community of more than 60 multinational firms and local enterprises.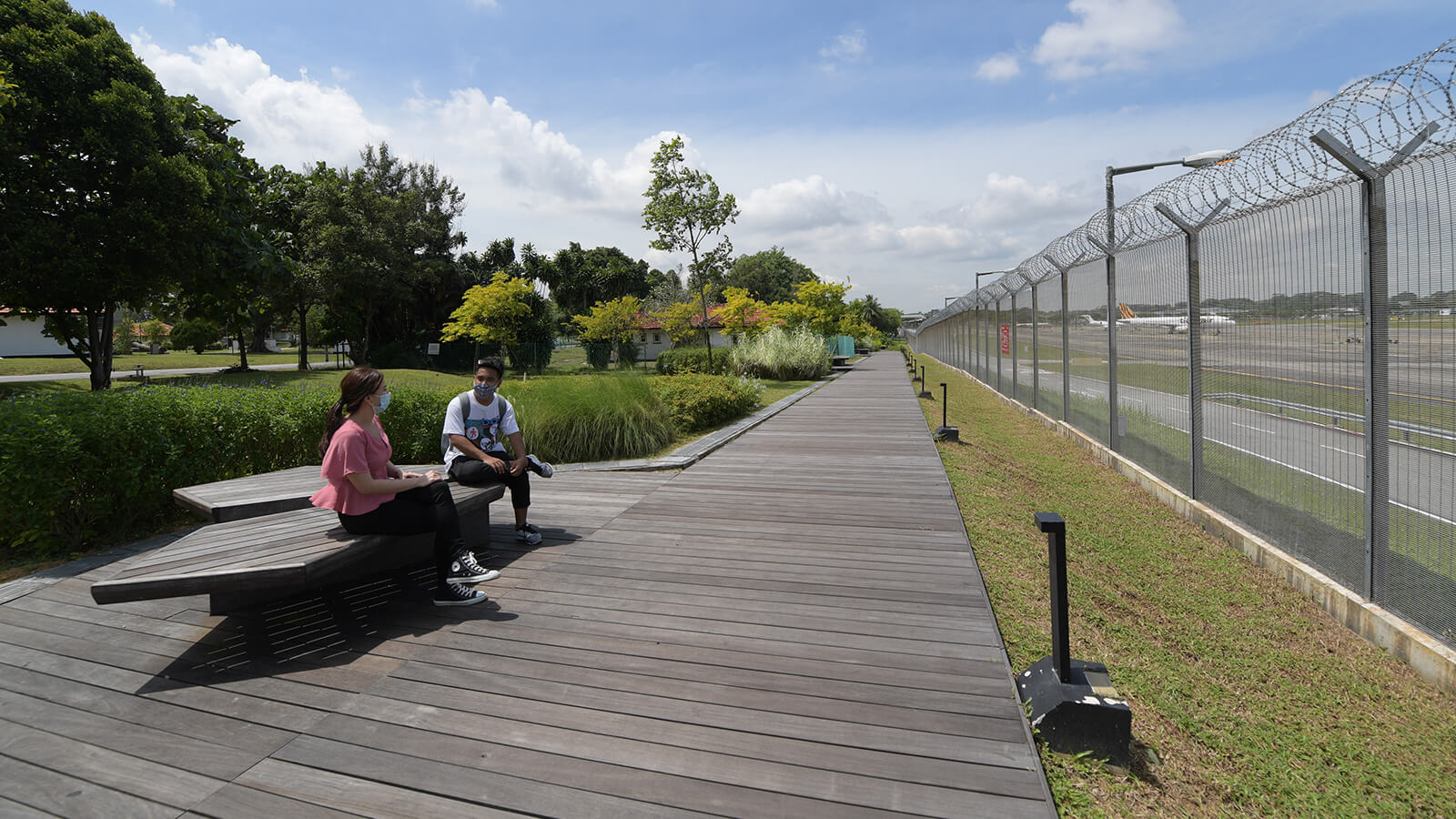 The boardwalk at The Oval is set against a backdrop of runways and aircraft hangars, providing views of jets landing and taking off. ST PHOTO: ALPHONSUS CHERN
Visitors will also be able to enjoy themed events, outdoor movie screenings and mini bazaars and carnivals.
The boardwalk at The Oval is set against a backdrop of runways and aircraft hangars, providing views of jets landing and taking off.
There is also a specially designed aerospace-themed playground for children that pays homage to Seletar's aviation roots.
On weekends, it is common to see families and friends dining at the colonial bungalows, which house an eclectic mix of seven food-and-beverage (F&B) and retail outlets.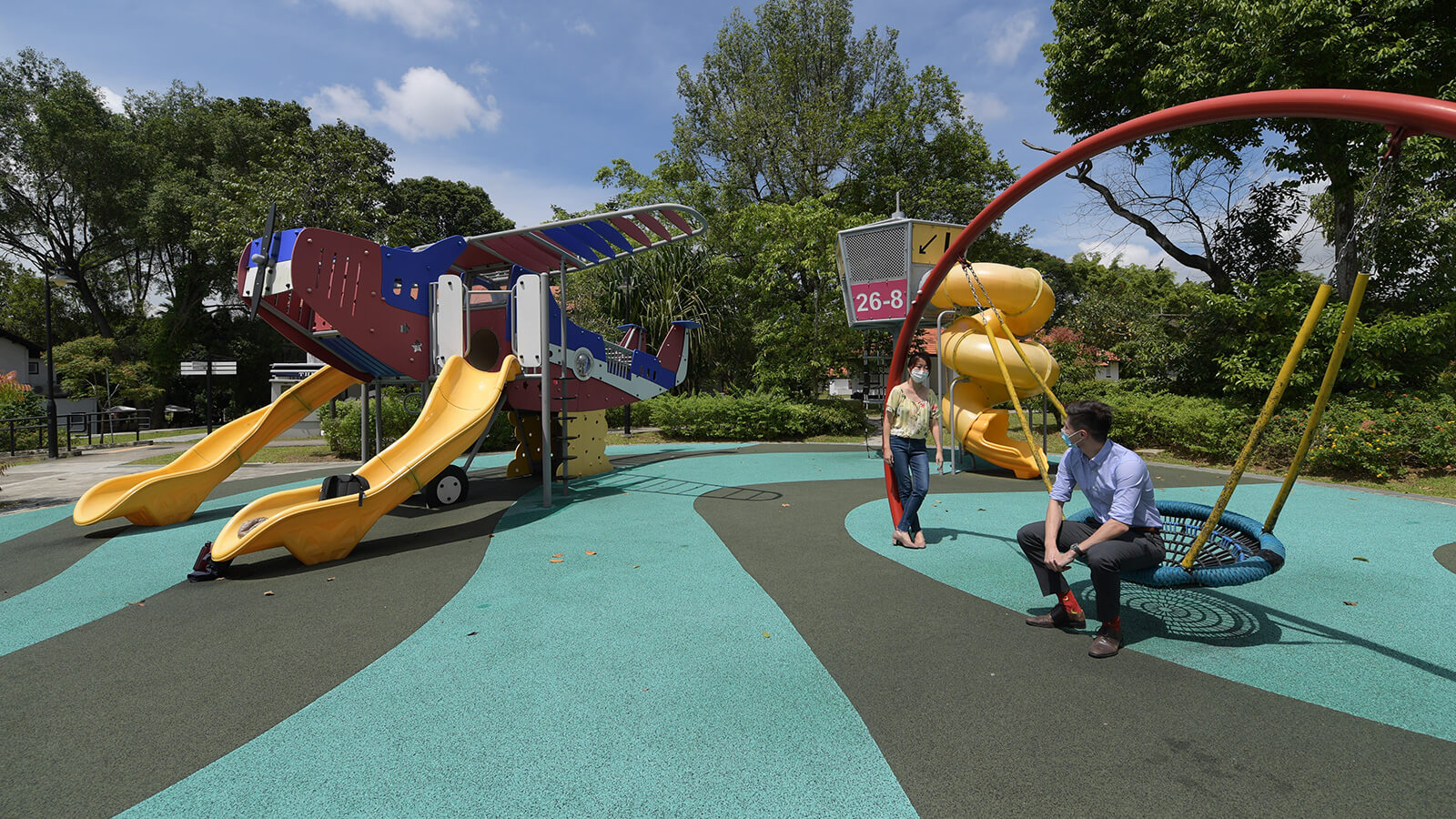 The aerospace themed playground that pays homage to Seletar's aviation roots. ST PHOTO: ALPHONSUS CHERN
In 2016, F&B outlets such as Youngs Bar & Restaurant, Di Wei Teochew Restaurant, Wheeler's Estate and The Summerhouse were among the first to set up shop at The Oval.
Pet-grooming house Chow Cute started operations three months ago, and two F&B operators - The Singapura Aerospace Club and 5 by Sans-Facon - are slated to open by the end of this year.
Observing that more Singaporeans are on the lookout for off-the-beaten-track dining venues, Ms Tang says: "Industrial estates sometimes offer the best hidden gems."
NEW RETAIL AND F&B OUTLETS AT SELETAR AEROSPACE PARK
CHOW CUTE (16 THE OVAL)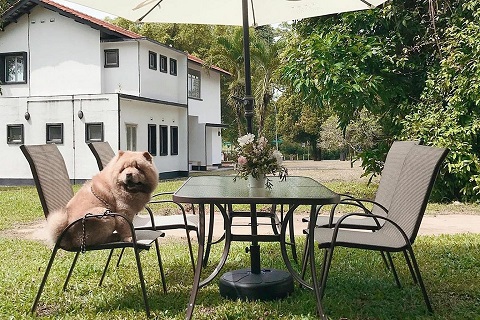 Chow Cute cafe in The Oval is a cafe and shop for dogs which features Chow Chows as the mascot. PHOTO: CHOW CUTE
The pet boarding centre, which opened in July, provides grooming services for dogs, cats and rabbits and sells pet essentials.
It has ample indoor and outdoor play areas for pets and, by the end of the year, swimming facilities and a dog run.
Owner Michelle Lim says JTC's adaptive reuse of the former British Royal Air Force bungalows has helped inject new life into this little corner of Singapore.
"It's like going back in time, retaining its character, yet bringing new business. It is a place well-integrated with the modern lifestyle of Singaporeans," adds Ms Lim, who calls herself a "pawrent" with "furkids".
"I especially love the sunset, the breeze and the character of The Oval. It's like history standing still with a touch of modernisation."
THE SINGAPURA AEROSPACE CLUB (2 THE OVAL)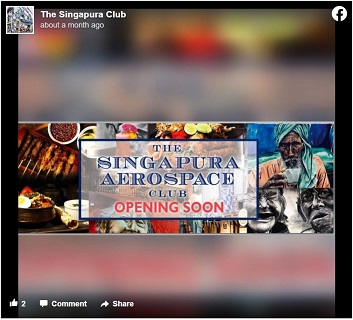 PHOTO: The Singapura Club Facebook page
The Singapura Club, which brands itself as a heritage-style vintage bistro, taproom and an all-day communal leisure dining concept, has two outlets at Haji Lane and Dunlop Street in Little India.
Its third outlet, slated to open at the Seletar Aerospace Park by the end of the year, will feature RoboBar - a robotic bartender that serves cocktails as well as caffeine staples.
Mr Jerry Singh, owner of The Singapura Club chain, says: "The regeneration of the entire park by JTC is novel. It offers a wonderful platform for F&B owners to roll out new concepts and challenge them to preserve the old charm too."
5 BY SANS-FACON (5 THE OVAL)
The French-style restaurant, which will open by the end of the year, will boast nostalgic classics with a modern twist.
It features The Chef Table, a gastronomic experience that changes daily according to the head chef's preferences.
Owner Laurent Perez says what stands out about being at The Oval is that it takes people away from what is usually perceived as Singapore.
"It shows a very different side to the typical high-rise buildings and crowded streets, and takes you away to a more relaxed and serene ambience. We are blessed to have found such a hidden gem," he says.