Creating a Safe Workplace Together
24 June 2019 - In face of rising and more complex security threats, security on Jurong Island is more important than ever. Given the nature of manufacturing activities on Jurong Island, workplace safety is also a priority for companies, with stringent safety processes and equipment put in place by companies to ensure the safety of their employees.
To promote greater safety and security awareness among the Jurong Island community and support companies in their efforts, an inaugural Workplace Safety and Security Day was organised in Jurong Island on 23 May 2019, offering solutions to mitigate security threats and maintain a safe workplace.
Held at Oasis @ Sakra, the event was attended by around 300 executives from the Jurong Island community. Government agencies such as the Singapore Civil Defence Force (SCDF) and Singapore Police Force (SPF) were present to showcase the latest emergency response and security initiatives respectively.
Demonstration booth by SCDF
With the aim to educate the Jurong Island community on first aid and emergency response, a demonstration booth was set up by the SCDF, providing attendees with hands-on experience in carrying out Improvised First Aid Skill (IFAS) and cardiopulmonary resuscitation (CPR), as well as using an automated external defibrillator (AED) in times of need. Attendees also learnt more about SCDF's new emergency medical service (EMS) response framework that involves a differentiation of calls based on the severity of cases, and the prioritisation of severe cases over less serious ones. The new framework also involves the deployment of Fire Response Specialists (FRS) who have been trained as Emergency Medical Technicians (EMT) to attend to life threatening emergencies.
The SPF showcased their latest SG Secure initiative at the event, as well as a step-by-step guide for companies to conduct table top exercises in response to security attacks at the workplace. These initiatives have helped to educate the Jurong Island community on what they can do in times of crisis, and strengthen their contingency response plans.
To raise awareness about workplace safety and skills training, a booth was set up by the Workplace Safety and Health Council that provided insights on building a safe and healthy workplace for employees. A portfolio of safety related training courses was also made available by the Association of Process Related Industries (ASPRI), which plant contractors and process owners can tap on to upgrade the skills and knowledge of their workers.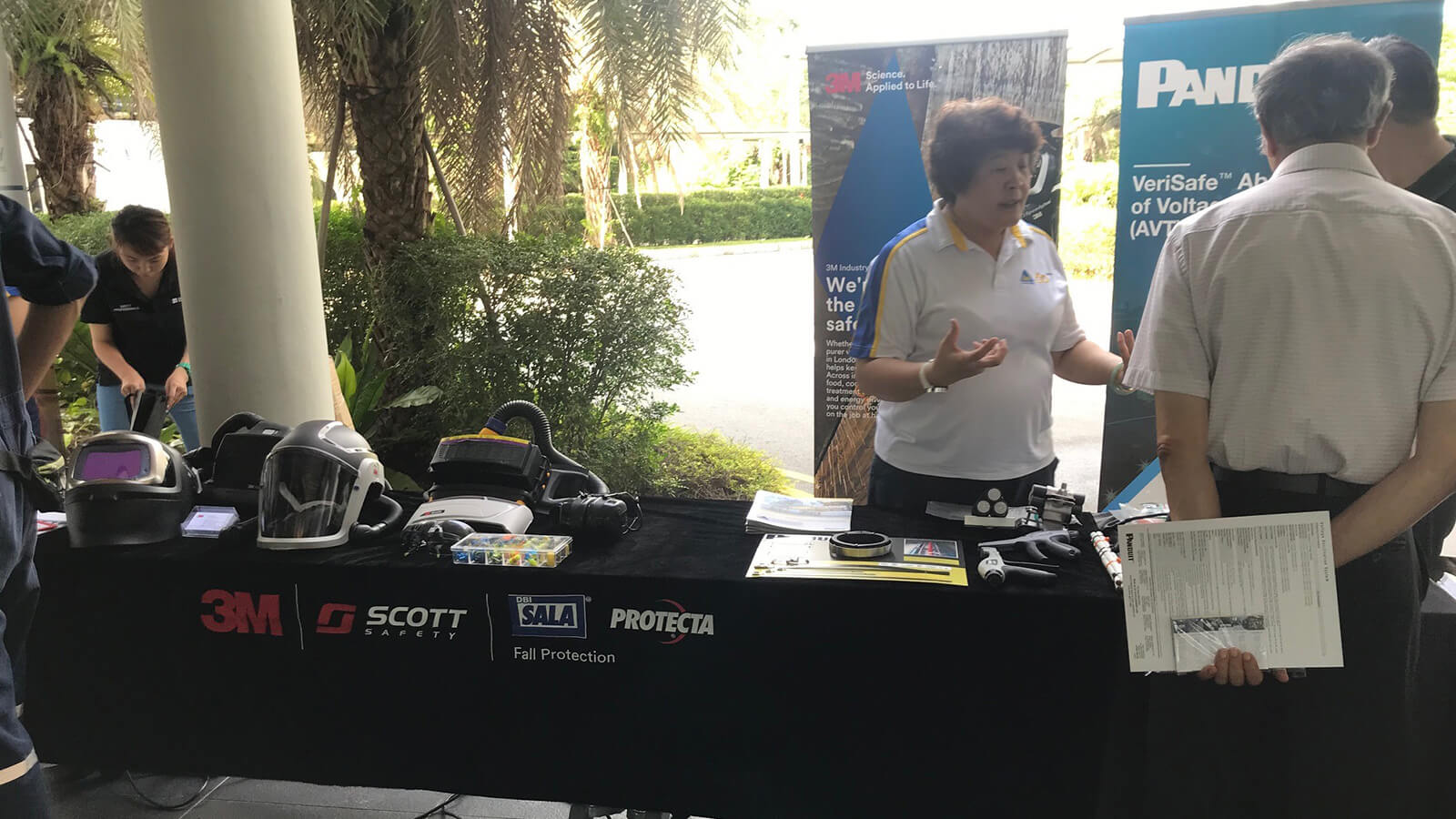 Booth by LKH ElectricBooth by LKH Electric
Attendees also had the opportunity to learn about the latest technologies, equipment and services in the market from solution providers and suppliers, such as Emerson, a global technology and engineering company, AETOS, Bigmind, a local start-up that offers people and asset tracking systems, and LKH Electric, a distributor of safety products and accessories. A comprehensive range of the latest equipment and technology solutions was showcased by these companies, ranging from process safety equipment, PPE products, people and asset monitoring and tracking systems, to unmanned drones for plant safety surveillance and equipment inspections.
The event served to increase awareness among the Jurong Island community of the latest schemes, initiatives and offerings available that could further improve security and safety at their workplaces. By bringing the Jurong Island community together, we also hope to encourage them to explore collaborations with one another, and collectively work towards enhancing resilience at the community level.