The aerospace industry's flight towards net zero
Sustainability is top of the priority list in almost every sector today, and the aviation industry is no exception. With the global pandemic driving home the importance of taking climate action, the aviation sector is revving up its engines and preparing to go green.

Pre-pandemic, in 2019, the aviation industry accounted for over 2% of all human-induced carbon dioxide (CO2) emissions, according to the Air Transport Action Group (ATAG). But with planes taking to the skies in much smaller numbers during the pandemic, the aviation sector now has an unprecedented opportunity to set themselves on track to achieve net-zero carbon emissions by 2050, a goal set by the International Air Transport Association (IATA).

With a little more room on the runway, the aviation industry is gearing up for change, and local firms are no exception. Whether it is Singapore's national carrier Singapore Airlines (SIA) or within the JTC-owned Seletar Aerospace Park, firms in the aviation sector have set out plans to reduce carbon emissions by 2050, and are relying on various means to do so. Here are three key actions the aviation sector is taking in their journey to net zero.
1. The switch to Sustainable Aviation Fuel
Creating a circular economy goes hand-in-hand with sustainability, and the aviation sector is ready to join the mission by making the switch to sustainable aviation fuel (SAF).

SAF is made using sustainable feedstock such as used cooking oil, waste materials, or fast-growing plants and algae. The use of sustainable fuel has the potential to reduce carbon emissions by up to 80% over its lifecycle, as compared to typical fossil jet fuel.

Leading the charge towards a future of sustainable fuel is none other than Singapore's national carrier, SIA, who has been a part of the mission since 2011. As a member of the Sustainable Aviation Fuel Users Group (SAFUG), SIA has launched a series of 12 green package flights utilising sustainable fuel, fuel-efficient aircrafts and optimised air traffic management measures in 2017 and is committed to achieve net-zero carbon emissions by 2050. In a one-year trial starting from the third quarter of 2022, all SIA and Scoot flights out of Changi Airport will use a blend of refined jet fuel and SAF.

During the pandemic, the airline pressed forward with its undertaking. They entered a year-long partnership with Swedish airport operator Swedavia in January 2020, which saw them using a blend of jet fuel and sustainable fuel on flights between Stockholm and Moscow. With this, they have managed to save approximately 47 tonnes of CO2 emissions in the past year, the equivalent of 10 passenger vehicles driven for a full year.

While sustainable fuel can currently only be used commercially in blends of up to 50%, one firm within Seletar Aerospace Park is hoping to make sustainable fuels the go-to solution in the near future – gas turbine engine manufacturer Rolls-Royce.

"Our goal is to become a carbon neutral company by 2050, so we're starting our work into this mission," says Mr Alastair Sim, Account Manager at Rolls-Royce, at a webinar on emerging trends held during JTC's Aerospace Industry Day. To do so, the manufacturer believes technology plays a fundamental role, he adds.

Mr Sim explains that the company is taking a three-pronged approach, by improving gas turbine efficiency while testing out sustainable aviation fuels, and pursuing electrifiction. Last year, they begun testing their Trent 1000 engine using 100% sustainable fuels for the first time.

Through this, they hope to determine if the use of an unblended fuel significantly contributes to improved environmental performance of gas turbine engines, and to gain information on fuel performance in the engine. Moving forward, they have announced their intention to continue using alternative fuels as a regular part of their testing programme, in the hopes of accelerating the availability of SAF.
2. Electrify your flight with zero carbon options
While the increasing uptake of SAF is promising, having the option of a completely emission-free flight is undoubtedly exciting. In fact, it may well be possible with the advancement of electric vertical take-off and landing (eVTOL) aircrafts.

In 2019, Volocoptor conducted the first crewed public test flight of an eVTOL in Singapore at Marina Bay. After working closely with several key stakeholders, such as the Ministry of Transport (MOT), the Civil Aviation Authority of Singapore (CAAS), and the Economic Development Board (EDB), Volocopter has committed to launching its air taxi services in Singapore in the next two years.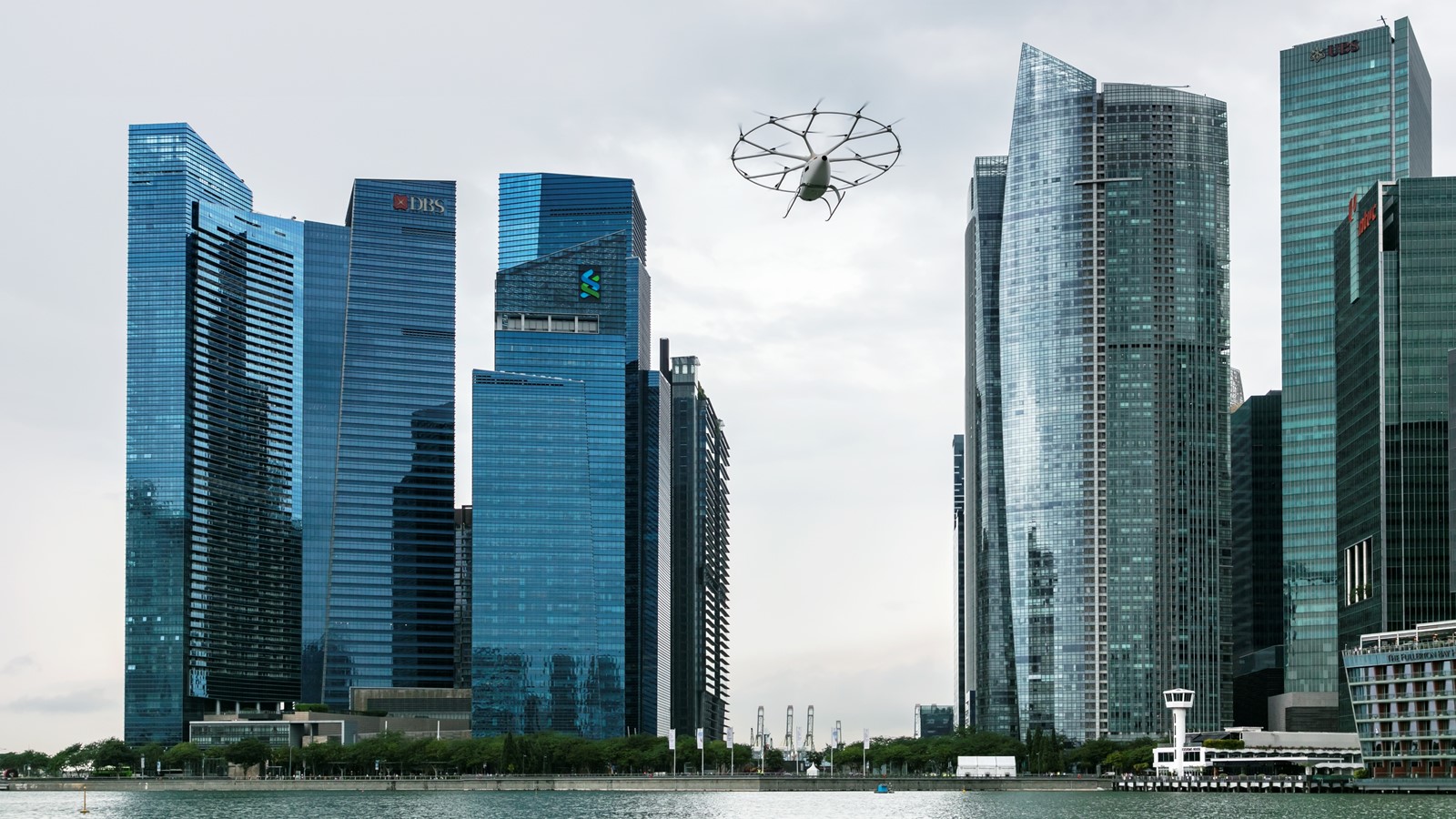 Volocopter's crewed public test flight of an eVTOL at Marina Bay. Photo: Volocopter
"With our family of electrically powered aircraft, we design our solutions specifically for various missions with key common qualities: Very stable flights, low and agreeable sound signature, and zero emissions during flight," says Mr Chu Hon Lung, Head of Singapore and Business Development Southeast Asia, Volocopter.
Complementing the advancements in the Advanced Air Mobility (AAM) is Skyports, located within Seletar Aerospace Park. Skyports hopes to be a leader in the development of eVTOL infrastructure, such as vertiports. They are no stranger to the local eVTOL scene, having launched the Voloport, a prototype air taxi vertiport, in 2019 with Volocopter .

eVTOL technology is not only used to fly passengers but also to transport cargo. In 2021, Singapore opened the maritime drone estate (MDE), which provides the infrastructure to launch eVTOL cargo flights for shore-to-ship operations. Both international and local industry players have used the MDE as a platform to testbed these operations.

With the advancements in eVTOL technology, electricity now poses a feasible alternative for short-haul and last-mile passenger and cargo travel. While there is still a long way before eVTOL flights can become a regular way of flying, emerging technologies alongside research and development (R&D) may present attractive alternatives yet.
3. Emerging technologies offer new routes to net-zero
A hybrid aircraft is one such alternative. Much like hybrid cars, hybrid aircrafts combine two sources of power such as fuel and an electric battery, or other sources. This enables aircrafts to reduce fuel burn while offsetting the weight of batteries needed to power an all-electric flight.

Aviation heavyweights such as Airbus have been exploring such options. In 2017, they launched the E-Fan X demonstator, a complex hybrid-electric flight demonstrator to test the technologies that can help decarbonise our skies.
In addition, Airbus continues to pursue zero-emission aircrafts in their own ways. In September 2020, they unveiled three concepts for the world's first zero-emission commercial aircraft which may enter service as early as 2035. Relying on hydrogen as a primary power source, the three concepts represent different approaches to achieving zero-emission flight by exploring various technology pathways and aerodynamic configurations.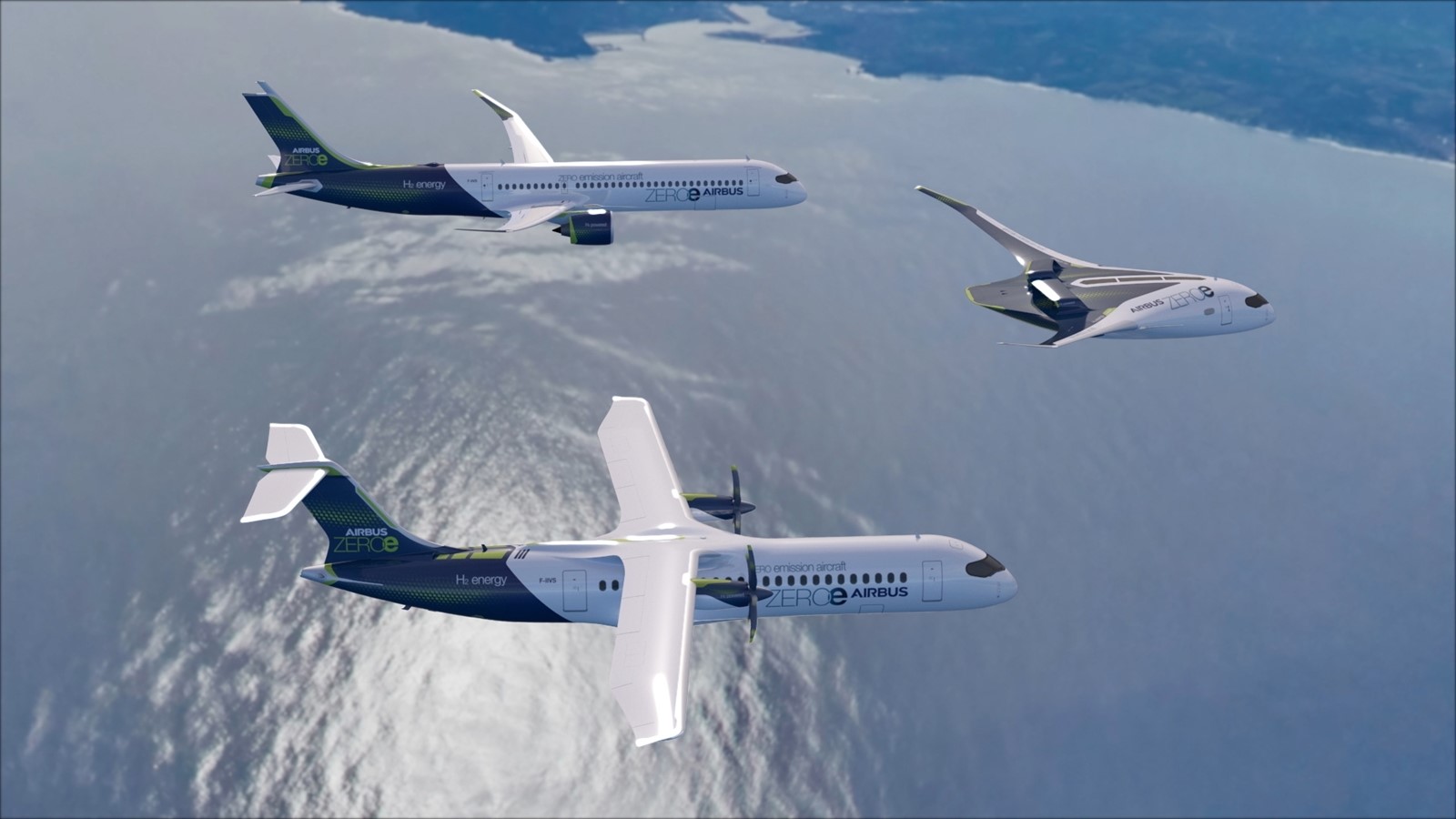 Airbus' zero-emission concept aircrafts. Photo: Airbus
Airbus CEO Mr Guillaume Faury says of the move: "The transition to hydrogen as the primary power source…will require decisive action from the entire aviation ecosystem. Together with the support from government and industrial partners, we can rise up to this challenge to scale-up renewable energy and hydrogen for the sustainable future of the aviation industry."

The journey towards net zero may not be an easy one. But with firms advancing sustainable technologies in the coming decades, a clean and green flight could well be on the horizon.