Playing with the big boys: How an enterprising SME services Collins Aerospace, SIA Engineering, and other industry giants
In the aerospace industry, MRO (maintenance, repair and overhaul) services are essential for the safe, reliable and efficient operation of aircraft. As specialists in this field with a wide customer base that includes the likes of Collins Aerospace, ST Engineering and more, Coway understands the industry's demands, what it takes to succeed, and the importance of building capabilities to meet the industry's advancing needs.

Coway is an SME with 25 years of experience in aerospace, defence, as well as oil and gas industries. It is one of the few SMEs in Asia Pacific to be certified to perform MRO operations by mul`tiple aviation authorities – including the Civil Aviation Authority of Singapore (CAAS), Federal Aviation Administration (FAA) and the European Union Aviation Safety Agency (EASA).
Opportunities for growth in a recovering industry
Anticipating a rise in demand for MRO services in 2022 and beyond, Coway has laid out an ambitious five-year plan to double their revenue.

"During the pandemic, aircraft operators encountered lots of supply chain disruptions, which can be very costly for them. They are now more careful with who they work with, especially with critical parts — and this presents a strong opportunity for reputable aerospace companies in Singapore, especially SMEs," shares the company's managing director, Mr Lien Whai Cheng. "To capitalise this, we must grow our capabilities and capacities."

Mr Lien also detailed his company's growth and expansion plans over the next five years: "Our aim is to double our revenue within this period, with profits coming from our aerospace manufacturing, aerospace MRO, and other manufacturing efforts. We also plan on increasing our workforce by 60% to manage with the increased volume and planned digitalisation of our operations."

With their machining and surface treatment capabilities, Coway is well-positioned to take a larger share of the aerospace manufacturing and MRO market as the industry recovers from the pandemic — and as more customers choose the reliability and assurance of working with companies in Singapore, over lower cost rivals in the region.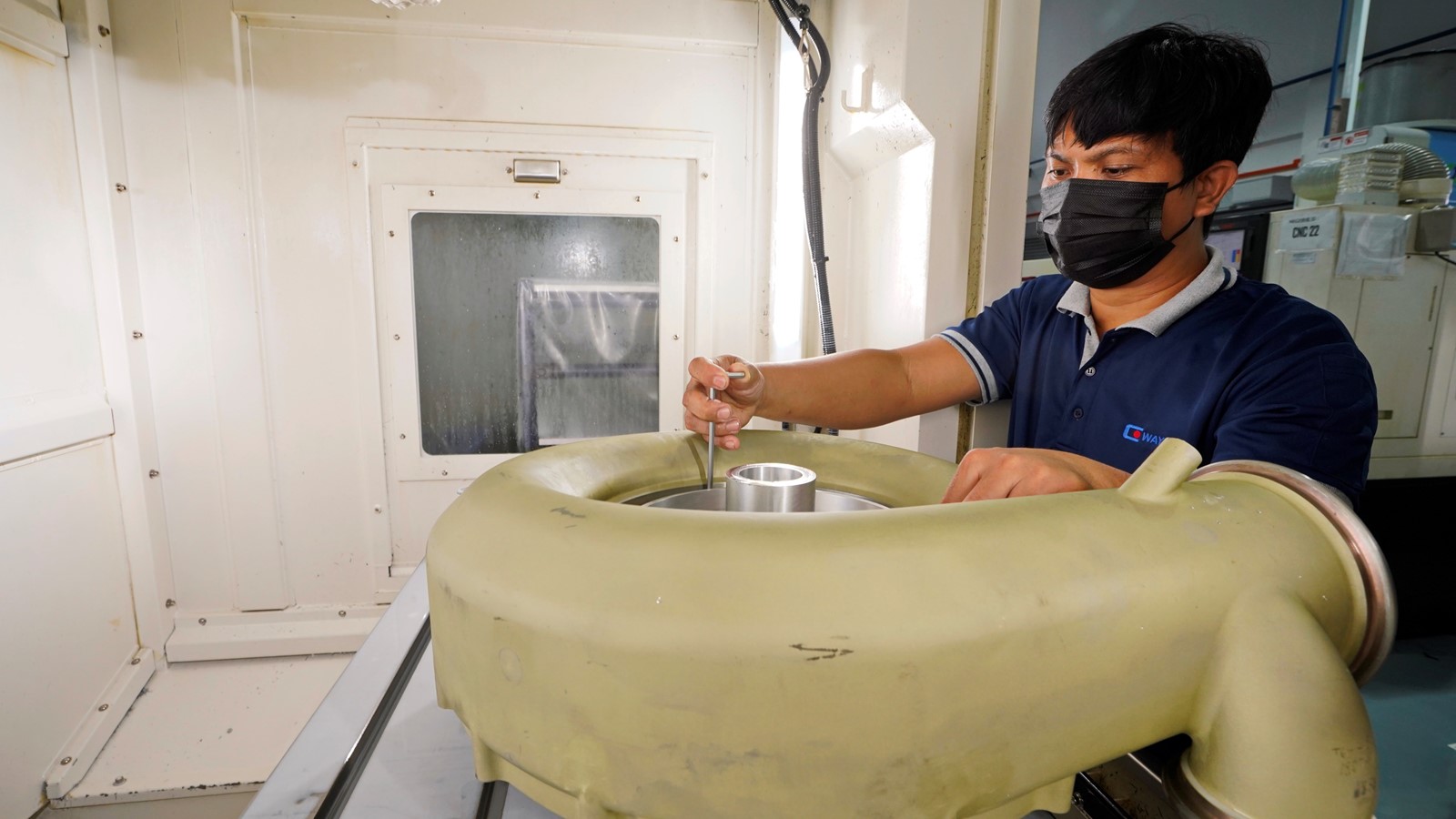 Doing final checks on an aircraft component 

Long-term digitalisation plans
The company is also embarking on a forward-looking digitalisation plan as part of its Industry 4.0 journey. It aims to digitalise its processes to create a smart factory, which involves the installation of Enterprise Resource Planning (ERP), OEE and Internet of Things (IoT) software, as well as automating its CMM inspection processes.

This also includes purchasing manufacturing and industrial processing plant equipment, such as 5-axis machining centers, robotic equipment for loading of parts during production and inspections, ERP software, OEE and IoT software.

With these plans in mind, Mr Lien started to look for the floorspace and infrastructure to support their growth.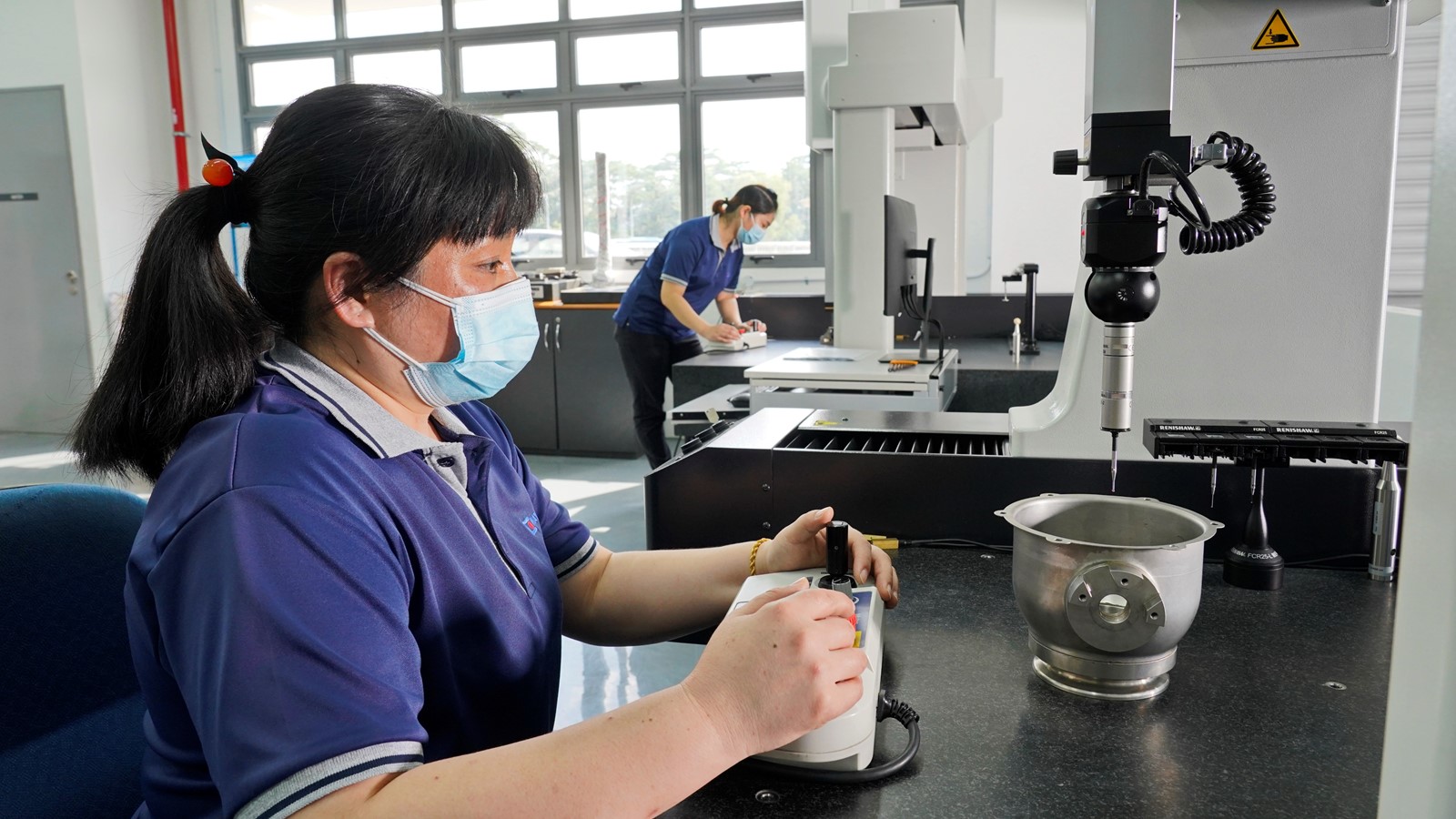 Coway employees operating the CMM machines
A new home and exciting possibilities await
For Coway, the newest buildings in JTC aeroSpace @ Seletar Aerospace Park (SAP), presented the ideal space for their expansion. With its strategic location in Singapore's aerospace hub, this cluster of nine buildings provide "plug-and-play" solutions to help aerospace companies take flight more quickly, and with a lower upfront capital investment.

Companies specialising in manufacturing and MRO activities will benefit from the standard factories, which have incorporated the industry's latest requirements for higher technical specifications, such as a higher ceiling height and floor loading to cater for Industry 4.0 technologies and the use of heavier and larger equipment. The buildings also feature flexible configurations and smaller units, which enables modular expansion as companies have the option of taking up adjacent units when they outgrow their current space.

For Coway, who presently occupies the third level at JTC Aviation Two in SAP, securing the new facility means the company now has the space for their upcoming expansion and development aspirations.
Advantages of being in the SAP community
Having already experienced the benefits of being in the SAP community, Mr Lien expects more of the same at the company's new facility. He credits the estate for creating opportunities for interactions and networking, as members of the aerospace community often meet at common spaces, or go for runs and bike rides together after work.

He says: "For MRO operations, it's essential that we have an ecosystem where MNCs and SMEs work together. This is how we keep building our process capabilities and capacities, and how we can create unique competitive advantages for ourselves in Singapore."