Singapore to tap more green energy with JTC's solar push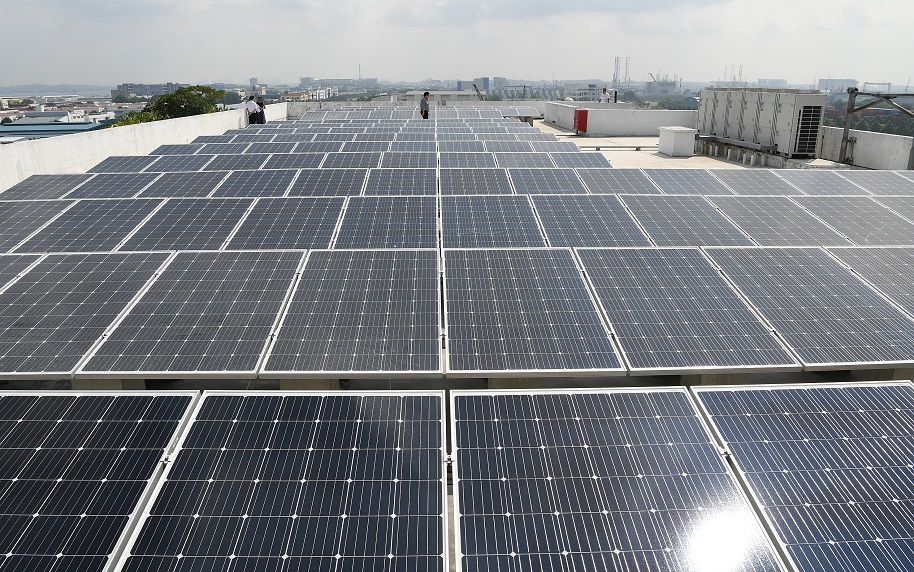 JTC said its SolarRoof programme can make solar adoption easier and more accessible for firms. (Photograph: ST File)

Singapore's drive to tap more clean energy from the sun is being accelerated by a policy from industrial developer JTC Corporation that will increase the installation of solar panels at its facilities.

The Straits Times has learnt that JTC now requires solar panels to be installed for new land and land-based facility allocations, lease renewals, land launches and tenders in all its estates.
This has been mandatory since April 2020 for all firms that meet certain criteria, such as if they have at least 800 sq m of contiguous rooftop space, JTC said.
JTC manages a portfolio of industrial spaces and developments that spans over 6,800ha - or almost 28 times the size of Toa Payoh town.
The developer told ST in January that it expects an average of 40 new allocations and renewals per year. This latest requirement, as well as a prior effort by JTC to put solar panels on temporary vacant lots, is expected to generate more than 82 megawatt-peak (MWp) of solar energy over the next two years.
Currently, solar panels have been set up at close to 40 sites across JTC estates, comprising available rooftops and temporary vacant industrial land, its spokesman said.
The 82MWp is about 4 per cent of Singapore's solar target for 2030, by which time the Republic wants to have an installed solar capacity of 2 gigawatt-peak (GWp).
This 2GWp target - enough to power about 350,000 households here for a year - is expected to make up 3 per cent of Singapore's total electricity demand in 2030.
Dr Victor Nian, an adviser at the Centre for Strategic Energy Research in Singapore, an independent think-tank focusing on energy issues, said: "Despite the small percentage, industrial properties should nonetheless be considered an important contributor to Singapore's solar ambition, given the country's land space constraints."
The Republic lacks access to other forms of renewable energy, such as tidal or wind power, so the sun is still its most viable source of clean energy.
But harnessing sunshine is still challenging, since the lack of space prevents the roll-out of large solar farms.
Singapore is trying to deploy solar panels wherever possible - on Housing Board blocks, water bodies like Tengeh Reservoir, vacant plots of land, and now, more industrial plots.

An earlier governmental effort called the SolarNova programme, led by the Economic Development Board and HDB, was launched in 2014 to accelerate the deployment of solar panel systems across HDB blocks and government sites.
The Tengeh Reservoir floating solar farm has a capacity of 60MWp (about 3 per cent of the 2030 target), while HDB said in March last year that it had a total solar capacity of 330 MWp for 6,901 HDB blocks. This amounts to about 17 per cent of the 2030 target.
Said the JTC spokesman: "As Singapore's leading industrial developer... JTC works with our customers and the industry to install solar panels in our estates, enabling the business community to generate renewable energy and operate more sustainably."
Currently, about 95 per cent of the country's energy is generated by burning natural gas, a fossil fuel.
The use of such fuels releases planet-warming emissions into the atmosphere. This excess heat is driving climate change, resulting in warmer temperatures, rising sea levels and contributing to more extreme weather events.
But there is growing global momentum to turn away from fossil fuels to avert catastrophic climate change. Singapore has said it plans to do its part by deploying more solar panels, importing clean energy from its neighbours and investing in emerging low-carbon energy sources such as green hydrogen.
Dr Nian said: "JTC's plan sends an important signal about the need to make significantly more rooftop and other spaces available in order for Singapore to meet the 2GWp target by 2030."
JTC said its SolarRoof programme can make solar adoption easier and more accessible for firms.
Under the scheme, companies can install solar panels with no upfront capital cost.
"They can either lease the solar panels in return for a discounted rate on the power generated, or lease out their roof space for solar panel installation and receive revenue in return," JTC said.
"We welcome companies keen to install solar panels, even those with a short remaining lease tenure or limited contiguous roof area, to approach JTC to explore options."
The high upfront cost of solar panel systems and concerns over short leases that prevent any return on investment are some obstacles preventing more widespread solar adoption.
Proponent, an aircraft parts distribution and solutions company in Seletar Aerospace Lane, joined JTC's SolarRoof programme in March last year.

Mr Steven Leong, the firm's director for Asia Pacific operations, said solar energy is a good environment-friendly alternative to fossil fuels, lowering the electricity bill and providing a renewable energy source.

"There is no capital or maintenance cost as all these are borne by Sembcorp."

The master contract for phase two of the JTC SolarRoof programme was awarded in February 2021 to Sembcorp Solar Singapore, a wholly owned subsidiary of Sembcorp Industries.

Professor Subodh Mhaisalkar, executive director of the Nanyang Technological University's Energy Research Institute, said for Singapore to reach its 2030 target, the private sector needs to play its part.

"We need our large local enterprises to announce their net zero targets and to participate strongly in solar deployment and also in energy efficiency and conservation," he added.
Source: The Straits Times © SPH Media Limited. Permission required for reproduction.