The Bumblebee forklift: The future of intelligent warehousing
Bumblebee can lift heavy loads, nimbly navigate through narrow spaces while avoiding obstacles and work non-stop during the graveyard hours in pitch darkness.
No, this is not the beloved character from the popular Transformers movie franchise, but an autonomous stacker forklift that could very well be the superhero for the logistics industry.
The brainchild of one-year-old startup Xiaoxin Machines (also known as xSquare), Bumblebee made its debut in August, after nearly six months of development. The proprietary autonomous forklift aims to help logistics companies address the perennial industry problem of labour crunch, and tap technology to boost productivity and efficiency. Bumblebee can work safely alongside workers during the day, and continue working through the night even after the people go home.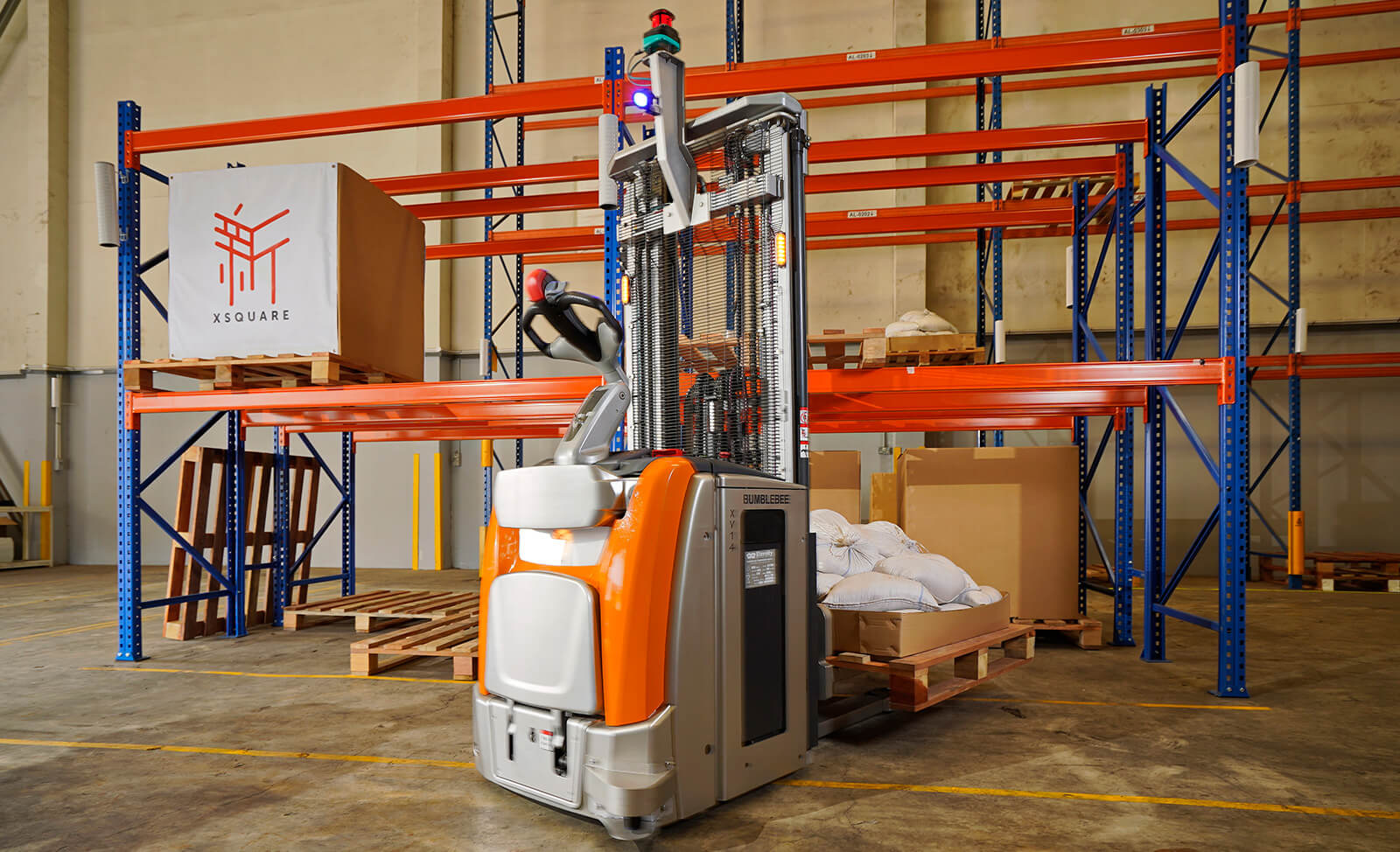 The Bumblebee - an autonomous stacker forklift that can navigate the warehouse independently
Over the next two years, it will be joined by its family of autonomous material handling equipment of varying heights and lifting capacity. Called Drift, Fortress, Hoist, Springer and Side Swipe, their functions range from pallet trucks, electric forklifts, tow tractors and reach trucks to meet different factory needs.
The vision, says xSquare's Director Kelvin Tay, is for these robots to work seamlessly alongside humans for smarter logistics solutions. "In the future, warehouses should be like a living organism. It should adapt itself to the needs of the business and we want to play a part in this process to have a warehouse that has very interesting and intelligent hardware," shares Mr Tay.
But Mr Tay and his team are mindful of the constraints that companies face. "To build a truly unmanned warehouse, you need to tear down the existing building or start from scratch from a plot of land and tailor [accordingly], but that is not viable and too expensive for most companies," he explains. "We want to help companies leverage autonomous technology for existing warehouses to optimise their operations immediately without any changes to the warehouse configuration."
Bumblebee is a plug-and-play equipment that can be added to any existing facility and work in proximity with workers. It features multiple sensors that give it a 360-degree view of its position in the warehouse. When it encounters obstacles, it uses xSquare's proprietary algorithms to react to different kinds of situations. If it encounters a moving object - say a human - it could stop to let the latter pass first. But if a stationary object is blocking its path, it can instead reroute to complete its task, instead of halting operations.
One factor that differentiates Bumblebee from its competitors is its level of customisation to meet local needs, says Mr Tay. Most competing products are from Europe, and are made for warehouses with wider aisle spaces, he explains. However, warehouses in Singapore usually have a tighter aisle space due to space constraints. As such, Bumblebee is designed to navigate in narrow aisle space of 2.5 metres, compared to 3 metres by other products in the market, adds Mr Tay.
Before each sale, xSquare's team would consult potential clients to understand their needs and constraints, and advise them on ways to integrate the machine into their warehouse. The team can configure Bumblebee to fit specific needs, such as retrofitting it with accessories like RFID or QR code scanners for stocktaking. Up to 100 permutations of this machine are currently available to handle varying needs of customers.
Such bespoke service is possible because xSquare develops its proprietary technology in-house, by hiring a team of engineers with expertise in robotics.
"But we are not under the illusion we can do everything ourselves," said Mr Tay, who emphasises that working with partners is crucial to developing Bumblebee. xSquare adopted a wireless charging solution developed by startup Xnergy for Bumblebee, enabling an "opportunistic charging" mode where the robot automatically returns to the charging bay to recharge during periods of downtime.
xSquare's network of partners stem from its larger connections with the industry. The startup is a subsidiary of Goldbell, an industrial vehicle distribution and leasing company with a fleet of over 8,500 vehicles from forklifts to commercial vehicles. The four-decade old company has a Future Mobility division to explore trends such as electric vehicles and autonomous technology, from which xSquare was conceptualised. It also has various channels such as venture capital arm and an accelerator programme launched in August 2019 to fund and mentor mobility, transport and logistics startups.
These strong networks and firm understanding of the industry has helped xSquare develop intelligent warehousing solutions that are practical. Already, Bumblebee has garnered a strong interest in the two months since its launch. xSquare has clinched one sales contract with a multi-national corporation, on top of receiving a number of enquiries from Hong Kong, India, Russia and Vietnam, among others.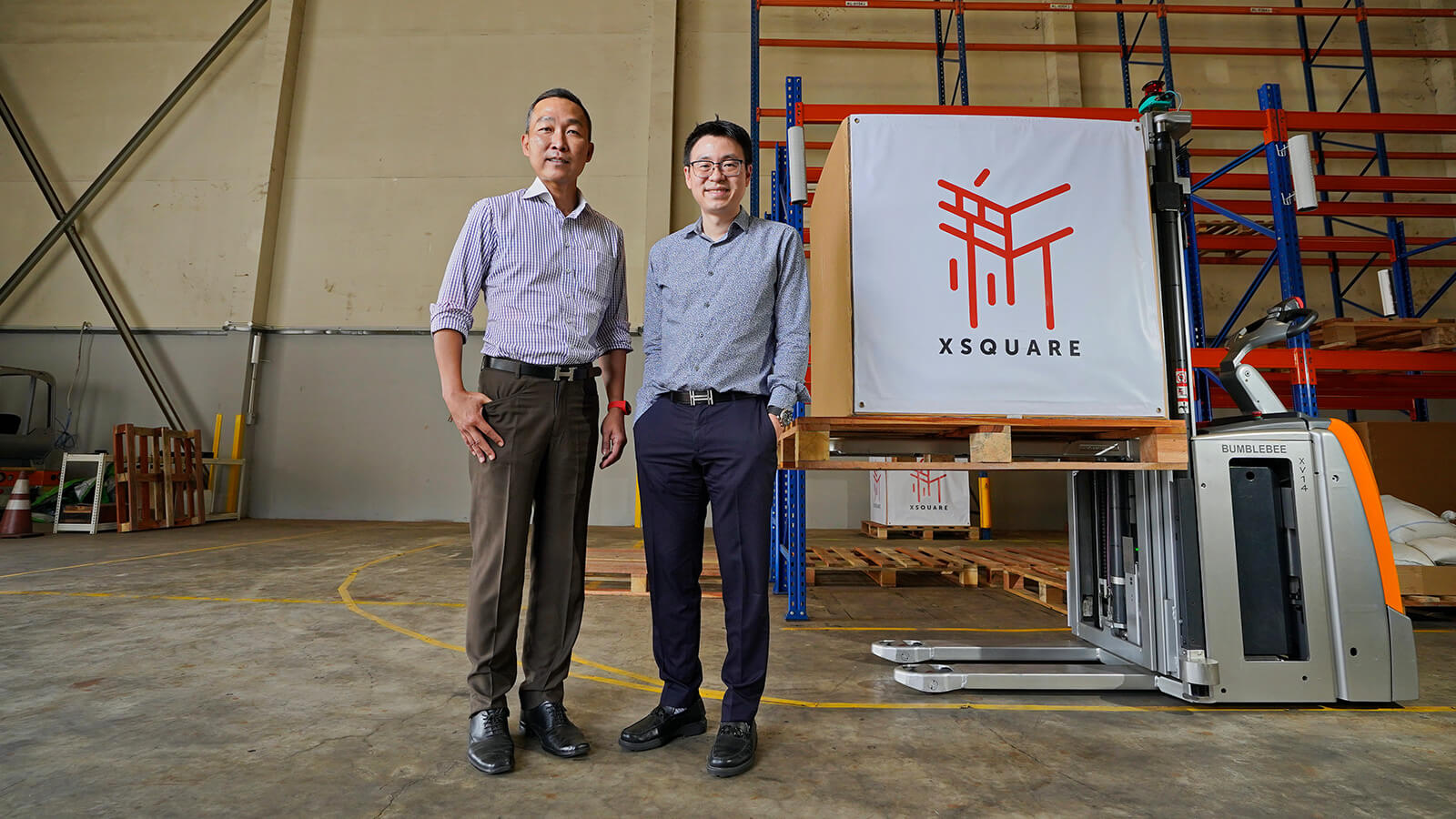 Mr Keith Liew (left) and Mr Kelvin Tay (right) lead xSquare
On xSquare's future prospects, Mr Tay believes that the horizon ahead is bright. He quips that they are always on the hunt to grow its pool of software engineers who have "a passion for robotics".
xSquare's General Manager Keith Liew adds that the cross between robotics and logistics makes for an exciting field. "We're in the initial stages of creating products. Unlike big tech companies, who have to abide by a certain set of fixed protocols, we have a flat hierarchy and we are flexible and nimble. The inputs from our engineers involved in the process are heard, enabling us to make great products from the ground up.