The Secret Ingredient to Growing Advanced Manufacturing Capabilities
Imagine a factory of the future, where technologies such as robotics, artificial intelligence, the Internet of Things and Big Data enable us to work smarter.
These are set to become more common in Singapore, thanks to a growing ecosystem of advanced manufacturing players who collaborate with one another to push the boundaries of technological innovations.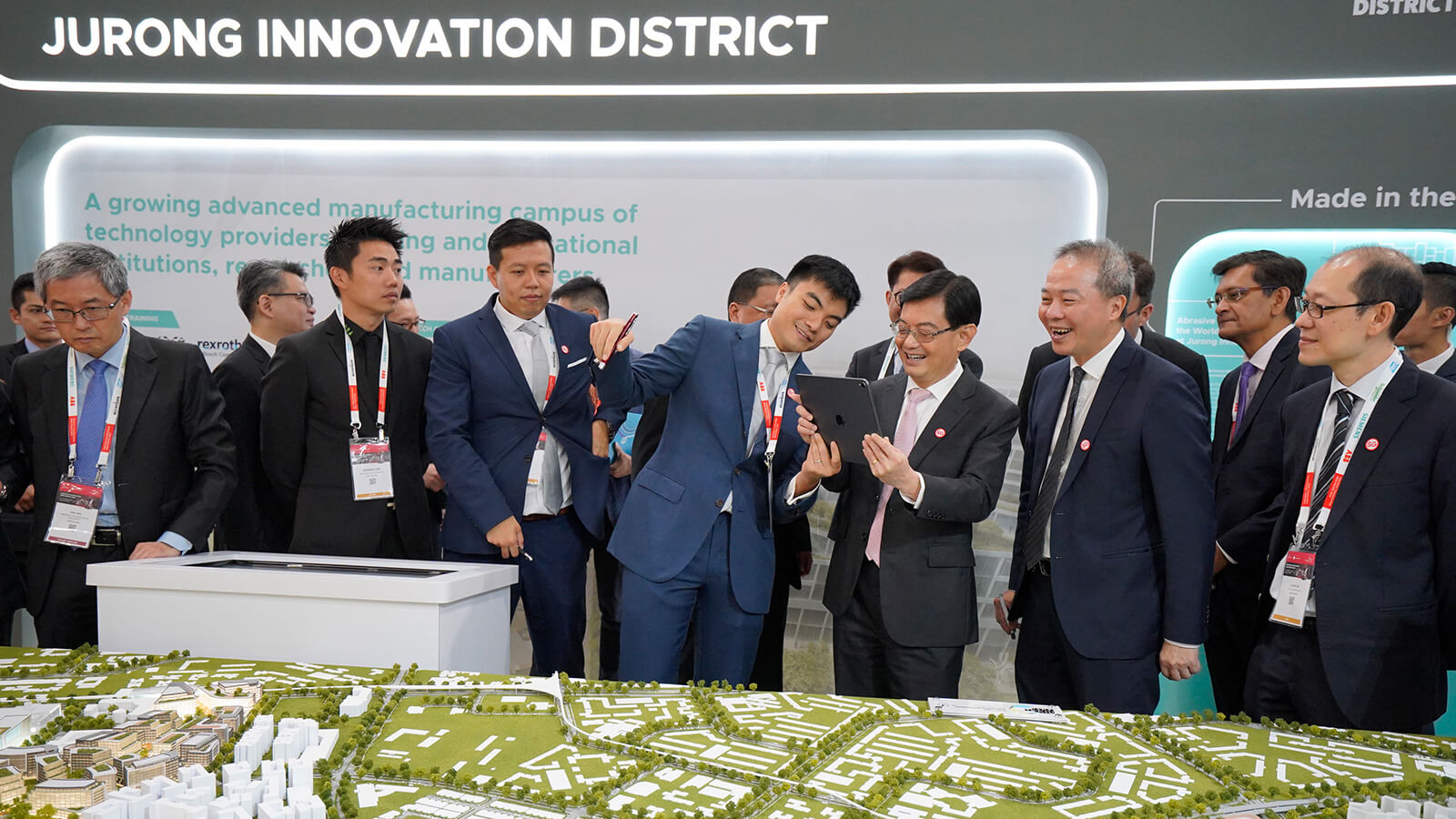 Deputy Prime Minister Heng Swee Keat learning about the advanced manufacturing ecosystem in Jurong Innovation District at Industrial Transformation Asia Pacific 2019 
Such collaborations are at the heart of the Jurong Innovation District (JID), masterplanned by JTC to be a one-stop campus that rallies manufacturers, researchers, technology and training providers together. It currently houses key industry players such as the Agency for Science, Technology and Research's (A*STAR) Advanced Remanufacturing and Technology Centre (ARTC), McKinsey Digital Capability Centre and PBA Group, with six more new organisations joining within the next three years.
Two of the new companies already have plans to set up centres to help fellow manufacturers draw upon their technology and know-how.
Siemens will set up its first Advanced Manufacturing Transformation Center to help other companies digitalise their manufacturing facilities. Visitors will get a chance to experience technology such as digital twin, which creates a digital copy of the manufacturing shopfloor to help organisations evaluate performance and make better decisions.
The centre will also house Siemens' first Additive Manufacturing Experience Center outside Germany, allowing companies without their own 3D printers to prototype and try out the technology with the support of Siemens' experts.
The anchoring of players in a common space allow us to better support manufacturing facilities on their journey towards advanced manufacturing.
Mr Raimund Klein, Head of Siemens Digital Industries ASEAN, says they chose JID because "the anchoring of players in a common space allow us to better support manufacturing facilities on their journey towards advanced manufacturing".
Another new JID entrant, Bosch Rexroth, will be setting up a Regional Training Centre. This aims to provide a training platform for fellow manufacturers to discover the applications of Industry 4.0 technologies and practices.
Bosch Rexroth will also collaborate with companies on Industry 4.0 projects at the centre, in order to support implementation of solutions and develop companies' expertise in the process. For example, Bosch Rexroth has already formed a partnership with local medical tech manufacturer Racer Technology for training and projects to tap technology to improve workers' efficiency and gather data to improve their processes.
This partnership came about after JTC introduced Racer to Bosch Rexroth. As Racer's CEO, Mr Willy Koh, puts it, "Unlike any landlord who would just focus on property, JTC went further to create a whole ecosystem of partners."
JTC plans to facilitate more of such partnerships by expanding their network of Industry 4.0 partners, even beyond JID. New members to the network include the Singapore Precision Engineering & Technology Association, A*STAR's Singapore Institute of Manufacturing Technology, Delta Electronics, Emerson, ISDN and Konica Minolta.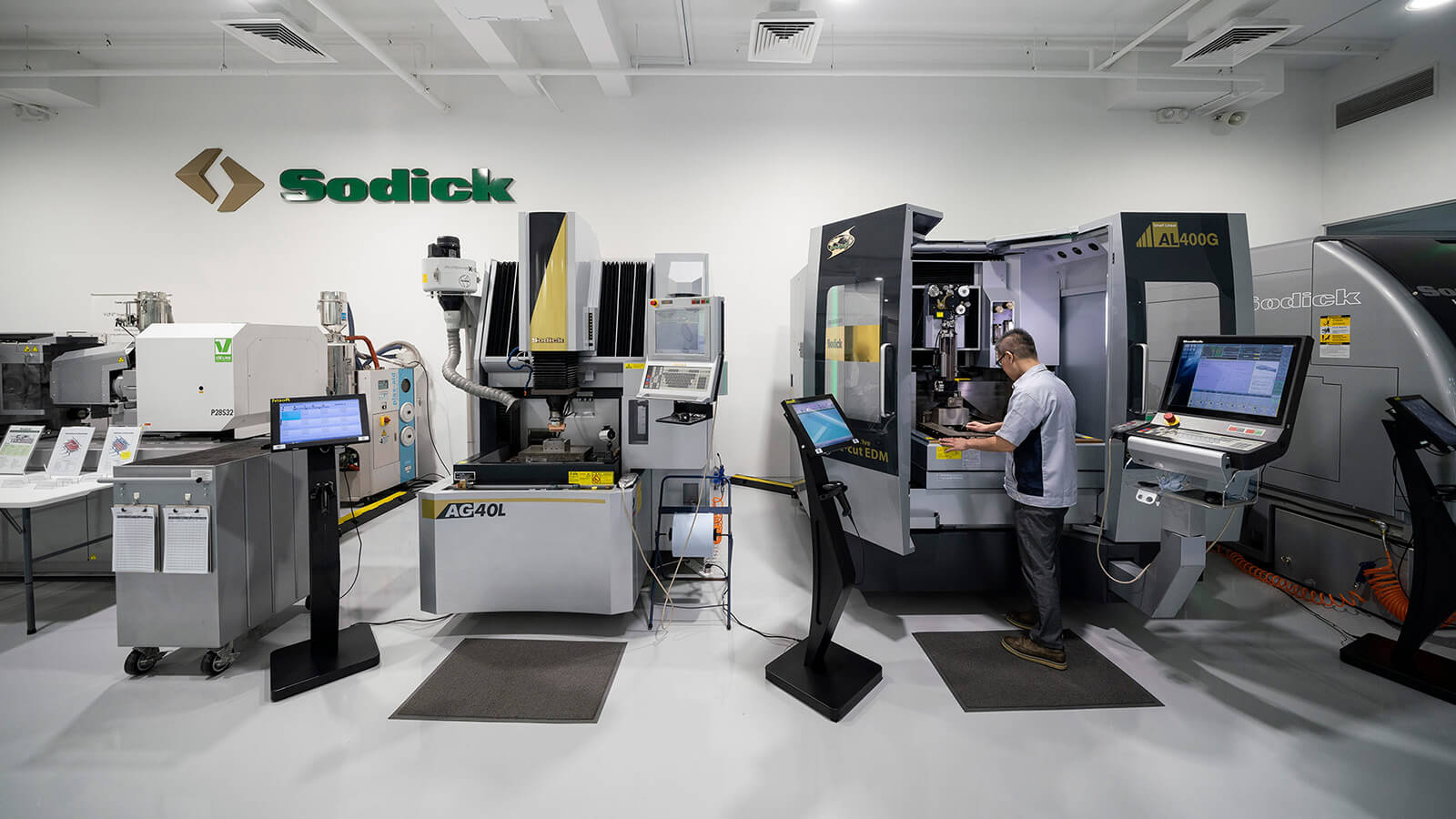 Sodick Singapore Techno Centre in Jurong Innovation District
This means more SMEs like Racer can gain access to Industry 4.0 leaders and see how they apply advanced solutions in real production settings. They can also attend workshops and seminars to learn from their peers who have successfully adopted advanced manufacturing technologies.

Already, the Sodick Singapore Techno Centre (SSTC) in JID has started offering seminars and courses on additive manufacturing solutions since they opened earlier this year. The centre also showcases the latest additive manufacturing technologies.

"Visitors are amazed by how they can use additive manufacturing technologies to develop new products or transforming existing products," says Mr Daniel Tan, Executive Director of Sodick Singapore, which manufactures high-tech machines.

He adds that it is a win-win situation for Sodick, "By conducting sharing and workshops, it helps us to bring in new prospects and business opportunities."

And as the JID network continues to grow, the hope is for even more of such manufacturers to work together to transform manufacturing not just in Singapore, but also beyond our shores. Says JTC CEO, Mr Ng Lang, "This will not only benefit Singapore's industries, but has the potential to serve the region at a time when technology is transforming the manufacturing sector. We hope the JID community can grow collectively to become leaders in advanced manufacturing."