Transforming fish waste into organic nutrients in an industrial park
If you visit Tampines Industrial Park A (TIPA), you will see a community garden behind the coffee shop with a high-tech aquaponics system that converts fish waste from a pond filled with tilapia into organic nutrients. These nutrients are then used to fertilise organic vegetables and fruits such as the xiao bai cai (Chinese cabbage), kale, and cherry tomatoes growing nearby. Heart-shaped purple yam leaves crawl along the fence of the garden, which also houses a variety of other vegetables grown traditionally using soil, such as winter melon, curry leaves and chilli padi.
This green space was started by a group of tenants with a passion for gardening. They had approached Ms Catherine Koh, PBM, President of the Tampines Small and Medium Enterprise Association (TSMEA) with their idea for a community garden. Noticing a growing interest by tenants who were growing plants themselves in the industrial estate, Ms Koh supported the idea and helped to consult JTC and the National Parks Board for ideas.
Upon receiving the green light from JTC to embark on the project, the tenants got to work, coming back during weekends to build the garden, and even building a pond to experiment with aquaponics.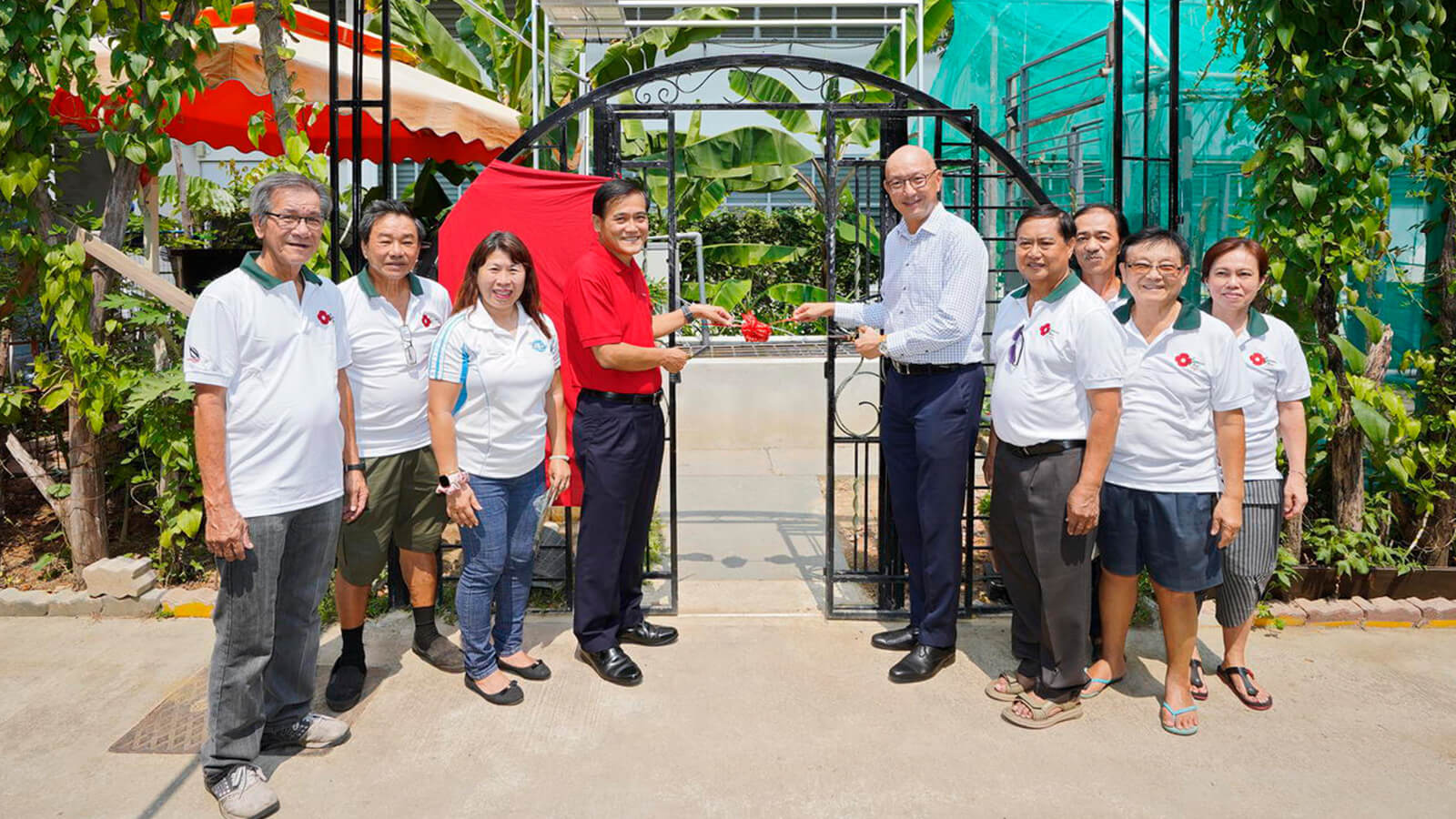 The TIPA community garden was launched by representatives from TSMEA, JTC and Metro Farm on 7 Nov 2019
To help them expand the project, JTC introduced them to Metro Farm Pte Ltd, a commercial organic smart farming company which conducts research and development of smart aquaponics farming systems. While Metro Farm had worked with many schools and communities, it was their first time setting up an organic farm within an industrial estate.
"When you think about industrial areas, you might think it's dirty or polluted and not usually a spot for organic farming. So we wanted to give this a try," said Metro Farm Director, Mr Brendan Toh. The company has sponsored around $30,000 to build a custom vertical smart aquaponics farming system for TIPA, and will train volunteers on how to plant and harvest vegetables using the system.
Besides using a nanotechnology-driven process that uses bacteria cultivated in-house by Metro Farm to transform fish waste into organic nutrients, the system also uses cameras, sensors, and artificial intelligence to monitor and automate processes, such as adjustments of environmental factors to help the fish and vegetables thrive.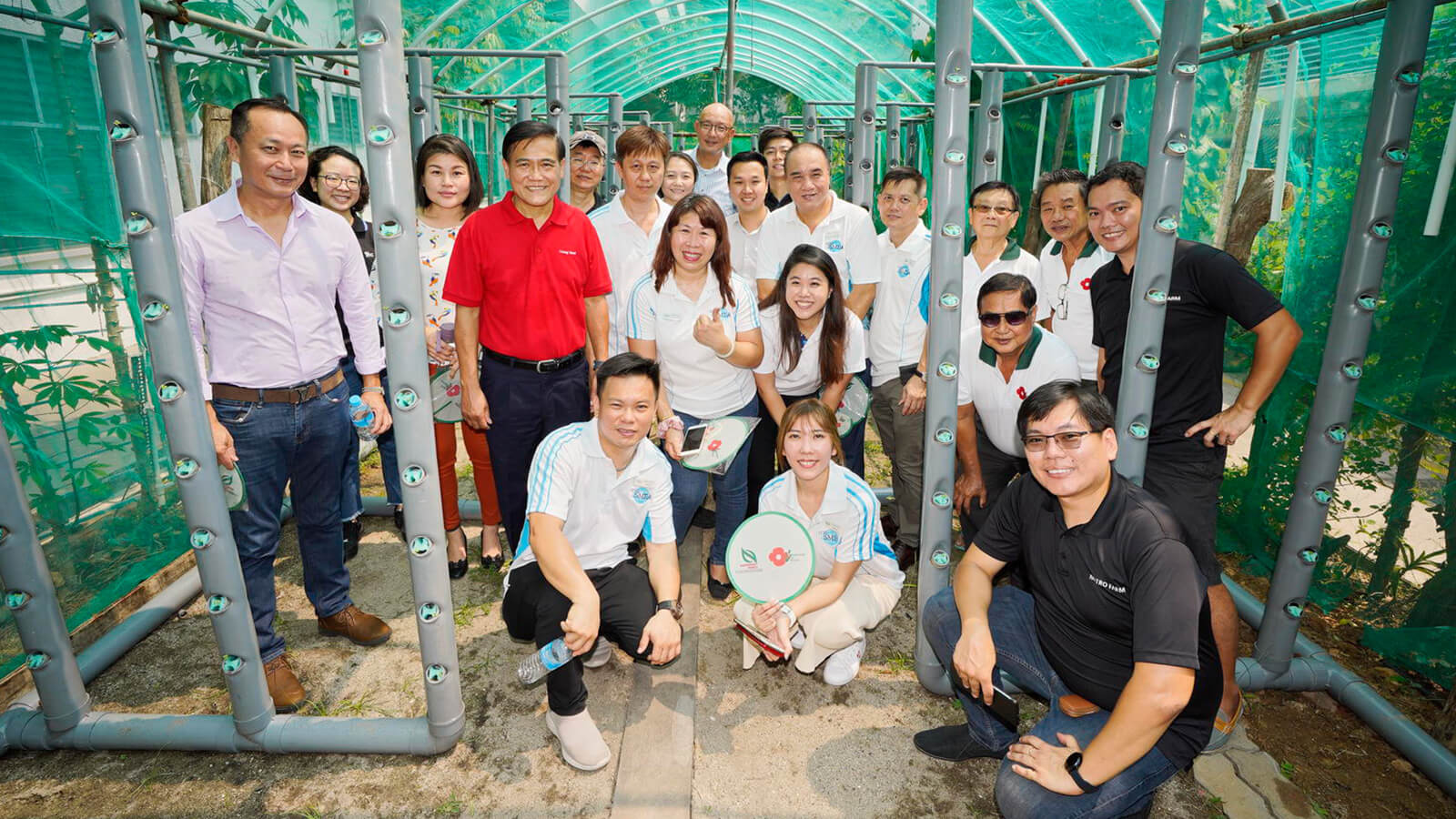 A community of volunteers from TIPA come together to take care of the community garden
The garden resulting from this collaboration was launched at a "Towards Zero Waste, Towards Healthy Lifestyle at TIPA" event on 7 November 2019, to positive feedback.
Mr Francis Chua, director of Peak Engineering & Consultancy, a tenant company within TIPA, is glad that the community garden has connected people with a common interest in gardening. Employees from Peak Engineering & Consultancy also helped build and look after the garden. Mr Chua said, "The community garden improves the look of the industrial estate by increasing greenery, and also reduces food waste through composting. It has also given us the opportunity to bond with our fellow tenants in the estate."
Ms Koh is glad to see members of the community coming together to collaborate. She shared examples of tenants who might not be directly involved in gardening, but contributed resources such as aluminum gates to be used as a fence.
"This project bonds people and helps them to get to know one another. These kind of networks can spark conversations that are not only social but also about business collaborations," she explained.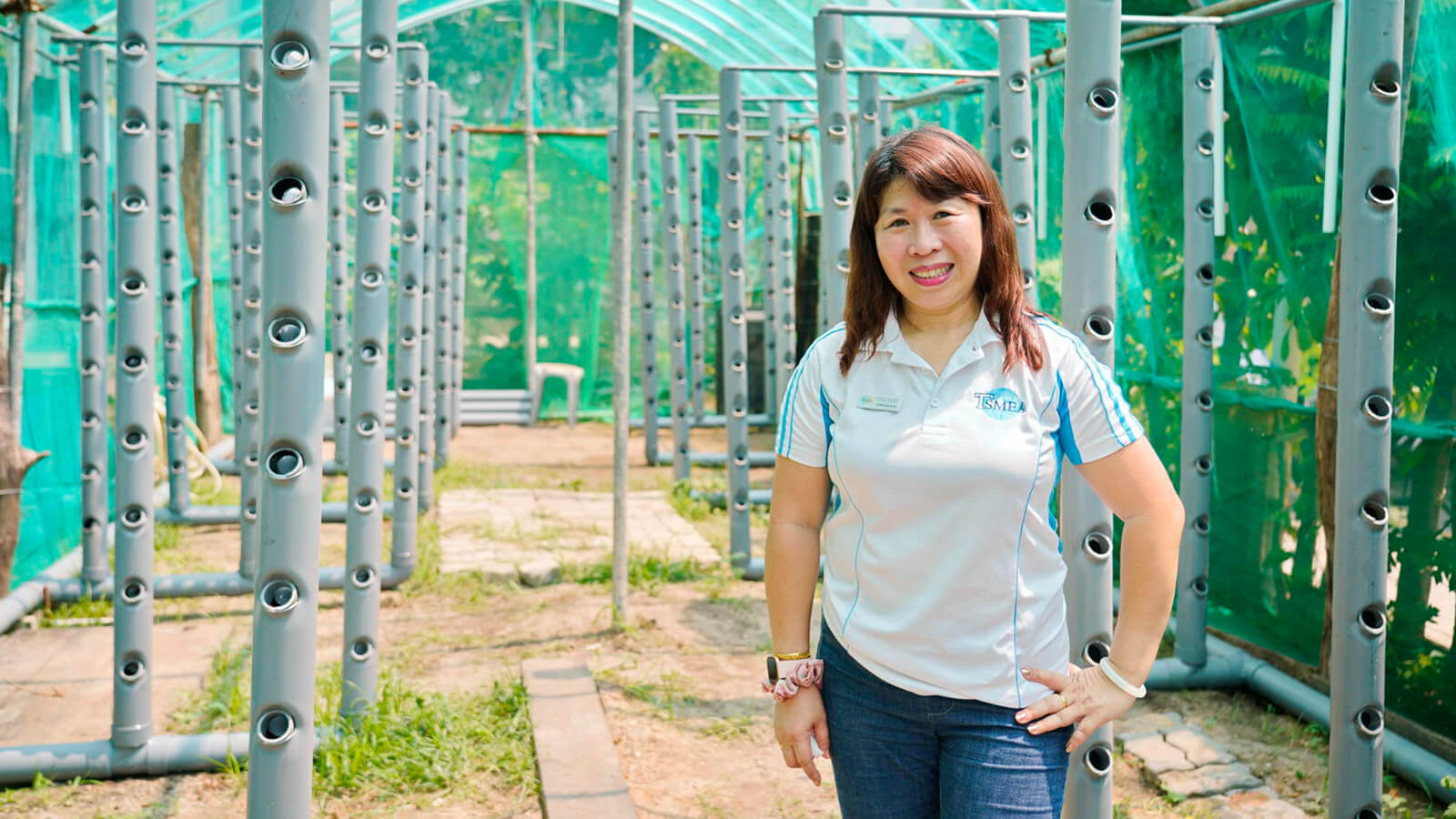 Catherine Koh, PBM, President of TSMEA, leads the community garden project in TIPA
Moving forward, the community will benefit from the garden's harvest. All of the vegetable harvest from the aquaponics system will be sold at market rate to support TSMEA and Metro Farm in the maintenance of the system and purchase of fish food. A portion of the proceeds will be donated by TSMEA to charitable organisations to help the needy.
Ms Koh hopes the garden can be a way to attract more members of the public to visit TIPA, as well as bring more business opportunities to the tenants. There are also plans to bring in students from the nearby Middleton International School and other institutes to learn about aquaponics farming and gardening.
She also aims to promote more green initiatives within TIPA to raise tenants' awareness about minimising waste. One of the ideas in the pipeline is a digital waste exchange system where businesses can give away or exchange their unwanted industrial materials, such as spare tiles, to requestors. She also hopes to work with coffee shop stalls to encourage customers to bring their own containers for takeaway food and reduce single-use plastics.
Another initiative is promoting and educating tenants about electronic waste recycling. During the zero waste event in November, TSMEA ran a campaign where tenants could exchange their e-waste for freebies such as recyclable cutlery sets. Over 370 kg of electronics appliances were collected.
One challenge Ms Koh and her team face is in changing business owners' mindsets about incorporating zero waste practices into their operations.
"I find that many people dispose things without thinking about how another person can use them. With these initiatives, we hope to see more entrepreneurs and workers becoming more eco-friendly and thinking about recycling and sustainability," she said.