Want to create the ideal business environment? Start building active communities
Gain City has a vision of building a community where people can feel comfortable working and playing together, and where they share a sense of belonging. This focus on building communities is also a big part of the Sungei Kadut Master Plan, to reimagine it into an eco-district that houses different industries with retail, recreational and lifestyle offerings for the surrounding neighbourhood.
In Sungei Kadut today, Gain City has been a prominent driver to help draw different communities together, such as the local cyclists and residents, to build the greater vision of community.
Mr Teo and his team frequently host and partner community groups and charities to support their outreach programmes. Over the past few years, the Gain City Megastore @ Sungei Kadut has hosted a wide variety of events, catering to different interest groups and ages. Some popular events include Durian Feast, Mid-Autumn Lantern Parade, Astronomy Star Gazing, and more. As part of its annual CSR, Gain City also adopts a charity and helps raise funds together. In the past four years, Gain City managed to raise funds for a wheelchair-accessible mini-bus for each of their selected beneficiaries, and will be doing the same this year.
I believe that there is great potential here. With more activities and companies moving in, and with the redevelopment of the area, there is an opportunity for the estate to be rejuvenated. Shared facilities and resources, increased recreational activities and collaborations with the various communities, coupled with a well-connected and convenient transport system in future will further improve the vibrancy of the estate, making Sungei Kadut a more attractive location for people and businesses.
With plans for an MRT station right within Sungei Kadut, the estate looks set to attract more businesses, further invigorating the area. Currently, Gain City provides regular shuttle bus services from Choa Chu Kang and Yew Tee MRT to facilitate transportation in the area. When MRT finally arrives at Sungei Kadut, it will bring about tremendous cost savings on transportations for the businesses there.
Living up to his belief to help when they have the means, Mr Teo channels his resources towards building and maintaining community spaces where the surrounding residents can come together to interact. For example, the company is working with Yew Tee Community Club on a recreation hub to cater to the community's lifestyle activities and interest groups.
Gain City is also active in supporting and co-organising mass community events (cycling events, walks, runs, etc.) with partners such as the People's Association, Singapore Police Force and Yuhua Community. One such event is the annual Majulah Walk & Run that is co-organised with Yew Tee Community Club and Limbang Community Centre, bringing together more than 5,000 participants. Members of the community end the Walk & Run at Gain City where there are additional events and activities planned for them to enjoy.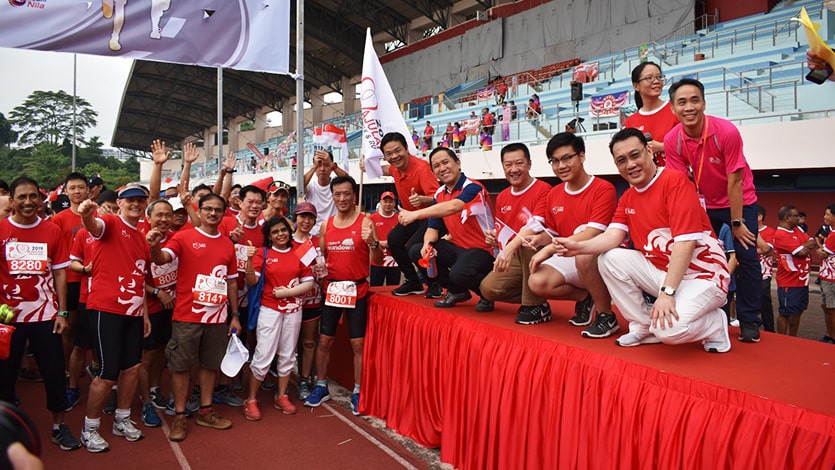 Majulah Walk & Run flag off at Choa Chu Kang Stadium
"I am happy to support meaningful events in the Sungei Kadut area as we have the resources and facilities to organise and host them. With different events, more people would be familiar with and fond of the activities and place," he says. "Maybe we could do more landscaping and make Sungei Kadut a place for the community to work, live and play. Singapore needs more places for people to relax."
Besides involving his staff in community work, Mr Teo emphasises that they "don't just do this alone". He also engages his business community, such as his business partners and suppliers, to chip in. In partnership with North West CDC, they organise 'WeCare Service Weeks" just before Chinese New Year. Gain City ropes in their supply partners to help with home improvements for residents in nearby rental flats, namely Blk 244 & 245 at Ang Mo Kio Avenue 3. Gain City's staff, together with CDC staff, pay home visits to households for home improvements. In January 2020, Gain City roped in products suppliers and brands. They generously donated and sponsored home appliances and furniture for their home makeover and Gain City helps to install them. In previous years, Gain City staff also helped to provide new coat of paints to many households with paints donated by their business partner, Nippon Paint. Through these efforts, Gain City aims to improve the safety, lifestyle and energy savings of these homes.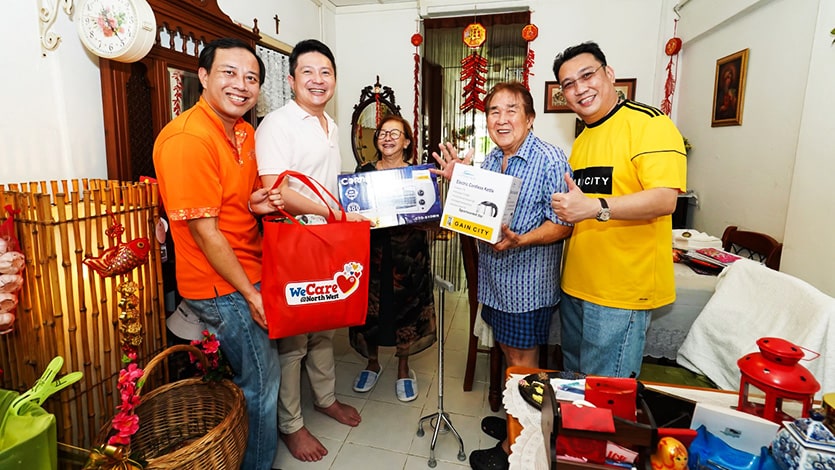 Mr Teo (far right) and Mr Henry Kwek (Adviser to Nee Soon GRC GROs (Second from the left) on a home visit as part of WeCare Service Weeks
Instead of Gain City purchasing the items for donation, Mr Teo hopes that more staff members, business partners and stakeholders can work together to support the Sungei Kadut community and the North West District. "When the heart is in the right place, volunteerism helping the less fortunate brings out the best in people, with more getting done and more often," says Mr Teo.
It is this constant bid to extend their reach with a caring and helping hand that makes community-building such an integral part of the company.