Flight of the inspection drones: One start-up's "crazy" idea to disrupt building inspections with tech
With a background in analytics and acoustic solutions, Mr. Shaun Koo, Co-founder and Chief Technical Officer of H3 Zoom.AI, took what he calls a "crazy" leap into building inspection and facilities management.
His vision was to disrupt the industry with drones. But back in 2016 when he first conceptualised this idea, drones were not yet a mainstream gadget. "People did not know the potential of drones – what they are, what you can use them for. Singapore was not ready for drone operations at that time," says Mr. Koo.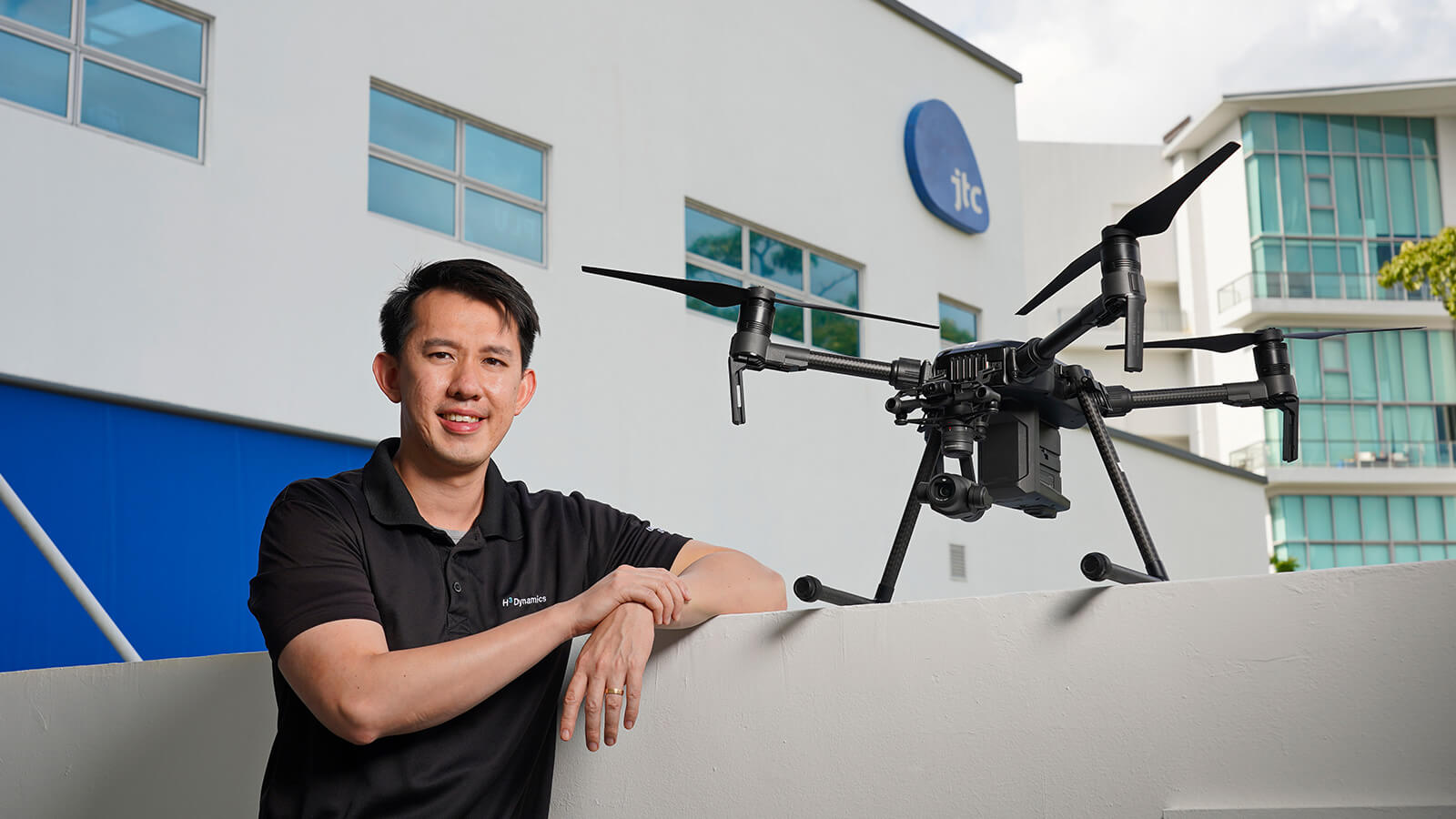 Mr. Shaun Koo, Co-founder and Chief Technical Officer of H3 Zoom.AI, leads the drone operations and artificial intelligence solutions business unit at H3 Dynamics.
Yet, almost as if "the stars aligned", H3 Zoom.AI leveraged its tele-robotic solutions and AI services to establish itself as a key player in the built environment sector within just four years.
This was in part thanks to Mr. Koo's sharp business acumen. He observed the built environment sector, the cornerstone of Singapore's highly urban landscape, was "overdue for digital technology disruption". For example, traditional building facade inspection involves workers tethered to ropes or on gondola lifts, scaling high and remote areas to inspect or take photographs. This manual process is tedious at best, dangerous at worst and prone to human error.
Mr. Koo envisioned equipping drones with cameras and flying it around buildings to scan and capture images of building facades from multiple angles. The images could be fed into an AI and machine learning platform designed to flag problem areas. This would make the inspection process both safer and faster.
H3 Dynamics began turning this vision into reality by taking part in JTC's Open Innovation Call in 2016. Its business unit, H3Zoom.AI, collaborated with JTC to launch the artificial intelligence-powered solution called H3 Zoom.AI Façade Inspector. Various pilot tests at the JTC Summit, Pixel @ one-north, Tuas industrial estate, Yuhua and Sembawang town-councils demonstrated reduced inspection time by 70%. For example, it reduced inspection time of the JTC Summit from 4 weeks to just 8 days at its pilot run.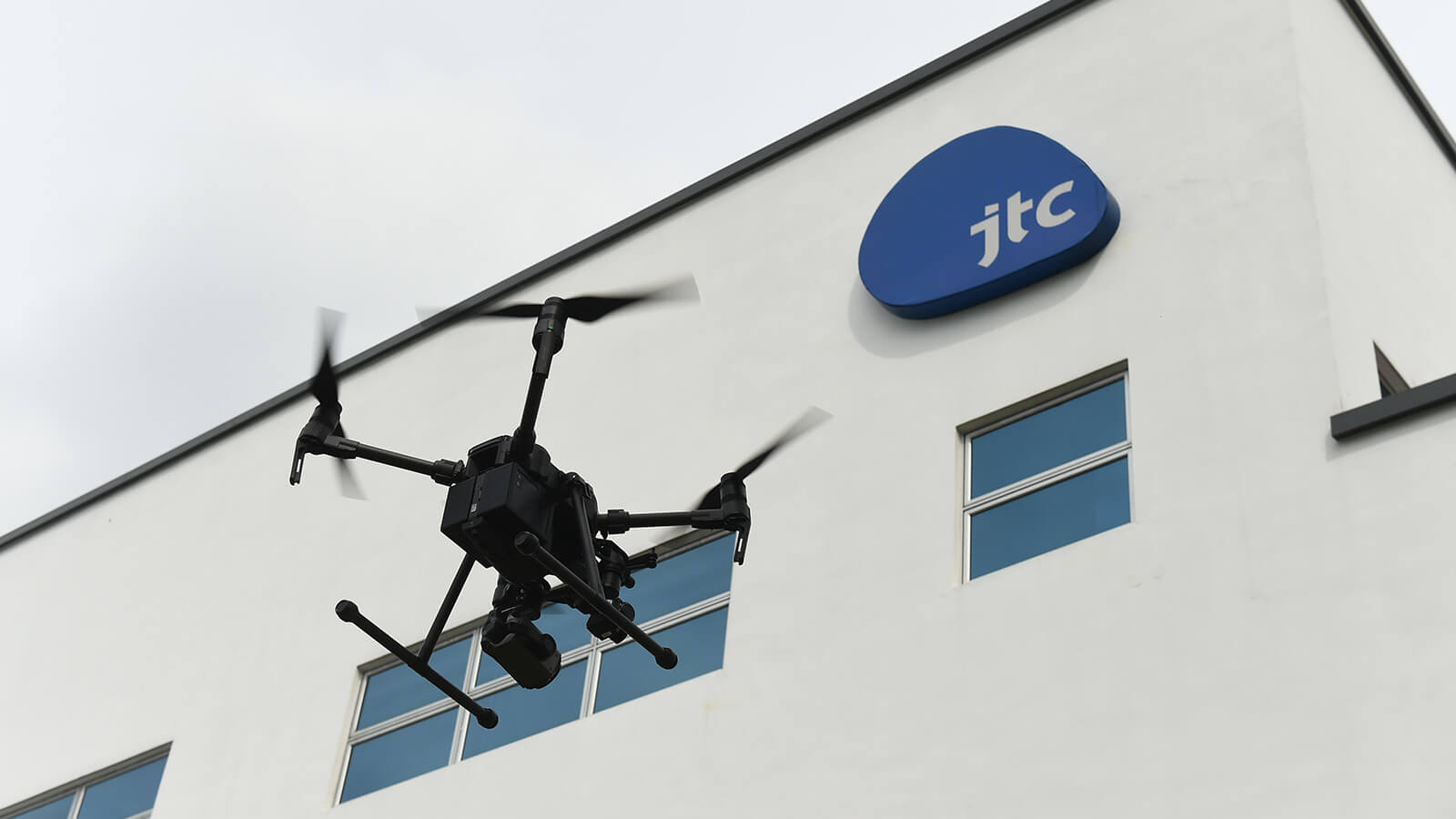 The H3 Zoom.AI Façade Inspector hard at work – today, it inspects over 200 properties across Singapore.
The H3 Zoom.AI Façade Inspector hard at work – today, it inspects over 200 properties across Singapore.
As JTC has a slew of properties requiring periodic inspections, H3 Zoom.AI test-bedded its drone solution across three JTC properties. It subsequently moved its headquarters to JTC's LaunchPad @ one-north, Singapore's first drone estate. Besides being able to test and demonstrate their drone technologies in a live urban environment, H3 Zoom.AI also benefited from connecting with a vibrant eco-system of start-ups, enabling collaborations. "Being in one-north is the best decision ever," says Mr. Koo with a smile.
The collaboration with JTC also paved the way for more partnerships with other government agencies such as the Housing & Development Board and Singapore Land Authority, he adds.
Today, H3 Zoom.AI has used drones to inspect over 200 buildings in Singapore, some as tall as 245 metres, including over 160 JTC industrial properties. It is also working on projects in Brazil and is in talks to expand into Indonesia, Australia, Hong Kong and Japan.
Beyond instinct and good timing, the company's success was also built on solid research and industry understanding, shares Mr. Koo.
For example, they chose the built environment sector because they noticed that the barriers to entry were low enough for the company to bring its product to market quickly. The company was also quick to evolve with the market. Initially, the company had focused on manufacturing drones. But after observing that drones were becoming increasingly accessible in the mass market and realising the difficulty of competing with Chinese competitors' massive economies of scale, H3 Zoom.AI shifted its focus to developing and refining its artificial intelligence technology instead.
"Our competitive advantage is on the software side of things, specifically on getting insights from data captured from these devices," Mr. Koo says.
The true value in amassing the data and using machine learning, he adds, is to reach a predictive level where the company can inform its clients about structural faults that could happen to their buildings in the future. While some companies are worried about workers becoming obsolete, H3 Zoom.AI explains that its technology is not meant to replace workers, but to upskill them. Drones can augment and protect workers on the ground, while the complementary AI software saves employees from tedious tasks like reviewing images and generating reports.
Their efforts to educate companies have paid off – in recent months, H3 Zoom.AI has noticed a growing number of organisations in the built environment sector being more receptive to digital technologies. Companies have gone from not understanding the concept of drones to sending their workers for drone operation courses. Some are even building their own drone operation teams, he says.
Mr. Koo and his team are ready to add value to these companies with artificial intelligence and machine learning solutions. The goal, he reiterates, is for this technology to revolutionise the way the built industry works, overcoming labour and land challenges to make processes safer and more efficient. Even while aiming high, it is crucial to ensure technology is applied in a practical way, says Mr. Koo. "We should operate in an environment where it's not science fiction, but realistic. The tech should be something that can be used by the industry."