From trash to treasure: Old shipping containers breathe new life into one-north
Imagine staying at a hotel with a forest, a beach, or even a music festival at your doorstep. This is the crazy idea that Mr Seah Liang Chiang wants to turn into a reality.
The Shipping Container Hotel opened its doors in February 2020 at JTC's start-up cluster, LaunchPad @ one-north. Mr Seah aims to give his guests the experience of living in places where no permanent built hotels can be found by launching Singapore's first-ever pop-up shipping container hotel at LaunchPad.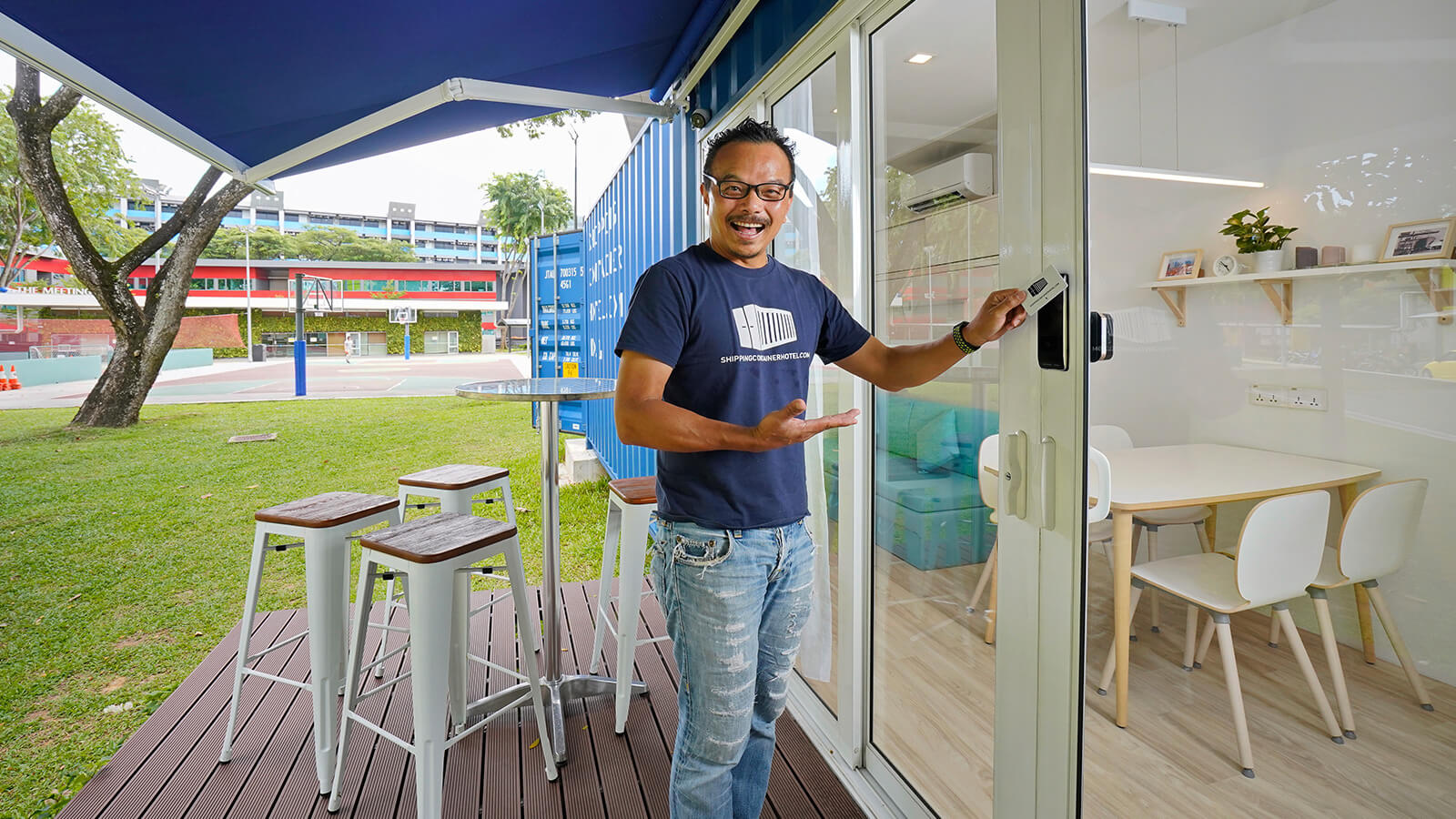 Mr Seah using a keycard to access the hotel room
"Entrepreneurs not only need a space to work but an environment to thrive in," says Mr Seah. "LaunchPad is great because a lot of start-ups and companies work here and it's a great space for play—there is Timbre+ where a lot of people go for music over drinks, and communal spaces to enjoy. The only thing that was missing was accommodation," he points out. Mr Seah chose to launch Shipping Container Hotel to fill this gap. Aimed at young Singaporeans, business travellers and tourists, the container hotel has injected a wave of excitement for the one-north community.
Mr Seah's decision to set up and testbed in the LaunchPad ecosystem has created opportunities for partnership with other innovative companies within LaunchPad such as GTRIIP, as well as igloohome. Looking ahead, Mr Seah plans to adopt their technologies— GTRIIP's paperless hotel check-in solutions and igloohome's smart locks solutions — to expand his hotel's off-grid capabilities and drive sustainability.
Unlike other hotels, Shipping Container Hotel's modular rooms can be moved and plugged into a variety of authentic spaces, giving his guests the freedom to explore what is around them. "My hotel does the exact opposite of what other hotels do," shares Mr Seah. "Everything outside is part of the experience".
Tony Stark's lakeside cabin in the movie Avengers: Endgame first inspired Mr Seah to build himself his personal holiday hideout. His dream became a reality when he managed to snag a deal for an old shipping container for just RM5,000 (S$1,700). Mr Seah started this endeavour as a hobbyist, transforming the old shipping container into a housing unit, designing every detail on his own using just two tools—Google Search and a free architectural and interior design software application. His three-month experiment is now a fully furnished tiny house—complete with a bathroom, air-conditioning and a full kitchen for this food-loving chef—that sits on his plot of land in Johor Bahru, right next to a lake.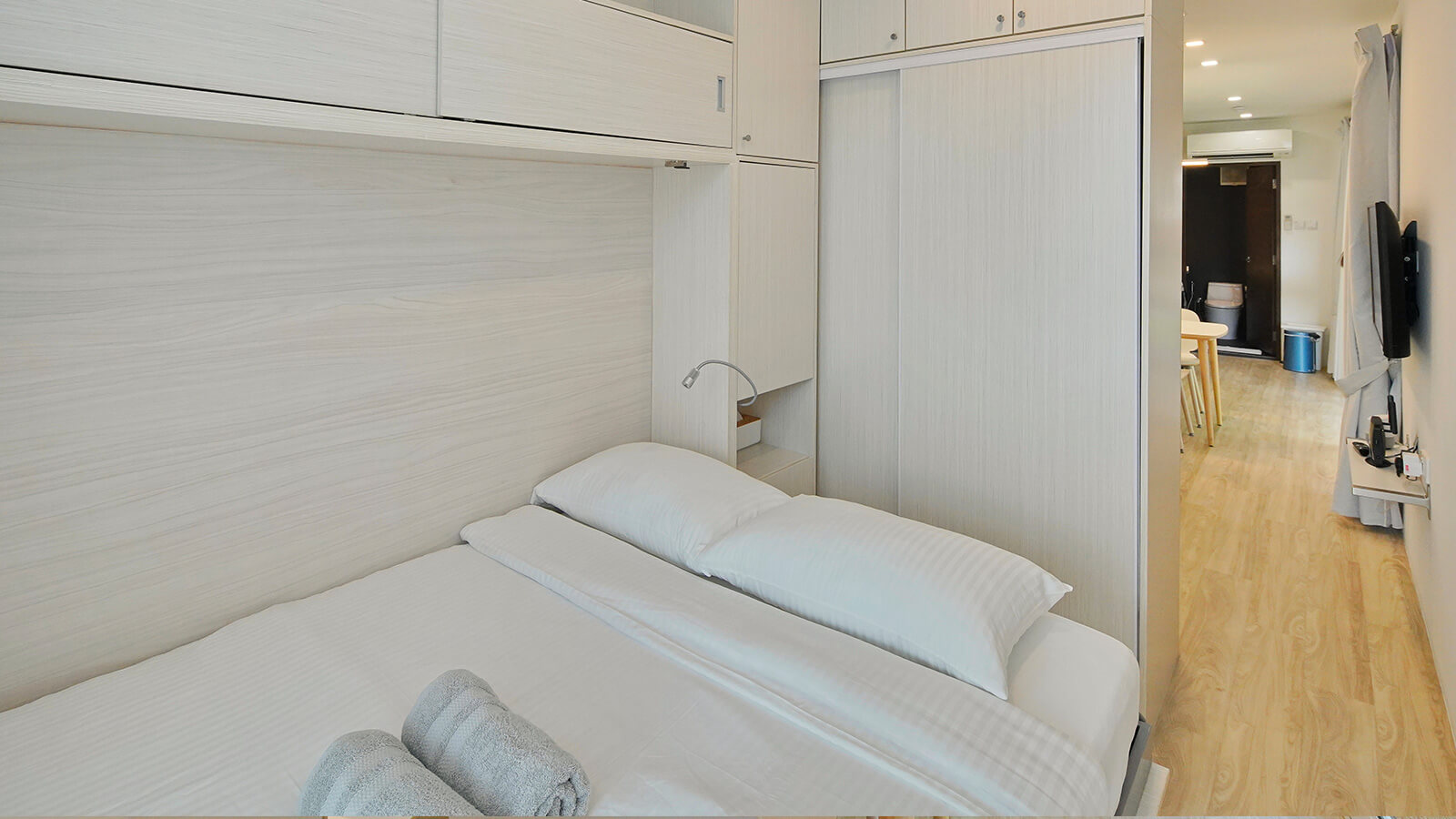 Fully furnished interior that looks just like any hotel
Driven by an enterprising restlessness, Mr Seah wanted to recreate this hideaway leisure experience for Singaporeans, where container homes are rare due to the lack of space. Mr Seah pitched his business ideas to friends over drinks and eventually won support from the Pro-Enterprise Panel of Ministry of Trade and Industry (MTI). Under the MTI First Mover Framework, entrepreneurs with innovative business ideas like Mr Seah get a head start in implementation. Mr Seah is now piloting his concept at JTC's LaunchPad for two years.
Mr Seah has been operating businesses in Ayer Rajah for over 20 years, and he has personally seen how startups benefit from Launchpad's opportunities for innovation. The start-up ecosystem's work and play spaces offer opportunities for start-ups, incubators and venture capitalists to hang out and network with each other. Over the years, Mr Seah has seen new breeds of entrepreneurs move in to transform the district into one of the most vibrant start-up hubs in Southeast Asia.
Mr Seah describes LaunchPad as a perfect testbed for startups, citing opportunities for collaboration and prototyping as the key reasons. This dynamic community has drawn over 400 start-ups and has a track record of 100 successful companies that have since 'launched'. "Crazy business ideas can turn out to be wild successes or total flops," says Mr Seah. "But here, you're allowed to fail. LaunchPad is a controlled environment that allows start-ups to take risks, learn and do better". Failure is not new to this 55-year-old, who started his journey as an entrepreneur at 25. A veteran who has founded, folded, listed and sold numerous companies, Mr Seah wears his badge as a serial entrepreneur with pride. "To get good at something is easy. To get good at something new is the real challenge."
With a broad smile, quick gestures and a sparkle in his eyes, Mr Seah's energy is infectious as he sketches out his plans to expand his hotel chain and offer idyllic vacations at music festivals and beachfront spots. He aims to set up 50 container hotels in 20 locations all over the island, and eventually curate pop-up hotel experiences in locations across Singapore, Malaysia and Indonesia.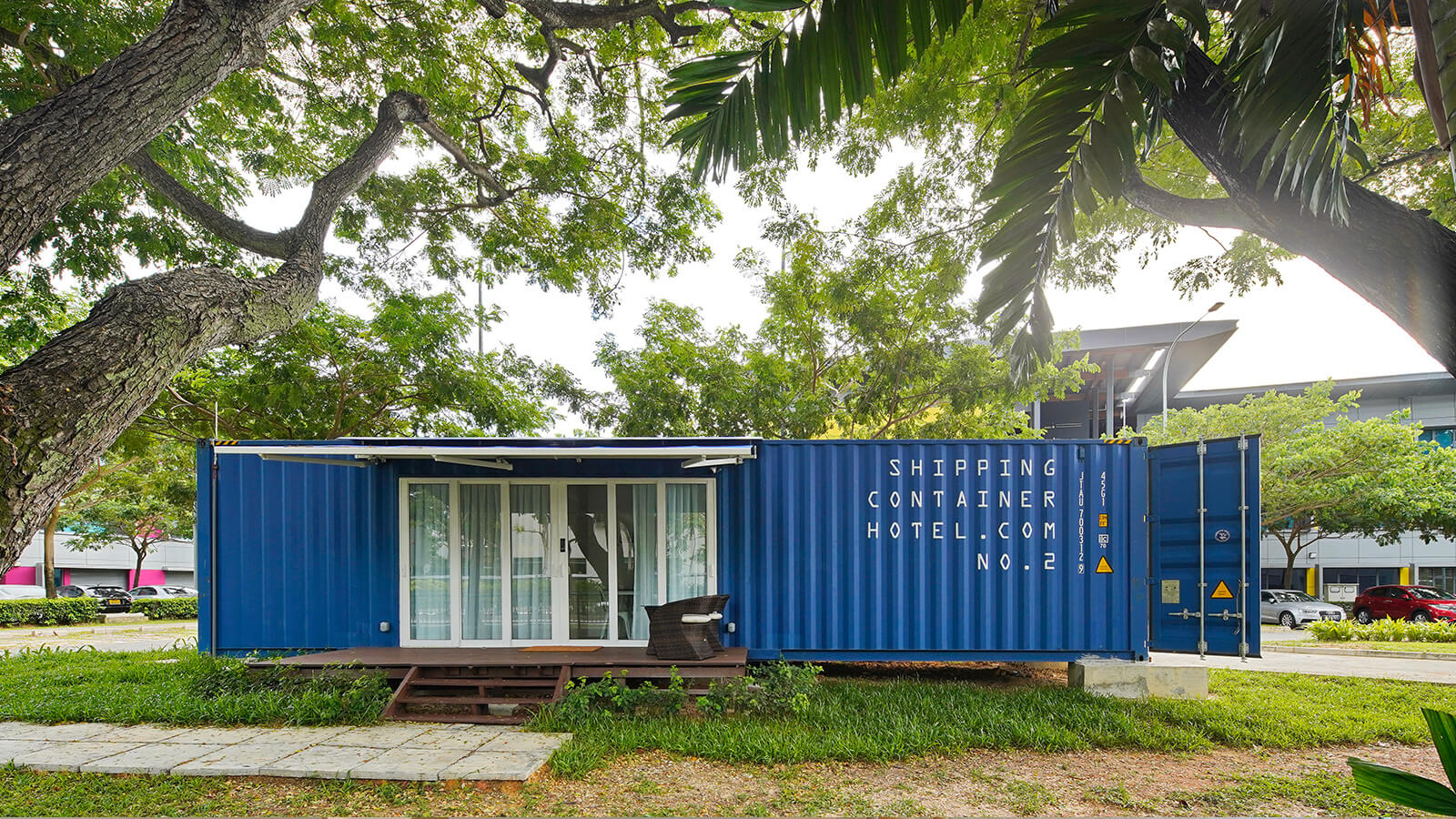 Shipping Container Hotel situated right in the heart of nature within LaunchPad @ one-north
And for a visionary like him, the possibilities are endless. Mr Seah aims to set the bar ever higher and push the limits of what container hotels can do. "Get on a yacht, sip champagne, and discover a luxury cabin getaway on a secret island with waves lapping at your feet. Can you imagine that?"