Startups, incubators and accelerators – the ecosystem at LaunchPad
The vibrant community of diverse startups, incubators, venture capitalists and ecosystem partners within LaunchPad offers opportunities for knowledge-sharing and collaboration. LaunchPad has played host to startups which have generated more than S$400 million in total startup revenue.
There are over 40 incubators and accelerators of varied backgrounds that are running structured incubation programmes at the two LaunchPads. The terms accelerator and incubator might seem like they have the same meaning: to help start-ups grow. They often used interchangeably but differ a lot from one another. While one helps established businesses grow quickly, the other helps to flesh out the details when starting a new business.
Incubators help entrepreneurs develop their ideas into a business model and usually don't provide any funding to the startups. Incubators, such as NTUitive and ACE.SG, are usually non-profit run by academic or government institutions. Accelerators, like Quest Ventures, help developing start-ups speed up growth by providing structured guidance, professional mentorship and access to capital.
The start-up that wants to be the OpenAI for finance
With more than 20 years of experience in Artificial Intelligence (AI), coding, product development, and technical product management, Calvin Tan, CTO of Pints.ai has co-founded five start-ups, which extensively deploy tech and AI to drive strong revenue.
"We started building an AI-powered investing platform because we saw that the majority of people do not invest because of lack of knowledge and comfort, which AI can bridge. After months of hard work, we soon realized that the AI can achieve a lot more than what we initially thought. Backed by multiple requests, we started offering on-premise deployment of our proprietary finance AI model for insurances and mutual funds," said Calvin.
While building Pints, he started to work with various Large Language Models to build a capable financial co-pilot, even before ChatGPT became popular. Post-ChatGPT, the AI scene has exploded, resulting in a wider range of AI solutions that Pints has incorporated into their flagship model -- Neuron. Calvin and his team are tirelessly researching deep techniques to modularise AI to create a plug-and-play model that all corporations, both large and small, can access and own.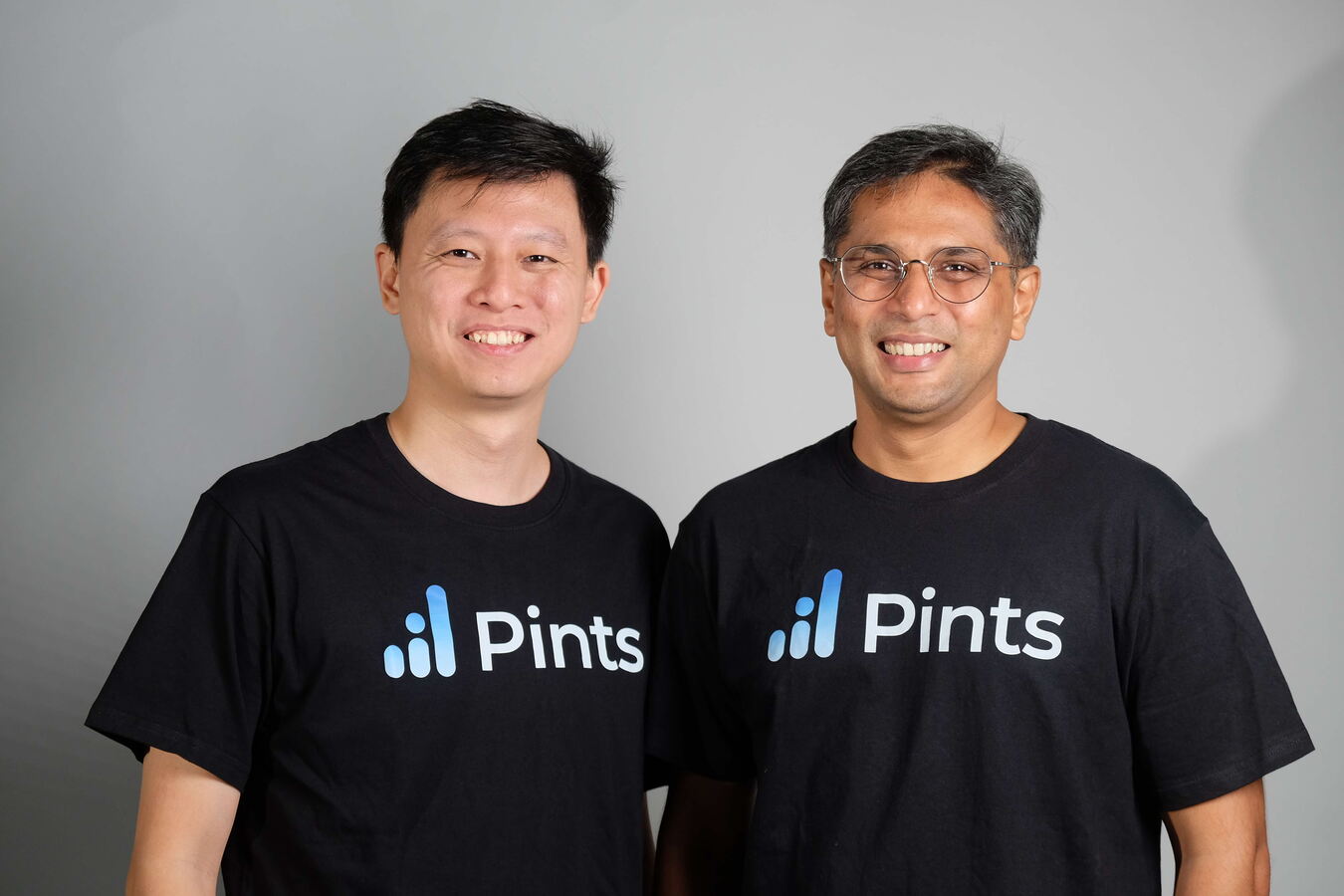 Pints AI co-founders Calvin Tan and Partha Rao. Photo: Pints.AI
Pints.ai is an independent AI trained to excel in finance for plug and play use by Financial Institutions, allowing them to bridge the gap with massive leaders like JPMorgan, at the minute fraction of the resources. "Our AI solution has successfully addressed the overwhelming information overload within the finance sector by distilling it into a user-friendly and fully customizable format, akin to a private chatbot that enables employees to access company-specific information," added Calvin.
Through a partnership with NTUitive, which is based at LaunchPad, Pints.ai gained the advantage of working with talented interns, accessing a network of potential customers and receiving valuable coaching. "Being part of LaunchPad places us squarely in the heart of the thriving start-up ecosystem. This offers us valuable chances to connect with venture funds and engage with fellow start-ups, providing rich learning experiences and networking opportunities," said Calvin.
Embracing a state of constant learning
Quest Ventures has been at LaunchPad for more than a decade, and at one point, was the largest private sector tenant with 15 units for the various startups they were working with. "Today, we occupy Singapore's luckiest office at Blk 71, #03-14 – it was our first office and the birthplace of many unicorns," said Mr James Tan, Managing Partner of Quest Ventures.
Quest Ventures has backed more than 100 companies, three companies stand out - Carousell, Shopback, and Xfers – and they are all at LaunchPad. "They have strong founders, humble despite their successes, and continue to grow at incredible paces," added James.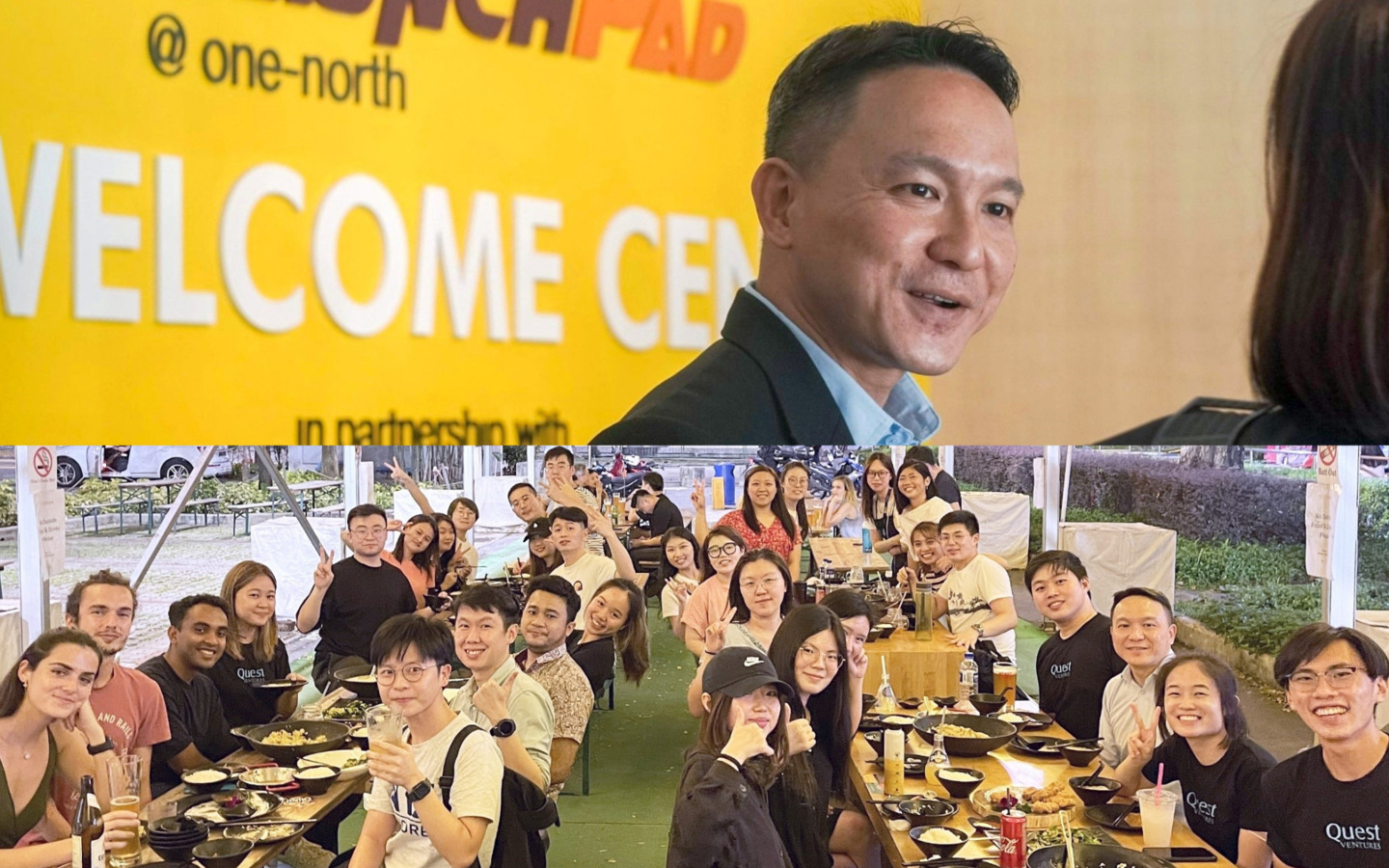 Top: James Tan. Managing Partner at Quest Ventures. Bottom: The Quest Ventures team hosting a Nanyang Technological University delegation at LaunchPad. Photo: Quest Ventures
Since 2011, Quest Ventures has focused on an overarching digital economy strategy in Asia. Basic technology buildout such as ecommerce, payments, logistics needed to invested in and implemented. "Everything that we take for granted now, but without which today's new disruptive technologies or business models would have greater difficulties taking off," said James.
Always leading the industry, in 2018, Quest Ventures was the first venture capital firm in Southeast Asia to embrace Environmental, Social and Governance (ESG) principles. Quest Ventures has started four funds in the last four years, and this includes the Metaverse Fund which advances ideas in Web 3.0 and backs entrepreneurs to take the state of the internet to the next level. The fund focuses on cutting-edge technologies that will underpin the new generation of internet. According to James, the startup world evolves, it does not stand still. New ideas and possibilities keep the staff in a state of constant learning that is exciting for Quest Ventures.
"From our vantage point at Blk 71 overlooking LaunchPad @ one-north's landscape stretching from Biopolis to Singapore Science Park, we can showcase the evolution of Singapore's startup and innovation ecosystem" - James Tan
Nurturing promising global startups
In the current global economy, deep tech startups face the challenge of not having adequate quality opportunities to identify and test the product market fit of their technologies with real-life end-users and in real-life operating environments. An accelerator like Hatch helps startups overcome the challenge of having early adopters and to gain traction for their technology.
How to make a good pitch? "Know yourself. Mindfulness is a very important trait for founders. Know what you can do, what you are unable to do yet, and what are the realistic steps you need to bridge the gap. This gives us the confidence that you are in touch with reality and will be less likely to overpromise and under-deliver," said Mr Mok Shao Hong, Hatch Centre Director.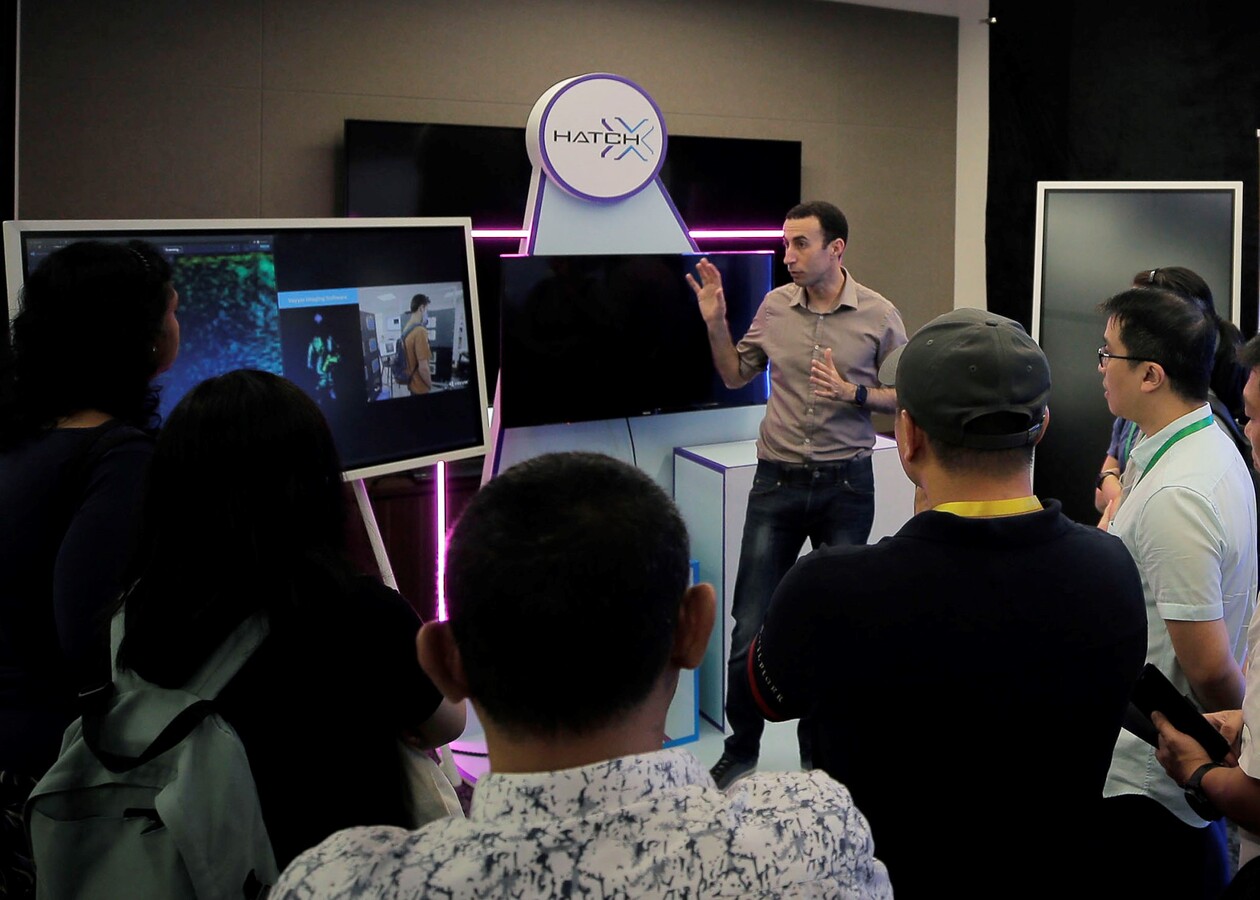 Vayyar, a start-up that is part of the inaugural cohort of Hatch's SOSA-HTX Open Innovation Challenge. Photo: Hatch
Hatch's key programme – the biannual Open Innovation Challenge – is an accelerator programme to fund, crowdsource and validate innovative technologies from global start-ups that will be gamechangers for public safety and security challenges.
A unique feature of the Open Innovation Challenge is that the start-ups will be given the opportunity to co-develop their solutions directly with HTX's scientists and engineers and end-users from the Home Team Departments, such as real-life frontline responders and operators, to trial and prove their concepts in real-world scenarios.
"Startups in our programme will collaborate closely with the Home Team's operational teams, and science & tech experts to co-develop and validate their technologies in innovative POCs. A demo day in Singapore will be conducted at the end of each cohort across various levels of Home Team stakeholders," said Mr Leon Lip, Senior Partner Success Manager at Hatch.