High-tech innovation and robotic solutions at LaunchPad
Situated at one-north and Jurong Innovation District, LaunchPad is a bustling hub for startups from various industries, including robotics. With a focus on high-tech innovations, LaunchPad has become a cradle for startups to develop and showcase their cutting-edge technologies. Among the many startups at LaunchPad, NDR Medical, Fabrica AI, and Eureka Robotics are three companies designing new solutions in the robotics field. Let's take a closer look at their innovative products and technologies.
Using AI to make surgeries safer and cost-effective
"Anything is possible for those who persevere," said Alan Goh, CEO and Co-Founder of NDR Medical. The adoption rate of using robotic devices in surgery is less than 5%, most are capital intensive and requires an expert to use it. "We designed the system to have a short learning curve and it is unique as we have automated some of the calibration and registration steps by means of image analysis and Artificial Intelligence (AI)," he added.
Founded in 2014, NDR Medical specialises in the development of surgical robotics driven by AI and image processing. The patented Automated Needle Targeting system is NDR's flagship product which assists surgeons in needle guidance during minimally invasive surgery such as tumour biopsy and ablation. In 2018, the company was awarded $150,000 as the first runner up in the Slingshot competition by Enterprise Singapore and decided to move to LaunchPad to be closer to the startup community and government agencies.
"It is an exciting period for us with ongoing clinical trials and validation with top research hospitals around the world. While the investment market focuses on the commercial viability, the clinical community is witnessing how the integrated system could ensure safer and faster access with significant risk reduction," he said.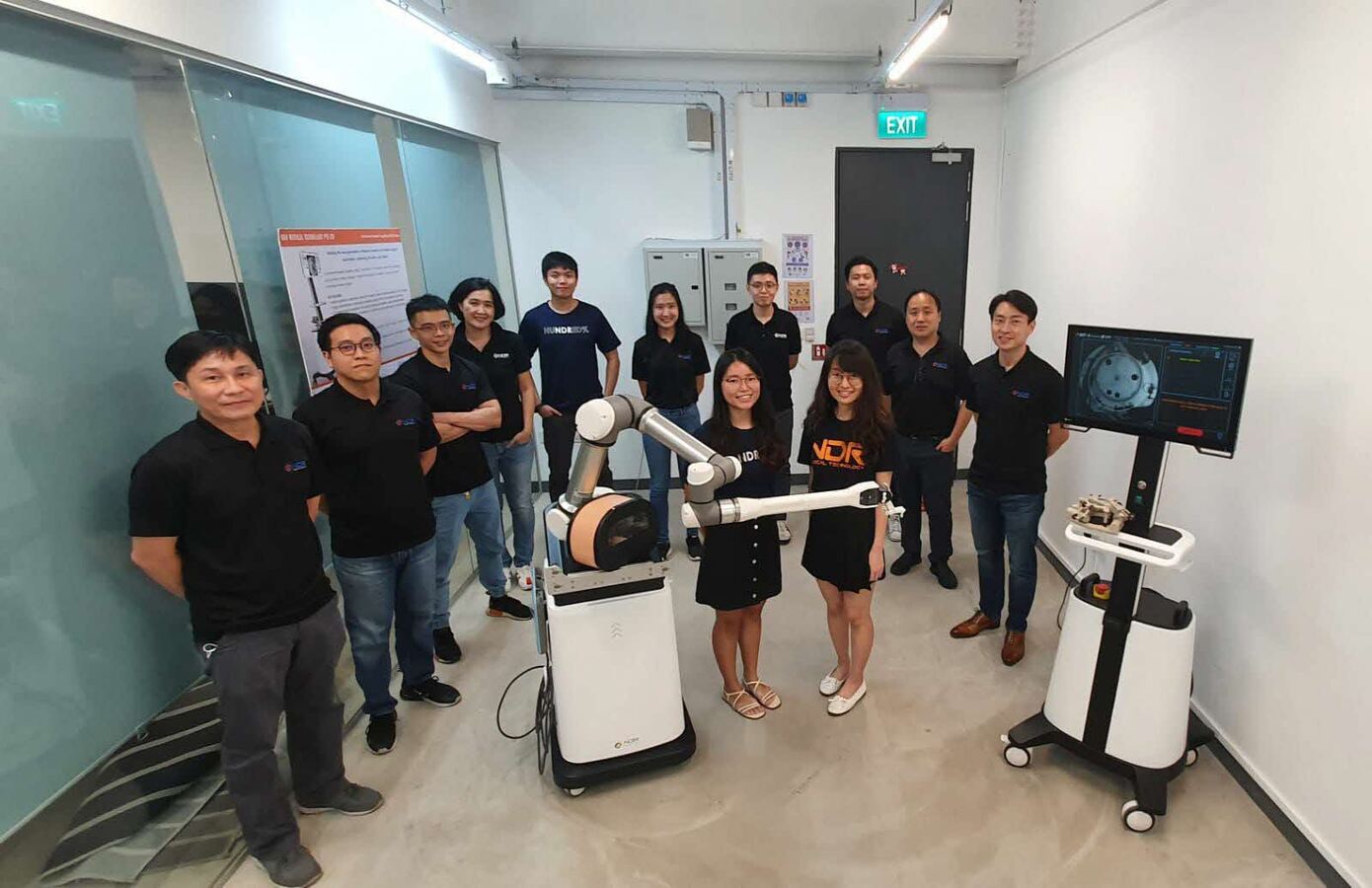 "The best part about being an entrepreneur, there are no boundaries and no downside risk other than opportunity cost," says Alan Goh, CEO and Co-Founder of NDR Medical. Photo. NDR Medical
If trained well, AI can analyse data and images at a fraction of the time needed by human. Currently, AI is only as good as the consolidated average matrix of the group of data. What I look forward to is the actual application of AI on robotics to assist with the procedure, which would be the first of its kind.
When ideating and developing a robot takes days not years
Seeing that the construction industry's productivity has stagnated over the last few decades, Fabrica AI identified it as a good opportunity for technological arbitrage. "It is a blue ocean where many young tech entrepreneurs like myself would not have thought about venturing into," said Keefe Wayne Teo, Co-Founder (COO&CFO) of Fabrica AI.
Fabrica AI's automatic tile grouting robot boosts productivity by five times and are currently carrying out pilots at construction sites in Singapore managed by Woh Hup, BHCC, Gin Chia, Soilbuild, Chan Rong Fen and Dragages. Grouting is a highly laborious process that is part of every construction project, and it is one of the most physically damaging tasks resulting in tilers' knees and back issues, and thus quality issues often arise. The patent pending robot can automatically grout and clean tile gaps with only a press of a button, the operators only need to reload grout and water.
By training end to end controls in simulation and through reinforcement learning combined with iterating hardware designs, Fabrica AI aims to automate the whole development process. "At the current stage, the most important resource is a large fleet of robots to validate our approaches for our AI system and to collect data. This keeps us grounded as we build our Fabricator Platform, which we hope to acquire the first paying customers for by the end of 2024," said Keefe.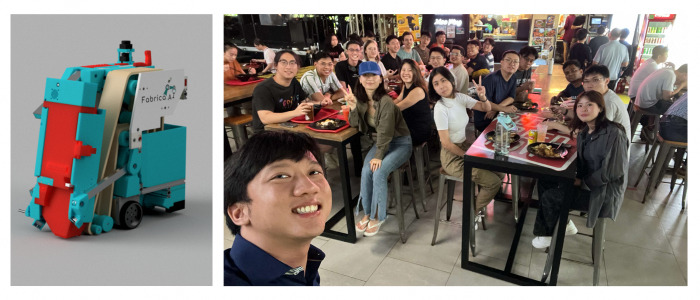 Launchpad is situated where most scientific innovations in Singapore occur, and it has a great ecosystem. "It has been easy getting various partners to see our prototyping and testing facilities as our offices are walking distance from one another," said Keefe Wayne Teo, Co-Founder (COO&CFO) of Fabrica AI. Photo: Fabrica AI
Automating the mundane with High Accuracy and High Agility technology
Imagine this: industrial robots will liberate humanity from toil. Repetitive and uninteresting work will be fulfilled by robots, while humans will spend a limited amount of time every day on work – including deciding what the robots should do – and the rest of the time on creative activities. That's what Eureka Robotics wants to achieve with their robotic technology, software and solutions.
The company focuses on automation challenges which require High Accuracy and High Agility (HA-HA). "By combining robotics, computer vision, force sensing or motion planning, our HA-HA technology makes it possible to automate a wide range of tasks that were previously too difficult or expensive for robots to perform, as they require both accuracy and agility," said Eureka Robotics' Senior Engineer Nicolas Gauthier.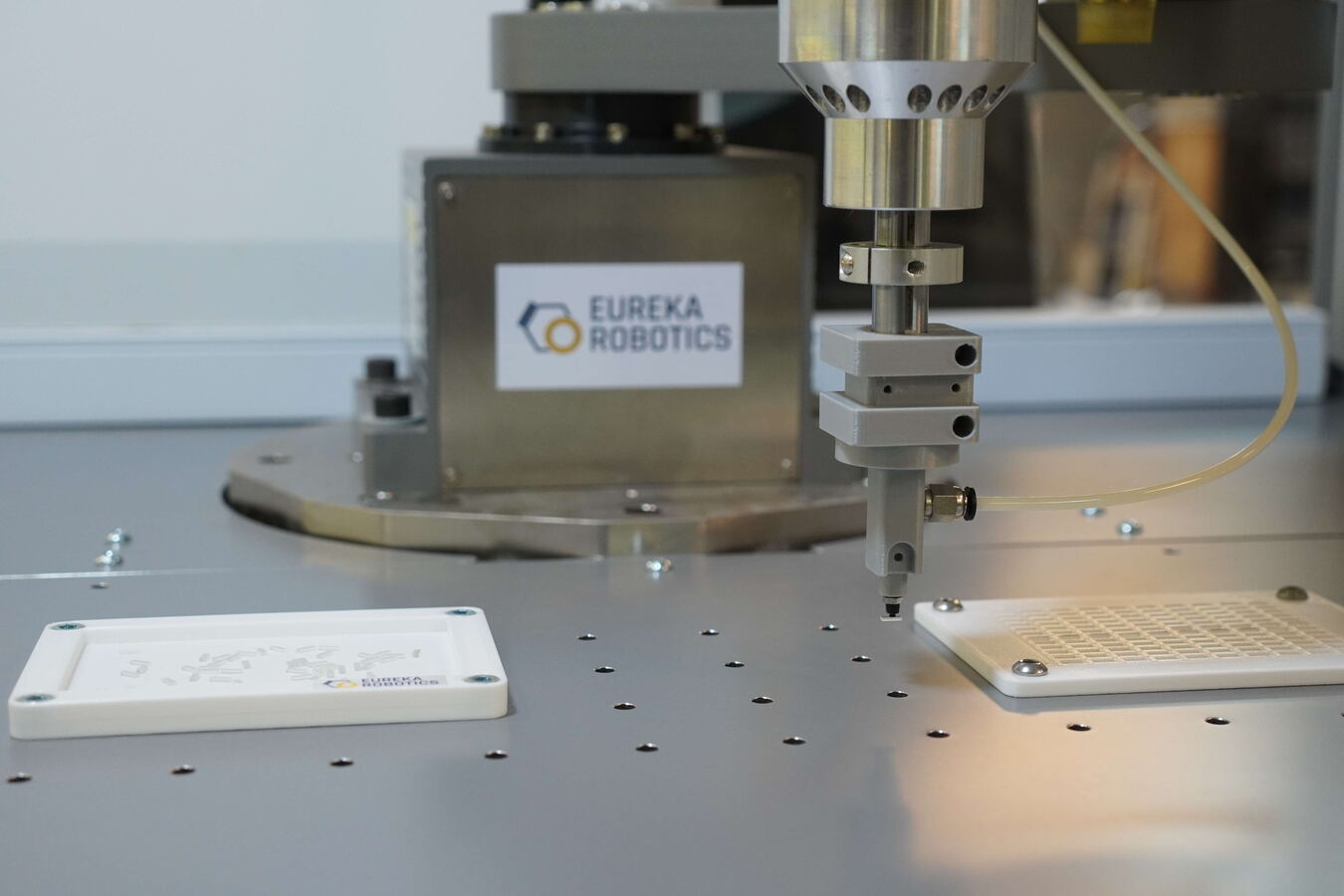 HA-HA lens picking (< 0.2mm), based on 2D vision and high accuracy calibration. Photo: Eurkea Robotics

A wide range of industries can benefit from HA-HA. Optics manufacturing requires dexterity to manipulate tiny and fragile objects like lenses, for inspection, polishing and coating. "We are also seeing a growth in sectors like electronics for components assembly or quality inspection, as well as aerospace MRO (maintenance, repair and overhaul)," he added.
Quick iteration, excellence and adaptability are required for Eureka Robotics to stay ahead and competitive, and this is what makes it exciting for Nicolas to be in the field of robotics. "Working in a start-up is also an opportunity to bring new technologies to the market – in our case, we are bringing years of robotics research to solve challenges which until now were very difficult to address," he said.