5 Things to Know About LaunchPad
The latest Global Startup Ecosystem Report 2021 released by research firm Startup Genome ranks Singapore among the top five countries in Asia and 18th globally. In the report, Singapore stood out in Funding, Connectedness and Market Reach. This is in part thanks to investments in the start-up ecosystem, such as the government-led Research, Innovation and Enterprise (RIE) 2025 plan to invest $25 billion in strategic areas. It's also because of a thriving start-up environment that welcomes investors, incubators and more.
To foster a start-up ecosystem that enables them to germinate and thrive, JTC created the first LaunchPad at Ayer Rajah Crescent in 2015 after a successful pilot at Blk 71. It quickly became known as the "heart of Singapore's start-up ecosystem", welcoming start-ups in the infocomm, media, technology, biomedical sciences and other industries. Today, over 700 start-ups are based across JTC's LaunchPad @ one-north and LaunchPad @ Jurong Innovation District.
Over the years, numerous successful start-ups have emerged from LaunchPad. They include 99.co and the unicorn start-up Carousell, which has become the de facto app for buying first- and second-hand goods across Asia. Another prominent start-up is ShopBack, which is set to enter a funding round that will value it a unicorn as well. LaunchPad also saw the exit of start-ups like nuTonomy (now known as Motional) that was acquired by Aptiv.
LaunchPad is much more than a commercial space. It's a well-balanced ecosystem complete with the right partners and resources to take start-ups to the next level. Here are five things to know about LaunchPad.
Strategically located within a network of research institutes and ecosystem partners
JTC's two LaunchPad developments are home to a vibrant ecosystem of innovators and enablers across emerging sectors, including food technology, sustainability, and mobility. Surrounded by specialised industry clusters and situated around industrial estates and tertiary education institutes catering to related fields, this creates a synergistic partnership between the two LaunchPads and their proximal corporates and institutes.

For example, at LaunchPad @ JID, start-ups researching and test-bedding new innovations will find synergies with Nanyang Technological University and research institutes and partners in the district like Advanced Remanufacturing and Technology Centre, and Hyundai Motor Group Innovation Centre. This presents great opportunity for cross-pollination of ideas and collaboration between the start-ups and these organisations.

Furthermore, Action Community for Entrepreneurship (ACE) ― the lead trade association supporting Singapore's start-ups ― is also located within LaunchPad. Through them, start-up founders can connect with mentors and join learning workshops and networking events to gain insight on how to accelerate their growth.
Proximity to fellow trailblazers breeds familiarity (and potential partnerships)
The businesses at LaunchPad comprise a wide range of investors, incubators, start-ups and changemakers. This fosters opportunities for partnerships and powerful collaborations. Take Speco, an antimicrobial technology company carrying out R&D on various eco-friendly cleaning solutions, as an example. Their seed funding was raised from a LaunchPad enabler, raiSE, and their AI partner, Simpple, is also a LaunchPad start-up.

Another example is Switcheo, a fintech start-up that's set to transform trustless solutions. It's leveraged on the expertise and network of fellow LaunchPad start-ups Payboy and Highspark to raise funds and grow its team.
Conducive spaces for test-bedding and prototyping
Many LaunchPad start-ups are testing solutions for the cities of tomorrow. At JID, the Alternative Universal Design of A City — or AUDACITY in short — is an ambitious project aimed at empowering innovators to design the city of the future. To help companies build prototypes, a co-shared makerspace and creator studio called mFac has been created. mFac doubles as a community hub where start-ups can learn from each other, exchange knowledge and collaborate on projects big or small. From urban farming to circular systems, they are planting the seeds for a more liveable world.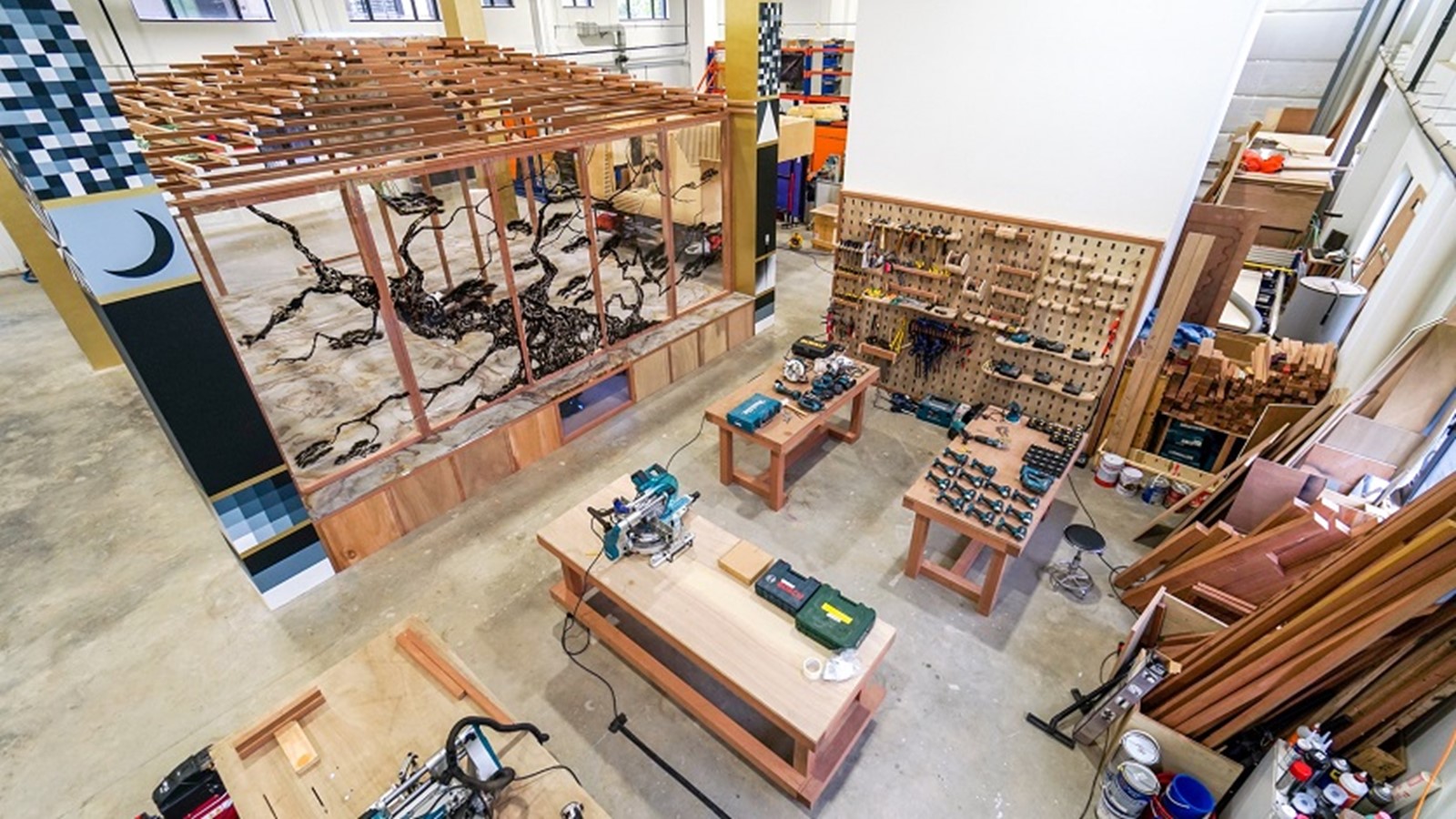 mFac, a co-shared makerspace where start-ups can carry out their prototyping

But that's not all. LaunchPad also offers a conducive environment for start-ups to test-bed and refine their solutions. This includes Mr Seah Liang Chiang, the entrepreneur behind the Shipping Container Hotel, who has set up two modular, pop-up hotel rooms at LaunchPad @ one-north. Guests are housed in upcycled shipping containers that double as testbeds for new hospitality concepts.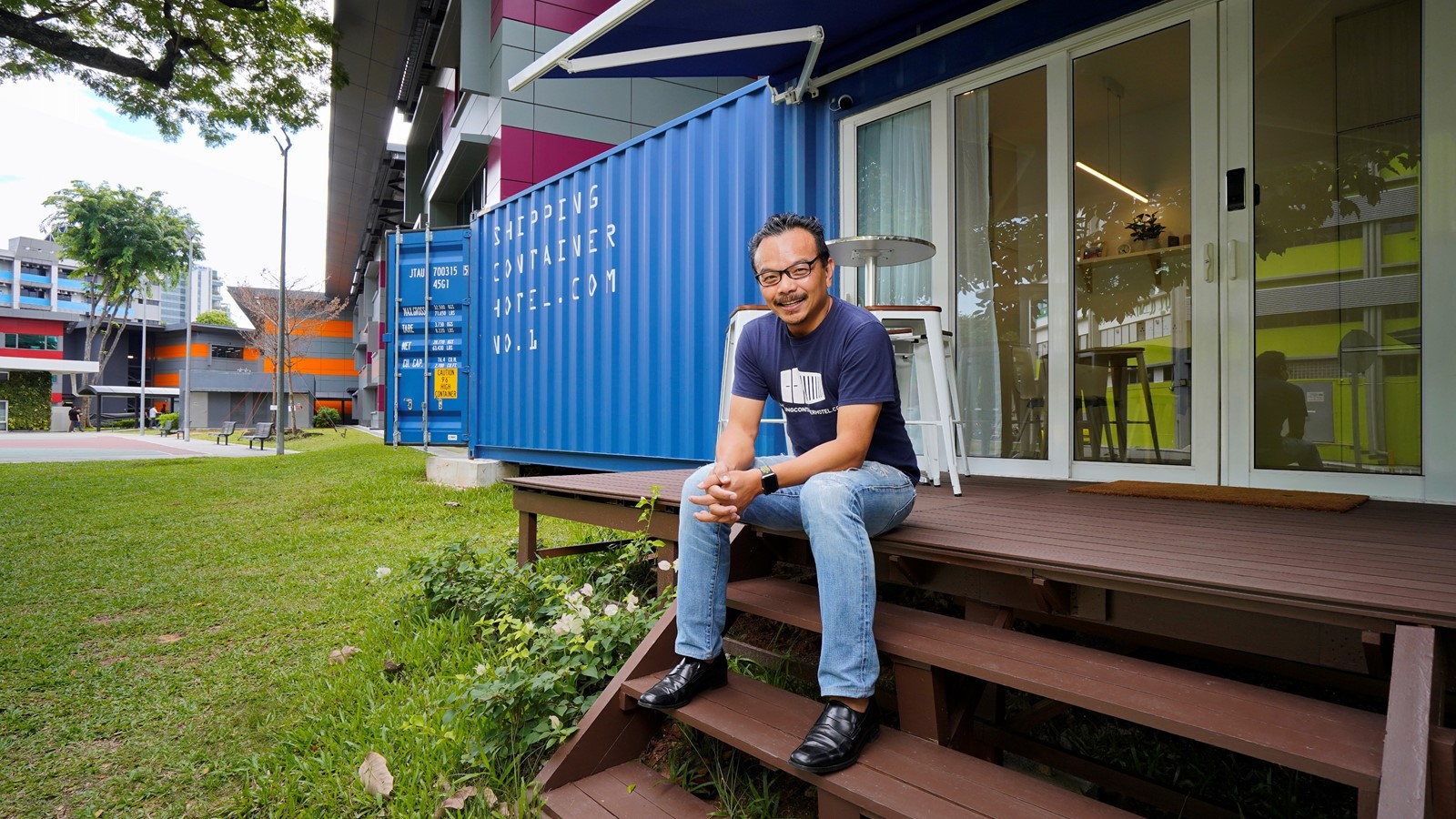 Mr Seah Liang Chiang, Founder and CEO of the Shipping Container Hotel
Plug-and-play spaces for early stage start-ups
LaunchPad's units are versatile and modular in design to cater to start-ups with different needs. Curium, a mobility start-up developing solutions for autonomous vehicles, required a space that had easy access for vehicles to test and deploy. It found its home at LaunchPad @ one-north, which has units with direct vehicle entry, and has continued to grow from its original space.

LaunchPad also offers flexibility for the conversion of spaces to suit the operational needs of companies. This was essential for Esco Aster, a LaunchPad incubator that started in 2018 with a 800sqm lab facility for its biopharma activities. It has since taken up another 400 sqm lab to carry out its animal cell-cultured meat operations. This is a boon for other food technology start-ups which can utilise this facility to develop their products without needing to build their own pilot plants.
A curated ecosystem that facilitates connections between start-ups and corporates
The LaunchPad ecosystem is carefully curated to ensure start-ups have access to resources they need. Over 40 incubators, accelerators, and enablers run programmes at both LaunchPads. These include Quest Ventures, a venture capital and early start-up investor, as well as other government-linked entities such as A*StartCentral. They organise social- and knowledge-sharing events for the community.

At LaunchPad @ one-north, BLOCK71 Singapore is an NUS Enterprise initiative to support start-ups developing high-impact solutions in fintech and smart cities with market access, technology, funding, and talent. Their latest Booster Programme is aimed at Green Finance, which brings mentors and corporates to guide and invest in start-ups bringing innovative solutions to the global issue of climate change.
This year, JTC will be supercharging its LaunchPad ecosystem with the LaunchPad Investor Network (LINK), that aims to connect promising start-ups with corporate and investor members. The programme will allow start-ups to connect with the innovation-forward leaders of eight corporations: DeClout Ventures, Excelpoint, Grab, Hyundai CRADLE, Louis Dreyfus Company, MANN+HUMMEL, PSA unboXed, and Sea Capital. Through this network, start-ups can tap into their resources — from technical know-how, market access to financing — as well as the knowledge and expertise they have on scaling up their business.

LaunchPad affords start-ups more than a location to base themselves, but also a slew of additional resources as they grow and innovate. Want to be part of LaunchPad? Learn more here.