Growing Precision Engineering Cluster at Surface Engineering Hub
The imminent entry of a new, next-door neighbour which JEP Precision Engineering helped draw to the JTC Surface Engineering Hub (SEH) speaks volumes of JEP's growing operations there despite the current challenging business environment.
While oil prices have affected many industries, especially oil and gas, "the only engine left kicking in the economy currently is aerospace," says JEP's chief executive officer, Soh Chee Siong.
JEP Chief Executive Officer Mr Soh Chee Siong at the JEP operation in Surface Engineering Hub
This has benefitted the Changi-headquartered company – set to relocate soon to Seletar Aerospace Park – which two years ago set up a satellite operation at SEH in the West to add value to components like landing gear machined at its Changi core. At SEH, JEP set up non-destructive testing and shot peening for landing gear components, and new plating lines to support the anodising and passivation processes of components, which builds abrasion and corrosion resistance. By end of 2016, all these processes would have fulfilled Nadcap (National Aerospace and Defense Contractors Accreditation Programme).
"In the last few months especially, business in SEH has picked up for us," says Mr Soh. With the current six-year order backlog for aircraft like the Airbus A350 and Boeing 787 Dreamliner, aircraft makers are looking for more capacity and suppliers worldwide. And JEP, as a small and medium enterprise, hopes to provide more value add for some of the machined components and also supplement the handful of plating houses here in catering to the increasing demand. "For JEP, the key draw for setting up at SEH was its centralised wastewater treatment plant run by experts, allowing JEP to just plug-and-play," he said. This saved it from unnecessary investment in its own plant to handle the hazardous chemicals, and also operating costs, essentially manpower savings. The convenience of using the centralised wastewater treatment plant helped JEP lower their space requirement by 350 sqm and upfront capital investment by $300,000. Besides reducing capital costs, they also reduced operating costs by 15%. "That (wastewater treatment) was not our forte."
"The Hub thus allowed us to fully concentrate on our core processes," he underlines.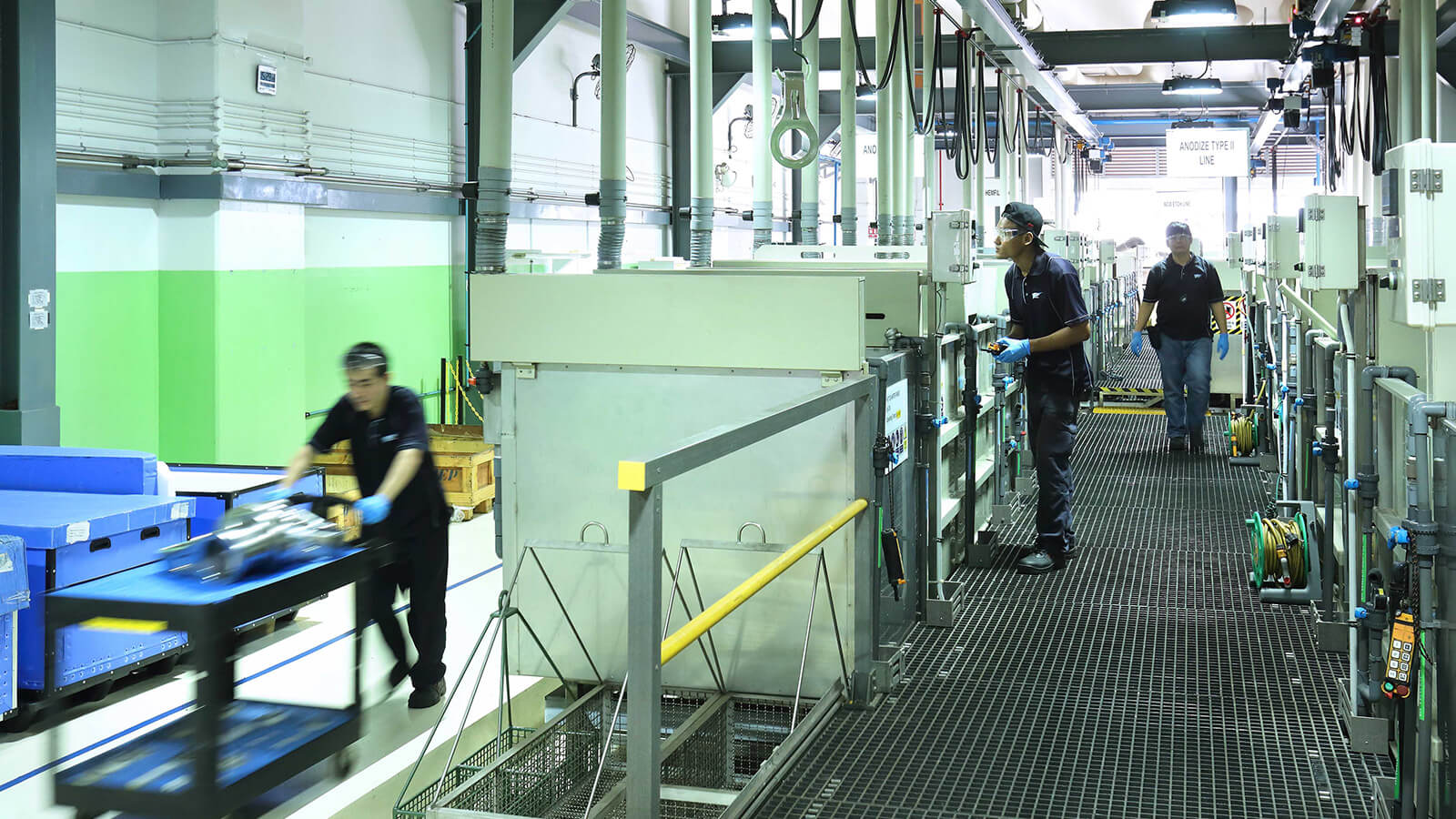 JEP operations at Surface Engineering Hub
Now with its business growing, JEP has also successfully persuaded Setsco Services Pte Ltd (Setsco) which has its Setsco Aerospace Testing Centre at Changi North Crescent, to set up a test/inspection unit at SEH. "We make about two trips of 60-70 km each daily to ferry components from the West to the East for testing," said Mr Soh. With Setsco literally next door, this will save JEP both handling and logistics costs, not counting damage from any mishandling.
"With our aerospace customers looking at bigger parts, we may also need a bigger tank" for chemical processing of these parts, adds Mr Soh. Depending on the processes and volumes needed, this may require JEP investing more to its current S$2.5 million investment there. Currently, the company achieves a value-add from its SEH operations of 5-10 per cent.
While oil & gas was not a factor in JEP setting up at SEH in the West where most of the industry's players are located, Mr Soh however, hopes to tap that market when oil prices recover. "Hopefully more metal plating companies supporting oil and gas will also set up at SEH to provide complementary processes. This will make the Hub more robust."
"It's a good game plan by JTC. As more special process players come in and help form a good cluster, we can provide a one-stop shop for all these processes. Setsco's (test facility) presence also helps. We can then tap on each other's core expertise and save costs by sharing," Mr Soh concludes.