Mixing business with pleasure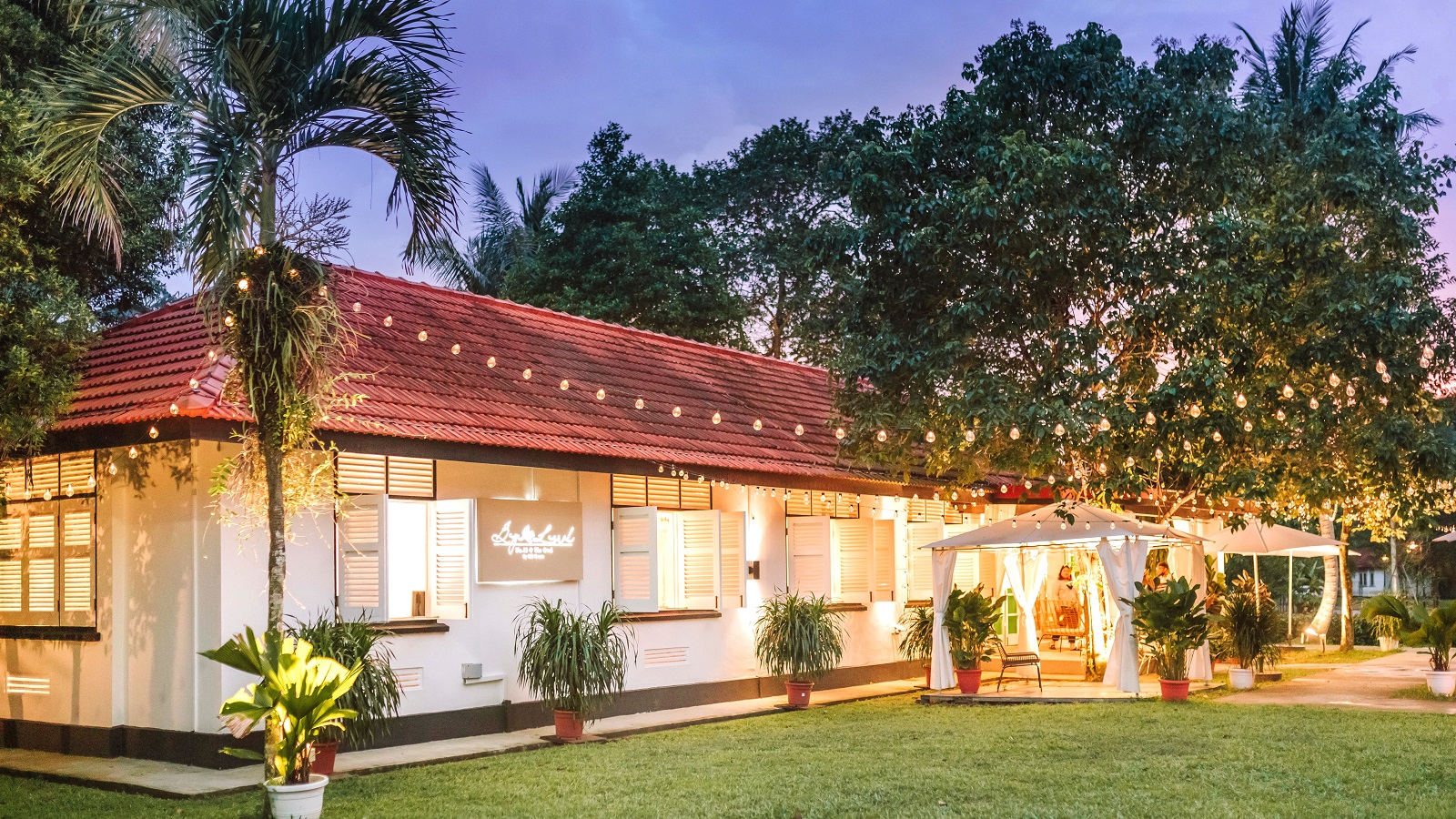 Refurbished black and white bungalows within The Oval feature a range of lifestyle offerings such as restaurants, event spaces, a gym, and more.
Seletar Aerospace Park (SAP) - a 320ha hub for aviation firms managed by JTC Corporation (JTC) - is also home to avian aviators such as migratory kingfishers and bee-eaters.

Its Hampstead Wetlands Park, which is Singapore's first wetlands in an industrial estate, draws birdwatchers and shutterbugs from around the island to admire the variety of wildlife that forage in the waterlily pond there.

After an afternoon glued to their cameras, these folks catch a bite at The Oval, a cluster of restaurants nearby which offer farm-to-table dishes, Teochew classics, and alfresco drinking and dining.
Over at JTC business park, one-north in Queenstown, a new restaurant concept called Under Der Linden promises an immersive dining experience melding floristry with food. There is also an incubator for young chefs called Magic Square which is set to wow diners with its culinary experiments.
These are interesting amenities in a business park known for its high-tech cluster of biomedical, infocomm technology and media companies.

So what happened to the dusty, grey industrial estate of yesteryear?

According to JTC, a statutory board under the Ministry of Trade and Industry which has been managing industrial estates and business parks since its inception in 1968, it is not enough to just provide a steady supply of industrial land and space to support the manufacturing sector that is a pillar of Singapore's economy.

There is a difference between industrial estates and business parks. The former is focused more on manufacturing while the latter is a hub for research and development, and knowledge-intensive activities.

It also has to continuously look at new ways to make the most of industrial land and to ensure that the planning and development of such infrastructure remains agile, is sustainable over the long haul and meets the needs of different industries.

"Today's manufacturing has rapidly evolved with production processes that are cleaner as industrialists are increasingly adopting automation and digitalisation," says Ms Tang Hsiao Ling, director of urban design and architecture at JTC.
These trends, she adds, present an exciting opportunity to explore new planning strategies that will not just allow the estates to adapt to emerging trends and future technologies, but also create circular economies within the ecosystems
But Singapore's limited land area and a growing population present a perennial challenge.

Ms Tang says one way to manage scarce resources is to seamlessly weave business estates into the surrounding urban fabric to create spaces that are also interactive, green and highly liveable.

With SAP and one-north, JTC has put in place a mix of uses and programmes that inject social, cultural and economic vitality through lively urban activities throughout the day and well beyond working hours.

For instance, The Oval at Seletar Aerospace has been transformed since last November into a "candyland", with candy-themed installations dotted across the estate. The candy-themed activities and installations will run till Feb 22.

Restaurant tenants such as The Summerhouse and Wheeler's Estate will be offering candy cane and cotton candy treats to visitors and families.

Yesterday, SAP also launched Asia's first Geotour, which gamifies the exploration of the sprawling grounds in a fun way by making participants look for hidden caches.

These community-centric efforts are welcomed by management and staff at both SAP and one-north.

Mr Adrian Lim, business leader in manufacturing at GE Aviation, says amenities such as function halls for events, eateries, boardwalks, nature parks and playgrounds make it easier for the American multinational company's employees to destress.

"Personally, I enjoy the scenery when I go for a jog after work," adds the 41-year-old. "It is a great place for photo shoots."

Ms Nooraishah Rahmat, 30, a machinist at GE Aviation, finds that the dining and recreational areas in SAP are ideal for unwinding after work, either with friends or family.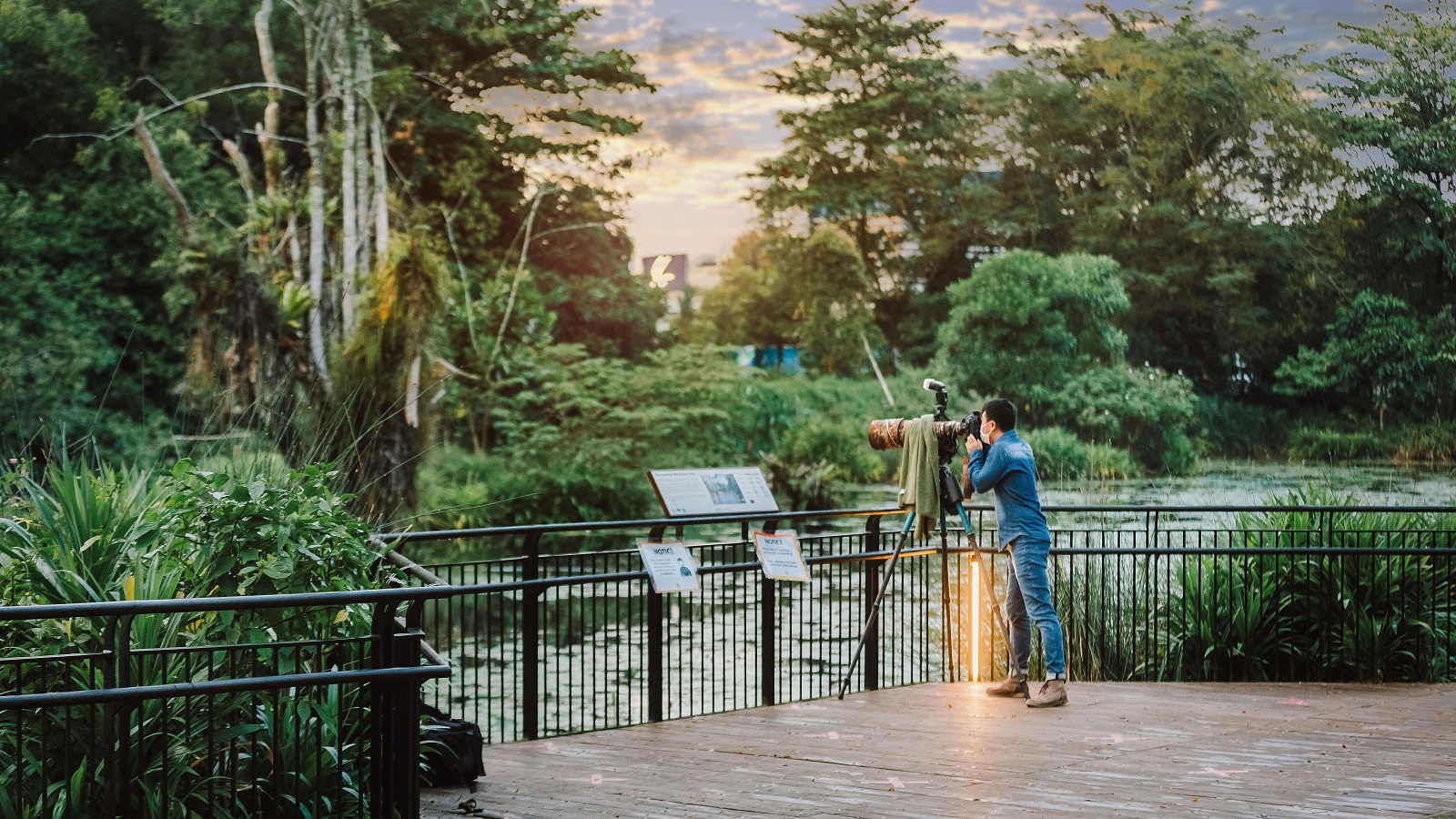 The board walk at Hampstead Wetlands Park

She also likes Hampstead Wetlands Park, which is a "surprising and fantastic touch" in an industrial estate. "But my favourite is the Boardwalk at The Oval. It is quiet and away from crowds, and watching the aeroplanes take off into the sunset after a long day at work just puts my mind at ease."
For many of the companies in these business parks, the amenities are great for the cross-pollination of ideas that comes from face-to-face meetings, says Mr Marco Bardelli, executive director of Infinite Studios, a Singapore-based integrated media entertainment and creative services company.

"Infinite Studios is one of the early businesses that landed in the one-north area in 2014 and we welcome new lifestyle amenities that help attract and retain talent and offer opportunities for businesses to meet partners in exciting new places."
'Hidden gem' in one-north R&D hub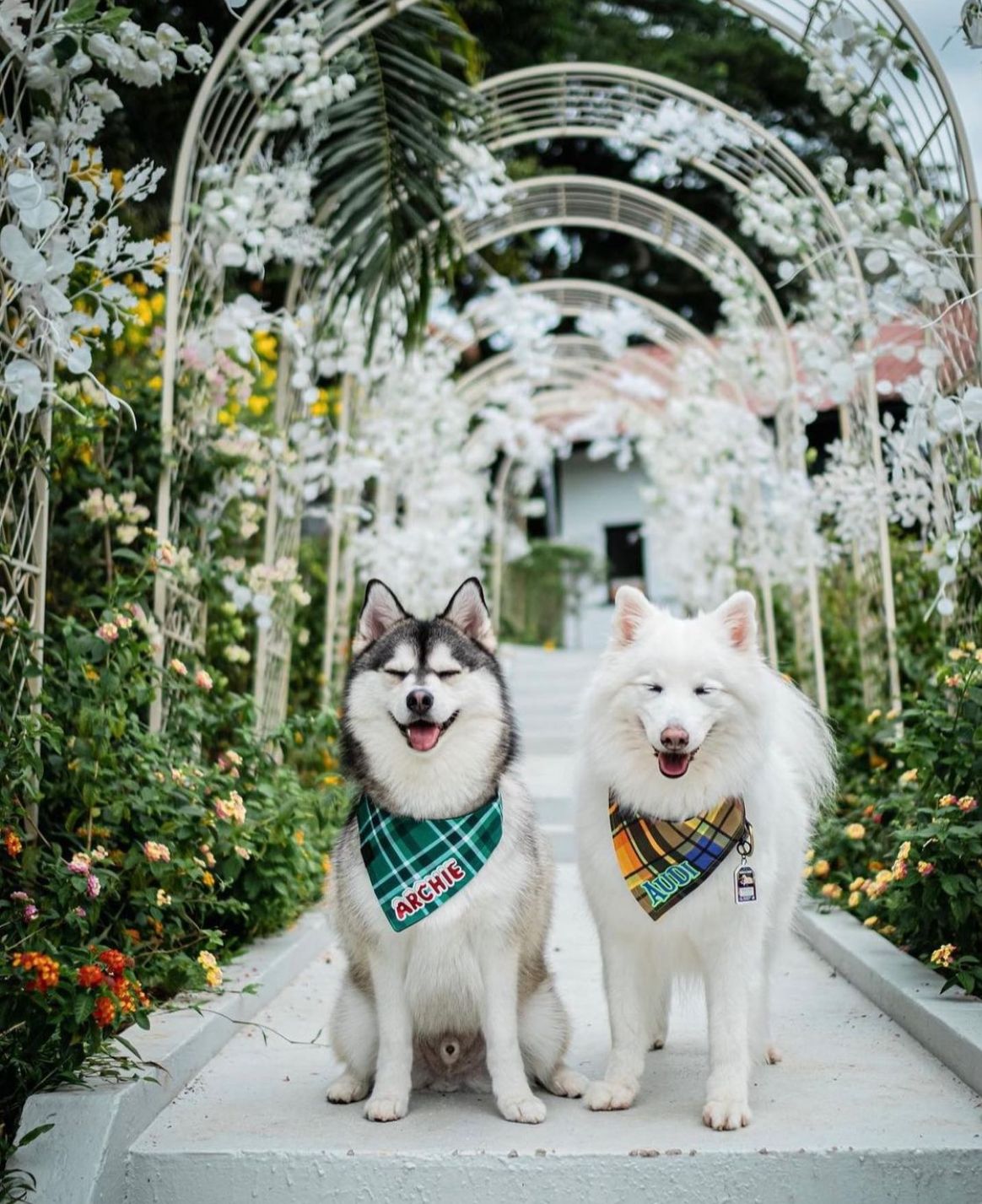 Under Der Linden Restaurant at Portsdown Road. Photo: Under Der Linden

Going beyond the work-live-play concept, JTC planned and developed one-north in Queenstown as an ecosystem for high-tech companies to come together to create a work-live-play-learn environment.

Conceptualised in 2001, the research and development hub was designed by Zaha Hadid Architects, and has so far brought in about $8 billion in investments.

The hub seeks to nurture high-tech entrepreneurial businesses and to create an environment for start-ups to take flight. Its name refers to Singapore's geographical location, 1 degree north of the Equator, and is made up of eight distinct precincts such as Biopolis, Fusionopolis and Wessex.

The Wessex residential area, which was built during the colonial era in the 1940s, is a leafy, laid-back enclave of 26 blocks of walk-up apartments and 58 semi-detached houses near Portsdown Road.

Mr Joseph Khong says the amenities in the 200ha development make a big difference for people working in the area. "one-north is certainly not a boring or grimy industrial area," says the 30-year-old assistant director and head of engagement and communications at Action Community for Entrepreneurship (Ace), a non-profit organisation located there.

"It is often buzzing with activity, with specially curated amenities by JTC and the relevant stakeholders. Timbre+ restaurant bustles during mealtimes, offering a place for founders, venture capitalists and those working nearby to connect and mingle, even after office hours," says Mr Khong.

He adds that the amenities are important in helping workers stay connected and positive, in view of rising mental wellness concerns because of the pandemic.

"While they rejuvenate the workplace and contribute to employees' well-being, they could also serve as a place where new and great ideas are generated," he adds.

Wessex was also the perfect location for entrepreneur Nicole Chen's new dining venture, Under Der Linden, at 5B Portsdown Road.

She is aiming to combine floristry with dining. This is her second restaurant after Le Jardin (meaning "the garden" in French) located in Fort Canning Hill, which she opened last September.

"When I first saw the area, it didn't look or feel like Singapore to me," says the 33-year-old, who is also the founder of floral studio-cum-cafe Cafe de Nicole's Flower in Telok Kurau, which she launched in 2017.

"It has this quiet, charming ambience and reminds me of towns in southern France. Alongside the rich history of the Wessex estate, I am sure this is a venue that can bring friends and family together for events and special occasions."

The restaurant, which can hold up to 200 diners, comprises three different dining concepts which Ms Chen is unveiling in phases.

The first is European-style dining which caters to about 100 diners, a French contemporary fine-dining experience and a dessert house.

The dessert house can hold up to 60 diners indoors and 40 diners outdoors, which Ms Chen says is perfect for a small wedding or a private family gathering.

She adds: "I believe that by bringing flowers and food together, I will create a unique experience for my guests."
Culinary magic at Wessex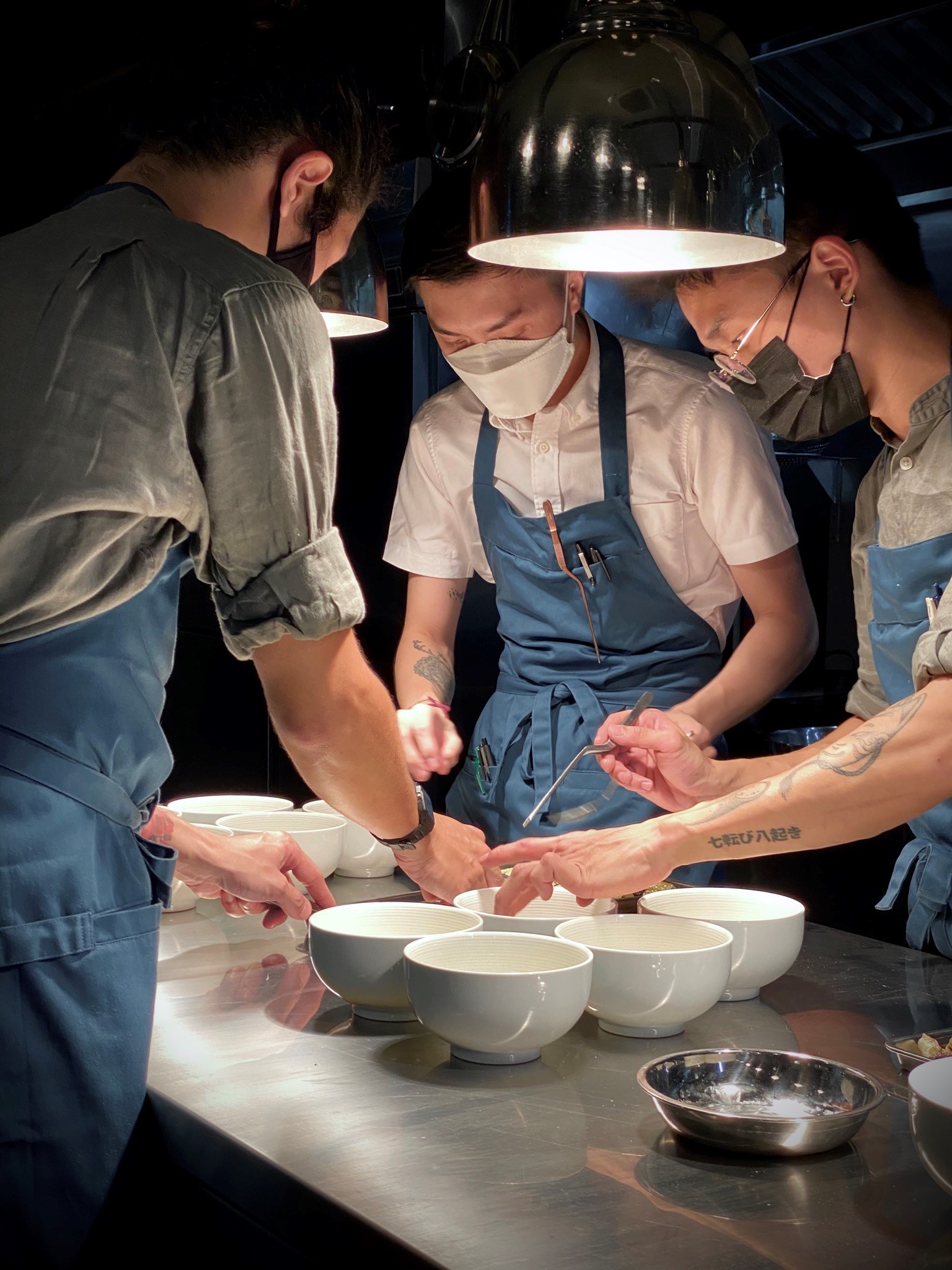 Magic Square is designed with only counter seats around the kitchen area, so that the culinary experience takes centre stage. Photo: Magic Square
"I love Wessex," says the 46-year-old, who is married with one son. He started his first cocktail bar called Klee in Wessex in 2008, which he closed in 2010 before starting The Naked Finn in 2012.

"My father used to take me to Colbar during my growing-up years," he adds, referring to Cafe Colbar, a rustic "kampung" cafe that harks back to the old days of a no-frills drinks menu of mainly beer.

"Also, JTC is a good landlord to work with and always willing to engage and support our requests," adds Mr Tan.

He is exploring the idea of setting up a self-sustaining restaurant ecosystem by creating a small urban farm with a composting area for food waste, recyclable water, clean energy such as solar power and a research laboratory in Wessex.

Mr Tan started Magic Square in 2018 as a one-year pop-up project to incubate young local chefs. "The first step was to provide a professional kitchen for them to explore and experiment with ingredients and techniques," he says. The profits made from the pop-up contributed to the Magic Square at Wessex today.

With a focus on the young creative minds in the kitchen, the design of the space in a one-storey colonial building started from the kitchen rather than the dining area.

Diners who enter Magic Square will not find tables or wait staff. The restaurant is designed with only counter seats around the kitchen area, so that the culinary experience takes centre stage while table banter and other distractions take a back seat.

"I hope to be able to nurture young Singaporean chefs and, through their work, promote the Singaporean flavours that capture so uniquely our cultural influences and diversity," says Mr Tan, a painter by training who graduated with a degree in fine art from the Royal Melbourne Institute of Technology in 1998.

He spent more than a decade in information technology, working for tech companies such as Apple, Nokia, HP and Razer, before his foray into the food and beverage sector.

He started Magic Square because he feels young talent needs more support such as in investment, space and opportunities.

"Just like how the Nordics are known for their culinary culture, I hope to do the same for local dishes and create a distinct Singaporean culinary identity."
Industrial park to candy wonderland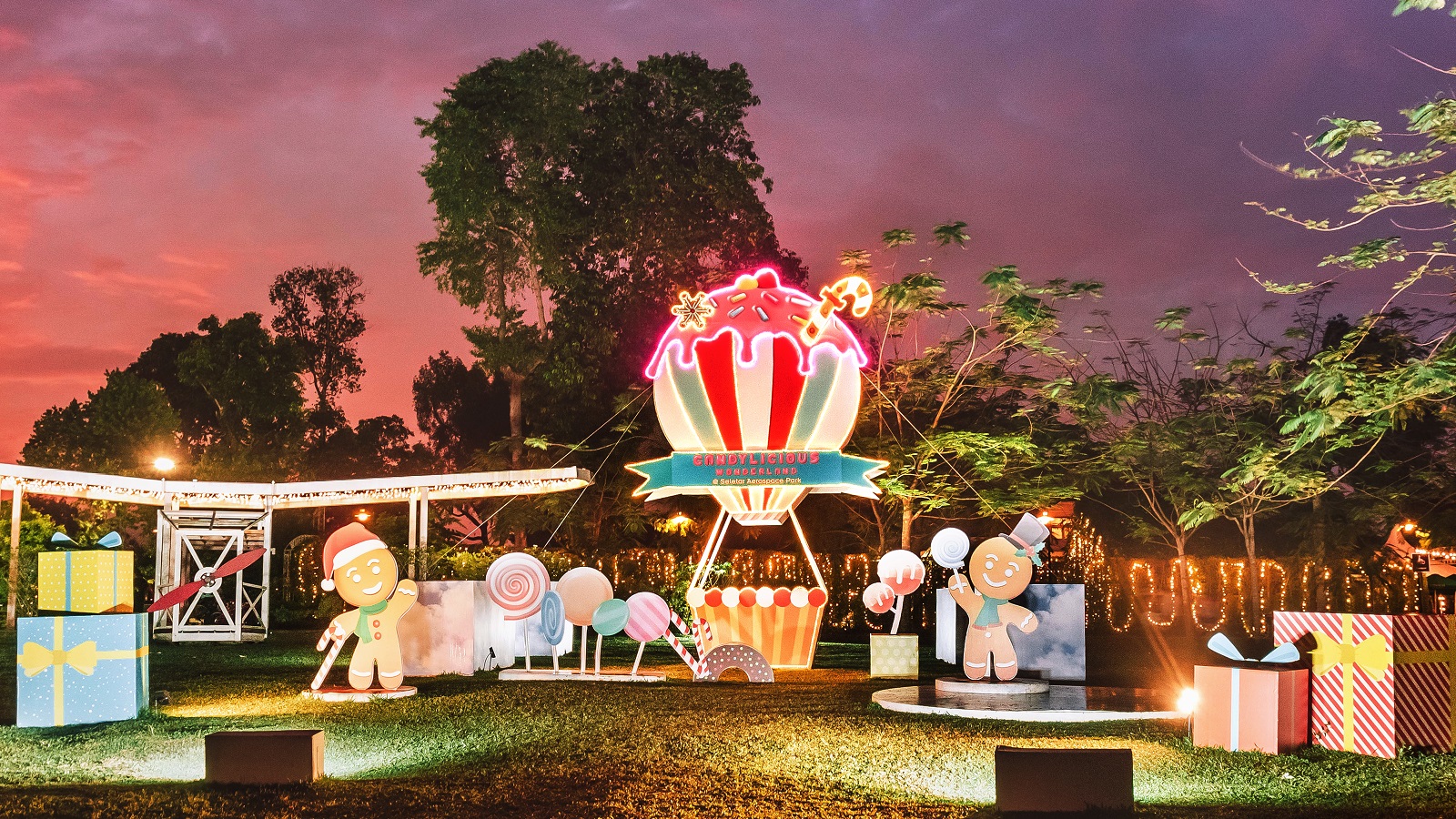 The Oval at SAP with its candy-themed installations
The Oval at Seletar Aerospace Park (SAP) has been transformed into a Candylicious Wonderland since last November and will maintain the festive new year vibe till Feb 22.

It is a cluster of 32 conserved black-and-white bungalows that was once part of a larger residential area for British Royal Air Force personnel and their families during the early 1900s.

Since its development in 2008, the industrial park has become a regional hub for more than 60 global and local aerospace industry players, including Rolls-Royce, Pratt & Whitney, Airbus and Bombardier, as well as home-grown firms such as ST Aerospace.

It is currently a workplace for more than 6,000 professionals.

The colonial buildings have recently been given a new lease of life by JTC to house lifestyle outlets such as eateries, a pet grooming salon and a fitness studio.

Tenants including eateries The Summerhouse and Wheeler's Estate, and fitness studio F45 Seletar, will be offering candy canes and cotton candy as well as sweet-themed in-house promotions for the upcoming Chinese New Year celebrations to attract more visitors.

JTC is also organising a social media competition where visitors can win dining vouchers at The Oval for the most-liked Instagram photos with the #sweetseletar hashtag.

Mr Christian Salles, director of The Summerhouse, says his team has been hard at work since the opening of the restaurant in 2016 to help make SAP relevant to visitors, by incorporating an edible garden and focusing on local produce.

He says the Candylicious installations around the industrial park have allowed the public to see SAP as more than just a place of business, but also as an Insta-worthy retreat where "romantic and beautiful evenings can be shared, no matter the age".

"We are building a place for people to feel as if they've been transported somewhere magical outside of Singapore," adds Mr Salles, 50.

Over at Wheeler's Estate, founder Daniel Ong has decorated the restaurant premises with candy ornaments and is giving out a range of sweet treats to diners.

Mr Ong, 58, who runs the eatery with 35 employees, says business estates can be more than just developments that accommodate employees.

"In our current Instagram and TikTok age, where people are constantly taking photos and videos for social media feeds, it has helped businesses like Wheeler's Estate to reach out to those who are not working in the area.

"SAP has become more than just a business estate and is also a foodie spot and park for families and their children to enjoy."

The latest tenant to open in The Oval is F45 Seletar, a fitness chain which has more than 20 outlets islandwide.

The studio has been running an "earn-your-treat" game as part of the Candylicious Wonderland theme. Members perform a short challenge, such as completing a set of exercises on stationary bicycles or rowers, to "earn" a sweet treat.

"We have seen an increased amount of foot traffic around the park and we do have curious passers-by coming by for a chat and asking what we do," says Mr Damien Chow, owner of F45 Seletar.

The 45-year-old says that although the park is located in an aerospace industrial space, it has a Dempsey Hill lifestyle feel about it.

"We foresee people coming to the park every day for their needs, be it for fitness or dining."
Go on an aviation history tour around Seletar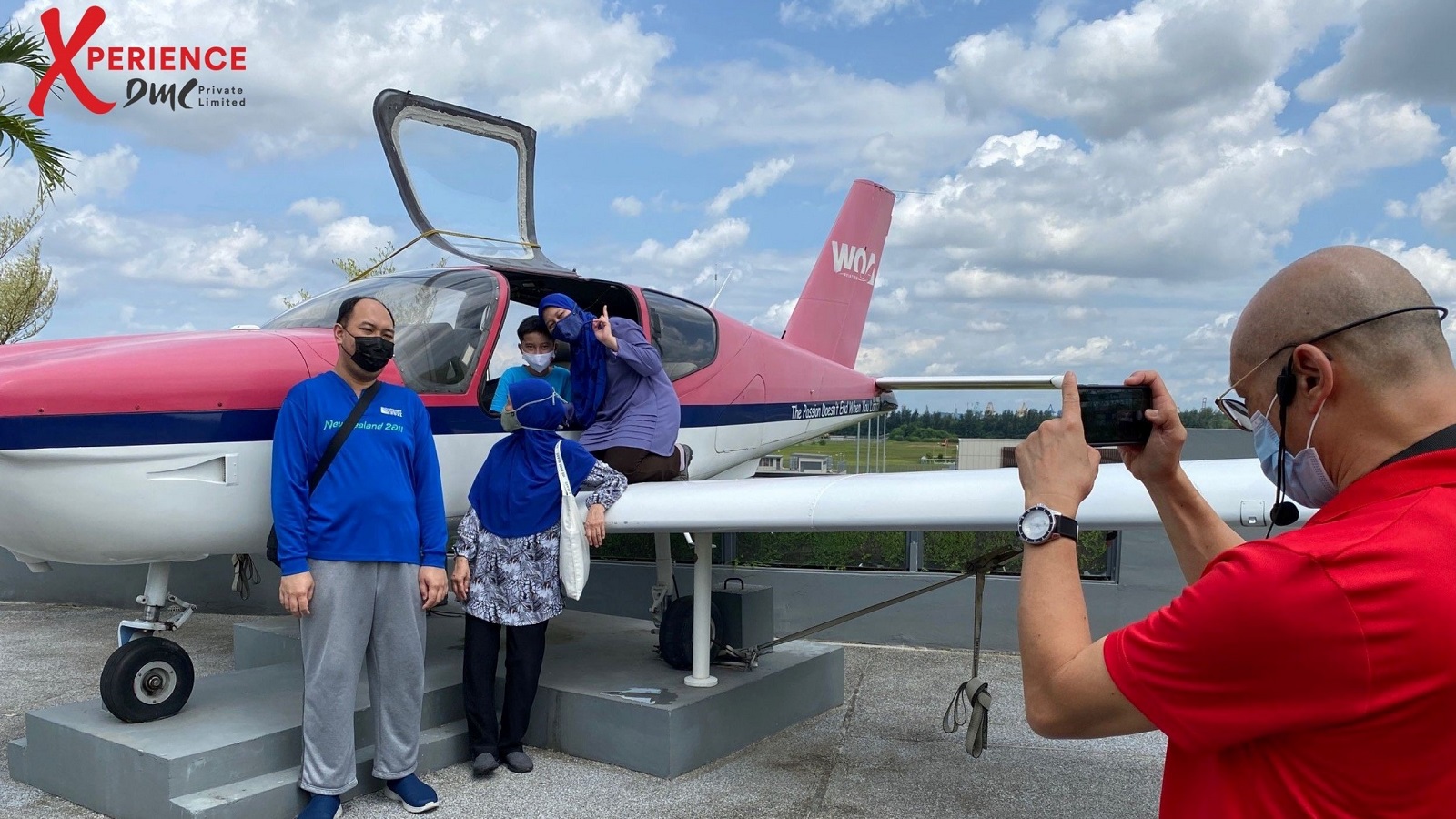 The Fascinating World of Aviation Plus Exclusive Hangar Tour was singled out in the Singapore Tourism Awards last July for Outstanding Tour Experience. Photo: Xperience DMC

Visitors to Seletar Aerospace Park (SAP) can now go on two new tours designed to shed light on the aviation history of the park and to highlight points of interest around the estate through a game that incorporates geocaching, a form of digital treasure hunting.

The Fascinating World of Aviation Plus Exclusive Hangar Tour - launched on Dec 1, 2020, by local tour operator Xperience DMC - was singled out in the Singapore Tourism Awards last July for Outstanding Tour Experience under the Experience Excellence (Leisure) award category. It won for presenting Singapore's unique aviation history through its focus on SAP.

"Seletar Aerospace Park, which has also preserved and showcased its rich history, is an excellent example of how future industrial parks can be modelled," says Ms Jane Goh, director of Xperience DMC.

She says that on her first cycling trip to SAP in July 2020, she was intrigued by the area's rich history as the British Royal Air Force's key military airbase in the Far East in the 1920s, and the many colonial black-and-white bungalows.

She cycled and drove through the park several times to map out the tour route, which includes artefacts of the 1920s such as goose-necked colonial lamp posts and heritage trees as well as the many modern aviation companies there.

She also collaborated with WingsOverAsia, a private aviation facility, to allow access to its private hangar and an opportunity to take photos in the cockpit of a decommissioned propeller plane on the building's rooftop.

Besides taking a trek down memory lane, visitors can also hop on a digital treasure hunt specially crafted by JTC called the Seletar Aerospace Park Geotour.

Using a mobile application called Geocaching, participants can look for hidden caches planted in the industrial park.

The app will prompt participants to read about the significance of the locations as each hidden cache is being uncovered.

For example, interesting nuggets of information on the park's heritage trees, such as the two broad-leafed mahogany trees that were planted back in the 1930s, will pop up on participants' smartphone screens.

Mr Shaun Whitmarsh, assistant manager at JTC's aerospace department, says his team wanted to create a tour that is immersive and interactive, where visitors can learn about the different sides of SAP as an industrial estate for leading aerospace companies, against a backdrop of greenery and rich colonial heritage.

"We believe many will be surprised by what they find when they visit SAP," says Mr Whitmarsh. "The industrial park will continue to evolve with new additions and this digital platform gives us the flexibility to add more caches and improve the SAP Geotour experience in the future."
Source: The Straits Times © SPH Media Limited. Permission required for reproduction.