Image: ST Engineering

Business

Meet a vibrant, eclectic mix of the world's leading aerospace companies.

Just imagine: over 60 top industry players thriving alongside each other. It's a world-class ecosystem with business activities that span from engine manufacturing to Maintenance, Repair and Overhaul (MRO), R&D and training. And you're welcome to be a part of it.

Business

All the room—and height— to let your business reach for the sky.

Here, plug-and-play modular spaces are designed to help you kickstart your operations and grow. In fact,our state-of-the-art facilities are capable of supporting your most ambitious projects. Deploy the latest technologies, and easily implement smart factory concepts with floor loadings of up to 30 kN/sqm. Implementing Industry 4.0 processes? No problem. Our spaces are more than ready to support your next phase of growth.

A wide range of space options (50 sqm – 2,000 sqm) are available at our developments at Seletar Aersospace Park. Explore more

Business

Our network of partners and enablers are ready to support you.

Tap into our vast network of business partners and technology enablers, ranging from Institutes of Higher Learning to advisories and solution providers. For instance, the Association of Aerospace Industries (Singapore), who conducts—among other initiatives—workshops and seminars to keep you up to speed on the latest trends and industry developments.

For more on this network that goes beyond the aerospace industry, go to Industry Connect.
Home to leading aerospace companies
Notable companies situated at Seletar Aerospace Park:
We are developing capabilities in manufacturing technologies, electrical systems, repair technology, data analytics to name a few. We have a robust collaboration and ecosystem with our joint corporate lab where we are doing rapid prototyping and development of technologies that we can deploy into our factories, into our future products and services.
Bicky Bhangu President, Southeast Asia, Pacific and South Korea
Rolls-Royce Singapore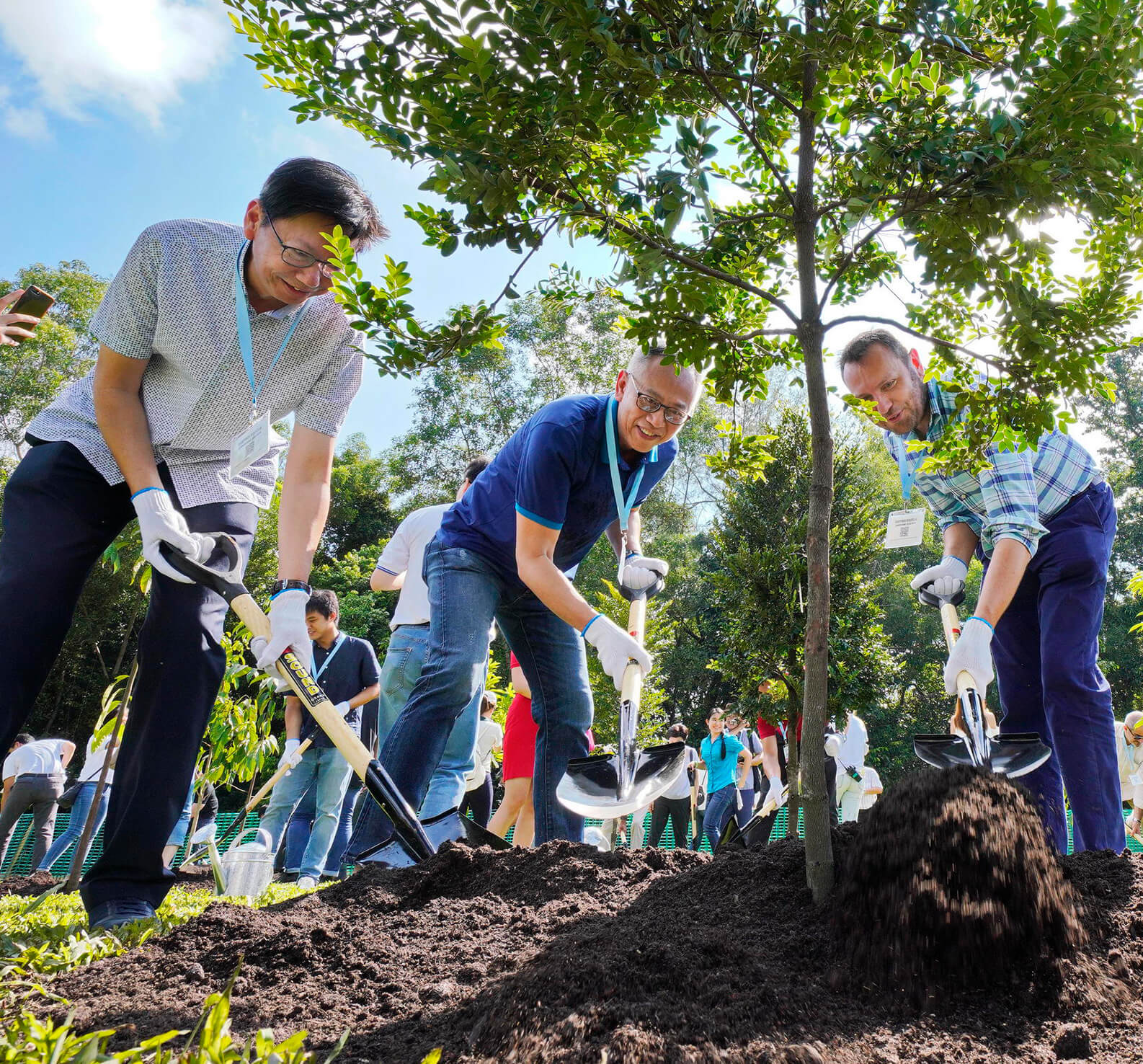 Sustainability
The future is looking greener, and everyone is playing a part.
For the park's aerospace community, environmental sustainability is a topic close to heart. And JTC is partnering them to take collective action.
Along with the National Parks Board (NParks), the Garden City Fund (GCF) and the Association of Aerospace Industries (Singapore), JTC and the community carried out Singapore's first community greening programme for an industrial estate in 2019. But enhancing nature is just one of many initiatives on everyone's green agenda. Companies like Rolls-Royce and ST Engineering are reducing their carbon footprints by deploying solar panels to harness clean energy, while others are coming up with ingenious solutions to reduce waste—from plastics to food, water and energy.
This is a community who goes the extra mile to realise a more sustainable future.
Community
Where you work is also where you play.
The Oval
Nestled in the heart of the estate, this rustic lifestyle hub is a recreational destination for both the working community and residents around the north-east region.
Park yourself in a charming black and white colonial bungalow and enjoy a relaxing meal. Better yet, rent one of them for meetings, corporate seminars, or private parties and events. Young ones will love the aviation-themed playground. And there's even a scenic boardwalk where everyone can catch a perfect view of planes taking off and landing.
Enquire about bungalow rentals
Follow for the latest promotions and happenings at The Oval:
Hampstead Wetlands Park
Stroll along the Seletar West Park Connector and you'll find yourself in this tranquil and rustic sanctuary. Look out for birds and dragonflies dancing over the wetland, and spot flora that is native to the area. Bring a pair of binoculars and turn your lunch break into an adventure with nature.
Heritage Trail
Behind Seletar's idyllic charm lies a history that's equally captivating. Just follow the heritage signs for a glimpse into the area's meaningful past. The story of how Seletar transformed from an old airbase into a modern aerospace hub is sure to make you appreciate its beauty even more.
Activities and Social Events
Outdoor movie screenings. Fitness sessions. Inter-company games. Pop-up carnivals, and more. If you are one who favours fun and excitement, rest assured. You'll be very well served at Seletar Aerospace Park.
Seletar Aerospace Park has shared facilities, such as meeting room(s), available for booking. Click here to see the list of facilities and make a booking.
Seletar Aerospace Park also provides an inspiring and well balanced environment thanks to its modern infrastructure and next generation estates. It's impressive to see that not only has it become an aerospace hub but also a lifestyle destination.
Simon Wayne, General Manager
Bombardier Aerospace Services Singapore
Accessibility
Getting to and from the park couldn't be easier.
20 minutes to/from the city
30 minutes to/from Changi International Airport
Next to 3 expressways: Tampines Expressway (TPE), Seletar Expressway (SLE) and Central Expressway (CTE)
Bus services: 39, 86, 102, 103, 117, 168 & 858
Peak hour shuttle bus service

View schedule

Lunch hour shuttle service (connects East Camp and West Camp, and to Seletar Mall)

View schedule